If you are on the low FODMAP diet and/or suffer from irritable bowel syndrome (IBS) then you know that people love to offer their somewhat misguided opinions and advice! Here are 8 cringe worthy comments that you shouldn't make to a FODMAPer:
1. "A little bit won't hurt… you'll be fine!"
Haha really? Would you say this to someone who has a nut allergy? While we won't die from eating FODMAPs, they can still make us very unwell! Our symptoms vary from agonising cramps to explosive diarrhea, painful constipation, severe bloating, and/or smelly wind. If symptoms are bad enough we can become bed ridden (or toilet bound) for a couple of days. Even the tiniest amounts of some high FODMAP foods (like onion or garlic) can be huge triggers and it is best that we avoid any dishes that contain high FODMAP foods.
Instead ask "Are you able to safely have small amounts of any of these foods? Or shall we find something else for you?"
FODMAPers: Explain that you have food intolerances and that eating these foods will send you into severe gastrointestinal distress.
2. "You are such a fussy eater!"
Trust me NO ONE actually wants to be on the highly restrictive low FODMAP diet. We would love nothing better than to chow down on that juicy onion laden burger or enjoy a thick slice of apple pie. Unfortunately, our digestive systems have different plans. To avoid being stuck in the toilet for the next week, crippled on the floor with cramps, or bloated to the size of a whale, we need to stick to our medically prescribed low FODMAP diet. We are not trying to be fussy, but we are avoiding specific groups of trigger foods. At least when we eat low FODMAP we can leave the house!
Instead try saying "Tell me about the foods you can safely enjoy?"
FODMAPers: Make sure the person knows that you become incredibly unwell when you eat high FODMAP foods, and that the low FODMAP diet is a medical diet that has been prescribed by your doctor or dietitian.
3. "But you ate some of that last week, why can't you have a little bit today?"
IBS is an irritable beast that can be very sensitive to FODMAP foods. Being on the low FODMAP diet is akin to walking a tight rope. We are always assessing the types of low FODMAP foods we have eaten, our current symptoms, stress levels, and what we are about to eat, to try and figure out if we are staying under our own personal FODMAP thresholds. To make things worse FODMAPs can accumulate and build up. So one day we might be able to indulge in a small bread bun and the next day we just can't. Trust that we know our bodies and how they will react!
Instead try saying this "How are you feeling today? Would you like the same meal as last time or do you need something different?"
FODMAPers: Let the person know that FODMAPs build up and that because you have already had X, Y, & Z foods you can't eat that food today.
4. "Urgh your food must be so bland if it doesn't contain onion or garlic"
Actually it isn't! There are plenty of other flavours that you can use to make delicious low FODMAP meals. There are lots of herbs and spices we can have. Also your low FODMAP friend will happily teach you about how to replace onion and garlic using infused oils, and the green tips of spring onions, leeks and chives. There is definitely more to food than just onion and garlic!
Instead try asking "Tell me how you replace onion and garlic in cooking?"
FODMAPers: Before you hit them, just take a breath! Then respond saying 'Luckily we have lots of herbs and spices we can use!' Then talk to them about how you like to replace those onion and garlic flavours.
5. "So what on earth can you eat? Air?!" 
Again we are not trying to piss you off… Nor are we being fussy. We are trying to control our diet so we can function as relatively normal human beings. Get your low FODMAP friend to show you the Monash Low FODMAP app (or even better download it onto your phone – the money goes back into IBS research). This app will teach you what your friend can and can't enjoy while on the diet. Also make sure you listen well. Next time you see your FODMAP friend surprise them! Show them a recipe and ask them to help you adapt it or find a low FODMAP recipe that you would like to cook with them (I have plenty of low FODMAP recipes here). Being a FODMAPer can be lonely and it will mean the world to them if you show your support.
Instead say: 'Can you teach me about what you can eat?'
FODMAPers: Show them your Monash low FODMAP app or print them a copy of your safe foods. Once your friends have a better handle on the diet, it won't feel as scary for them or for you!
6. "Oh I get a little bit of IBS now and then"
Oh! Do you now? Or did you just eat too much junk food? Okay so let's clear something up… suffering from a sore stomach, wind and bloating after overindulging or binging on junk food does not mean you have IBS. It just means you have pigged out and your body is reminding you that it isn't designed to eat large quantities of those foods.
For IBS sufferers and FODMAPers alike, our symptoms are often chronic and ongoing. They can be debilitating and extremely painful. We fantasize of the day where we only get symptoms after overindulging.
Instead try saying "I'm so sorry to hear you are struggling, is there anything I can do to help ease your symptoms?"
FODMAPers: It is really challenging handling this type of response and you might need to educate the person. Try replying: 'Tell me about when you get these symptoms? Do you think they might just be happening when you are overeating? If you are getting IBS symptoms on a regular basis, like I do, then you need to see a doctor.'
7. "All you need to do is eat healthily"
Seriously, do you think we are so silly we haven't tried that already? Fun FODMAP fact for you, many people find their IBS symptoms worsen as they swap to 'healthy' foods. While these foods might be healthy for the everyday person, apples, cauliflower, yoghurt, garlic, peas, pears, grapefruit, cashews, and most beans are all high FODMAP and can make symptoms worse. Instead we need to focus on eating healthy within the restraints of the low FODMAP diet (it is totally doable by the way!).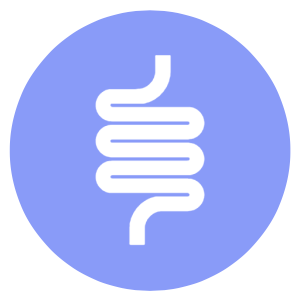 Are you ready to take control of your gut symptoms?
No thanks, my gut is perfect.
Instead say "How is the diet going? Have you found a good balance between staying low FODMAP and eating healthy meals?"
FODMAPers: Let the person know that many healthy foods are high FODMAP so you have to find the right balance for your body.
8. "You're just trying another fad diet – it won't work"
The low FODMAP diet is NOT a fad diet. It is not designed to help you lose weight, or 'detox' your body, nor is it designed to be used by healthy people. We are also definitely not doing this diet for fun! The only way you end up on the low FODMAP diet is if it is recommended by a dietitian or doctor to help control IBS symptoms. It has been studied by multiple medical research centres around the world, and it has been proven to help 70 to 75% of IBS patients gain better symptom control (1 2). Therefore it is a medical diet not a fad diet, and there is a good chance it could help with IBS symptom relief. So show a bit of support!
Instead say "I don't know anything about this diet, can you tell me what it's used for?"
FODMAPers: I know by now you are seeing red, but it's time to educate! Make sure the person knows that it is a medical diet, which is being researched around the world and is recommended by doctors and dietitians.
Final Thoughts
Insensitive comments often arise from a lack of understanding and education. So if you know someone on the low FODMAP diet do a bit of research or ask them for their favourite resources. You can find plenty of low FODMAP recipes and information on A Little Bit Yummy, or follow me on Facebook. Also feel free to tell me about the cringe worthy low FODMAP comments you have heard, in the comment section below.