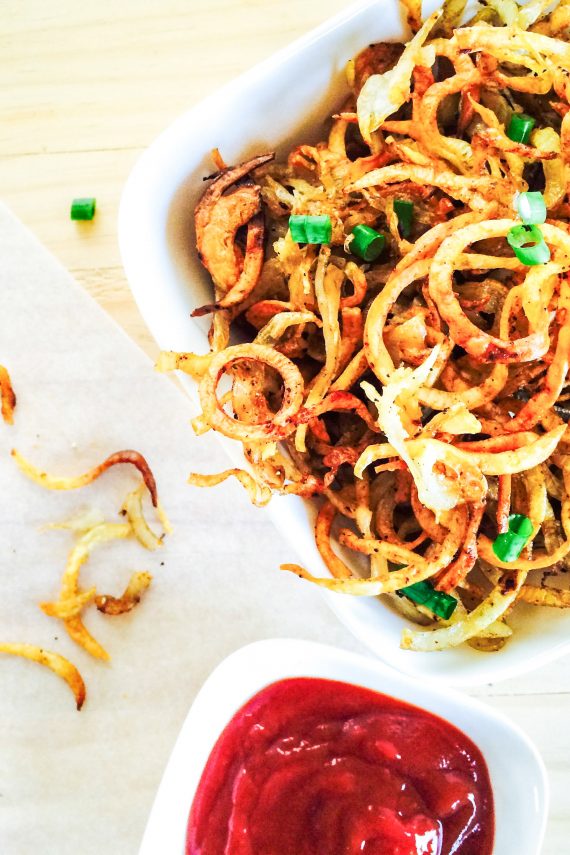 Ingredients
Imperial Units

|

Metric Units
Servings:
Low FODMAP Curly Fries
840
potato (large, roasting variety like russet or white potatoes)
1
neutral oil (rice bran, canola, sunflower)
0.125
dried chilli flakes (optional)*
* See the FODMAP Tips, Dairy Tips and Gluten Free Tips for the ingredient notes above the method.
Equipment
Low FODMAP Curly Fries
Who doesn't love curly fries? These crispy morsels of golden potato make a delicious low FODMAP treat. They are also surprisingly simple to make - just run your potatoes through the spiralizer, mix through your favourite herbs or spices and bake. I love serving mine with a side of low FODMAP ketchup. How do you like your potato?
Gluten Free Option
Low FODMAP
Dairy Free
Egg Free
Nut Free
Soy Free
MAKE GLUTEN FREE
SHOW NUTRITION
Nutrition per serve
NON-DAIRY FREE

|

DAIRY FREE

|

GLUTEN FREE
---
Love this recipe? Get your weekly meal plans.
FREE TRIAL
Method

|

FODMAP tips

|

Gluten Free tips

|

Dairy Free tips
---
Method
Preheat the oven to 200ºC (390ºF) on bake function.
Peel the potatoes. Then transform the potato into spirals by running them through the spiralizer (use the larger 

triangular

blade). Pat the potato curls dry.
Spread out the curly fries onto two baking trays lined with baking paper (don't overcrowd them).
Drizzle the curly fries with neutral oil.
Season with paprika, a few grinds of salt or pepper, and a pinch of dried chilli flakes (if desired). Toss to combine.
Place in the pre-heated oven and cook for about 20 to 25 minutes (or until the desired crispiness is achieved).
During the baking process, make sure to flip your fries and remove any pieces that have already crisped up, before placing the trays back into the oven.
Once your fries are crispy, remove the trays from the oven and serve immediately. The curly fries taste much better hot, and go great with a low FODMAP serve of tomato ketchup.
Buying Tips
Check your dried chilli flakes do not contain onion or garlic powder.
Gluten Free Tips
Herbs and spices are naturally gluten free, however they can become contaminated during manufacturing processes. If you are highly sensitive to gluten, check the dried herbs and spices do not contain a warning for trace gluten. If you are just on the low FODMAP diet you do not need to worry about this.
Dairy Free Tips