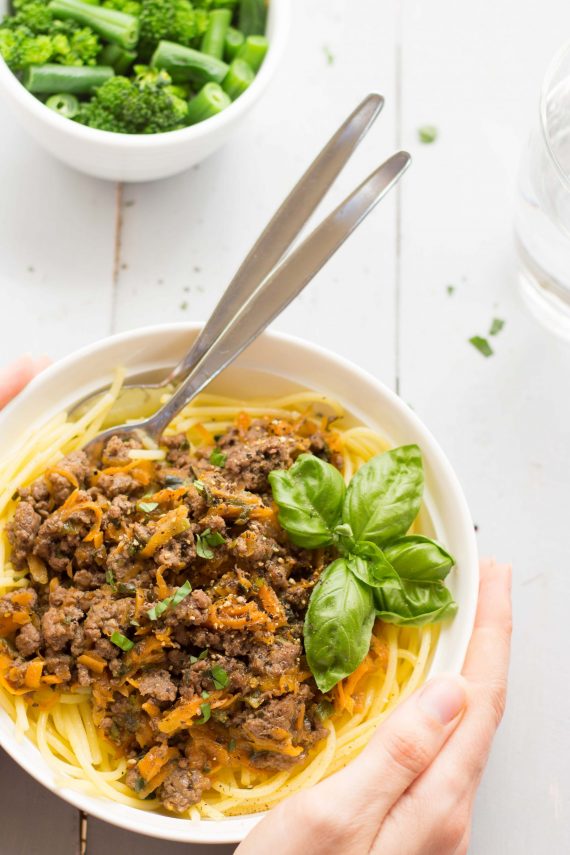 Ingredients
Imperial Units

|

Metric Units
Servings:
Tomato Free Mince
125
red wine (Pinot Noir)
250
low FODMAP chicken stock*
40
leek (green leaves only, finely chopped)*
2
worcestershire sauce (OR 1 tbsp soy sauce, 1/2 tsp brown sugar, 1/4 tsp Chinese five spice)*
Spaghetti
300
gluten free spaghetti (dried weight)*
Veggies
180
broccoli (cut into florets)*
* See the FODMAP Tips, Dairy Tips and Gluten Free Tips for the ingredient notes above the method.
Equipment
large frypan
large saucepan
grater
Tomato Free Beef Spaghetti Bolognese
This is a delicious mince meal that goes perfectly with spaghetti or mashed potato. Note on Worcestershire Sauce & How To Replace It: Worcestershire sauce is low FODMAP even though it contains small amounts of onion and garlic. If you are concerned you can replace the worcestershire sauce with 1 tablespoon of soy sauce, 1/4 teaspoon of Chinese five spice, and 1/2 teaspoon of brown sugar.
FODMAP notes: Broccoli is considered low FODMAP at  ½ cup to 1 cup serves depending on which part of the broccoli you are eating. The amount of broccoli in this recipe is low FODMAP per serve.
Gluten Free Option
Low FODMAP
Dairy Free
Egg Free
Nut Free
Soy Free
MAKE GLUTEN FREE
SHOW NUTRITION
Nutrition per serve
NON-DAIRY FREE

|

DAIRY FREE

|

GLUTEN FREE
---
Love this recipe? Get your weekly meal plans.
FREE TRIAL
Method

|

FODMAP tips

|

Gluten Free tips

|

Dairy Free tips
---
Method
Finely cut the green tips of the leek. Grate the carrots.

I

n a large frypan over medium high heat brown the lean ground beef. Add the pinot noir wine and allow to simmer on high for 1 minute (this burns off the alcohol). Turn the element down to medium low. Then add the chicken stock (dissolve one chicken stock cube in one cup of hot water, per cup of stock required). Next add the leek tips, grated carrot, worcestershire sauce (or Chinese five spice, soy sauce & brown sugar), and dried herbs (oregano, basil, thyme). Season generously with salt and pepper. Allow the lean ground beef to simmer. Dissolve corn starch in a small amount of warm water and mix through the lean ground beef. Allow to thicken the sauce. If it won't thicken after 10 minutes, then dissolve a little bit more corn starch and add it to the mixture. Remove from heat once the lean ground beef sauce is at your desired thickness.
While the lean ground beef simmers, cook the gluten free spaghetti according to packet directions. Drain and toss with olive oil.
This lean ground beef dish is very rich so you need to serve it with lots of low FODMAP veggies. Cut the broccoli and green beans into small pieces. About 10 minutes before serving, bring a medium sized saucepan of water to the boil and blanche the veggies for two to three minutes. Remove veggies once they are brightly coloured and soft.
Roughly chop the fresh basil leaves and mix through the lean ground beef just before serving.
Serve the lean ground beef on top of the spaghetti with the veggies on the side.
Buying Tips
Check that the cornflour (corn starch) is made from maize and not wheat.
Make sure you buy a leek that has long green tips (this is the low FODMAP part), as you can't use the white/light green leek bulb (this part is high FODMAP).
Choose gluten free pasta, not spelt or wheat based pasta as these can be high FODMAP, and check for added high FODMAP ingredients link inulin, soy flour, lupin flour, and amaranth flour. If some of your family are not low FODMAP or gluten free you can cook them normal pasta, however make sure you cook it separately.
Monash University have tested Worcestershire sauce and it is low FODMAP, despite containing small amounts of onion and garlic. The sauce is low FODMAP because the onion and garlic are fermented during the manufacturing process which reduces the FODMAP levels.
Broccoli is low FODMAP in 1 cup serves according to Monash University. Just avoid larger serves as these can become high FODMAP.
Choose a stock that does not include onion or garlic. We prefer to use Massel Chicken Stock Cube 7's (in the yellow & blue packet). This product is low FODMAP, gluten free and vegan (despite it's name) and each packet makes 7 cups of stock. This product can be brought online around the world and is available from some supermarkets.
Gluten Free Tips
Buy a gluten free Worcestershire sauce or substitute 1 tablespoon gluten free soy sauce, 1/4 teaspoon Chinese five spice, and 1/2 tsp brown sugar for every tablespoon of Worcestershire sauce. Often the ingredient labels don't state they are gluten free, so if the ingredients look safe then ring the manufacturer to confirm.
Herbs and spices are naturally gluten free, however they can become contaminated during manufacturing processes. If you are highly sensitive to gluten, check the dried herbs and spices do not contain a warning for trace gluten. If you are just on the low FODMAP diet you do not need to worry about this.
Dairy Free Tips