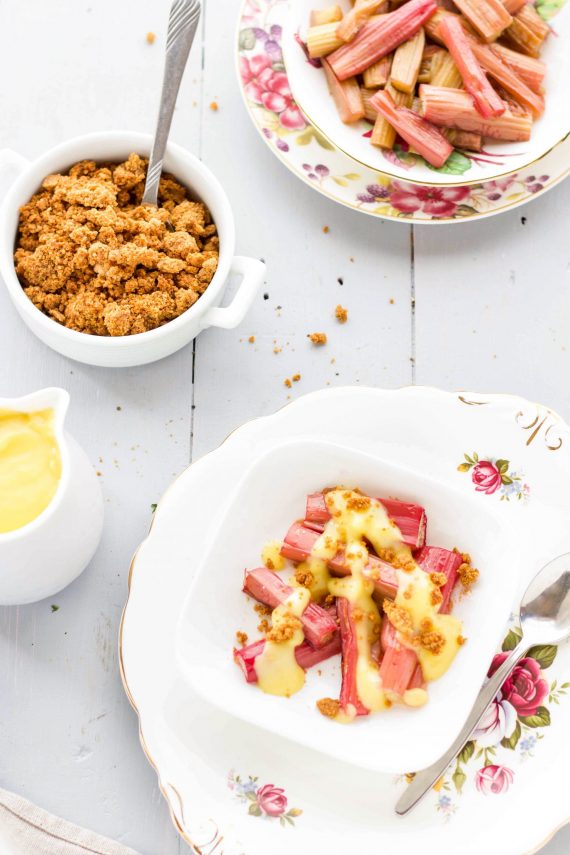 Ingredients
Imperial Units

|

Metric Units
Servings:
Roast Rhubarb
400
fresh rhubarb (cut into 5cm 2 inch pieces)
Ginger Crumbs
0.125
ground ginger (just a sprinkle)*
Vanilla Custard
* See the FODMAP Tips, Dairy Tips and Gluten Free Tips for the ingredient notes above the method.
Equipment
roasting tray
large mixing bowl
Roast Rhubarb with Custard & Ginger Crumbs
Roast rhubarb and creamy vanilla custard topped with ginger crumbs makes a lovely dessert. It's easy enough to whip up on a week night but delicious enough to serve at special occasions like Thanksgiving or Christmas dinner.
Creating ginger crumbs: We used our soft ginger cookies to create yummy ginger crumbs, however you can use any low FODMAP ginger cookies.
FODMAP note on custard: Make sure the custard powder does not contain milk powder.
Gluten Free Option
Low FODMAP
Dairy Free
Egg Free
Nut Free
MAKE GLUTEN FREE
SHOW NUTRITION
Nutrition per serve
NON-DAIRY FREE

|

DAIRY FREE

|

GLUTEN FREE
---
Love this recipe? Get your weekly meal plans.
FREE TRIAL
Method

|

FODMAP tips

|

Gluten Free tips

|

Dairy Free tips
---
Method
Preheat the oven to  180°C (355°F) bake function.

Line a roasting tray with nonstick baking paper. A

rrange the rhubarb in the prepared tray. Scatter over the sugar and roast for 10-15 minutes, until the rhubarb is tender, but holds its shape.

While the rhubarb roasts, make the ginger 

crumbs and custard. Crumble the soft ginger cookies. Place in the roasting tray, sprinkle the brown sugar, ginger and cinnamon. Bake for 10 to 12 minutes, until golden (turn once while cooking).
Make the custard. In a large microwave safe bowl,  dissolve the custard powder and sugar in 60ml (1/4 cup) of low FODMAP milk. Then whisk through the rest of the milk and vanilla essence. Place in the microwave and heat for 2 minutes, whisk and heat for another 2 minutes. Whisk again and heat in 1 minute bursts until thick (the custard will continue to thicken as it cools).
Serve the roast rhubarb with the custard and top with ginger crumbs.
Buying Tips
Buy a custard powder that does not include milk powder or whey powder. We used Edmonds Gluten Free Custard Powder which contained maize cornflour, colours (beta-carotene, riboflavin), salt and flavour.
Gluten Free Tips
Herbs and spices are naturally gluten free, however they can become contaminated during manufacturing processes. If you are highly sensitive to gluten, check the dried herbs and spices do not contain a warning for trace gluten. If you are just on the low FODMAP diet you do not need to worry about this.
Dairy Free Tips