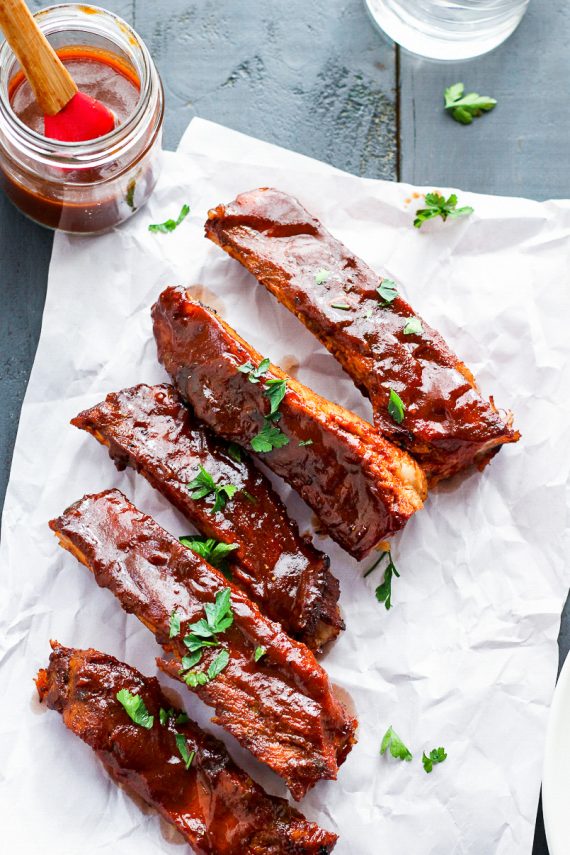 Ingredients
Imperial Units

|

Metric Units
Servings:
Sticky Pork Ribs
80
leek (green tips only)*
Spice Rub
0.25
dried chilli flakes (couple of pinches)*
Sauce
250
low FODMAP chicken stock*
250
freshly squeezed orange juice*
200
plain crushed/chopped tomatoes (canned)*
* See the FODMAP Tips, Dairy Tips and Gluten Free Tips for the ingredient notes above the method.
Equipment
large frypan
roasting tray
small saucepan
oven tray
Low FODMAP Sticky Pork Ribs
These low FODMAP sticky pork ribs make a great low FODMAP treat! They are simply delicious and well worth the effort.
Gluten Free Option
Low FODMAP
Dairy Free
Egg Free
Nut Free
Soy Free
MAKE GLUTEN FREE
SHOW NUTRITION
Nutrition per serve
NON-DAIRY FREE

|

DAIRY FREE

|

GLUTEN FREE
---
Love this recipe? Get your weekly meal plans.
LEARN MORE
Method

|

FODMAP tips

|

Gluten Free tips

|

Dairy Free tips
---
Method
If cooking immediately, preheat your oven to 160ºC (320ºF) bake function.
Remove the white membrane from the ribs. Pierce the membrane with a sharp knife, slice a strip (to get it started), then peel it off using your hands and a paper towel (the paper towel will help you grip the membrane).
Next you can season the meat (I like to do this the night before) with the spice rub. Mix the paprika, brown sugar, cumin, salt, black pepper, and dried chilli flakes in a small bowl. Then rub onto the ribs and leave to marinate overnight. If you are in a rush just add the spice rub mixture to the sauce.
Squeeze the juice out of the oranges. Finely chop the green leek tips. Puree the canned tomatoes until smooth (I used a stick blender).
Heat a large frypan over medium high heat. Add a splash of neutral oil and brown the meaty side of the ribs for 3 to 4 minutes. Then transfer to a roasting tray. In the same frypan, fry the green leek tips in the garlic infused oil and then transfer to the roasting tray.
While you fry the pork ribs, make the sauce. In a small saucepan over medium heat, add the freshly squeezed orange juice, low FODMAP stock, pureed tomato, soy sauce, rice wine vinegar, mustard powder and Worcestershire sauce (and add the spices from the spice rub if you didn't pre-marinate your meat). Mix to combine and allow to heat for 3 to 4 minutes.
Pour the sauce over the pork. Cover with tinfoil and bake for 1 hour 30 minutes. Check and see if the pork is tender. If the pork isn't tender, recover it and continue cooking for another 30 minutes.
Transfer the pork to a chopping board. Pour the sauce through a sieve and into a small saucepan. Rapidly boil over medium high heat, until it reduces into a moderately thick sauce (this will take 10 to 15 minutes).
Increase the oven temperature to 220ºC (430ºF).  Line a baking tray with baking paper.
Gently cut or pull the ribs into single rib portions. Place on the baking tray. Coat each rib with sauce (use about half the sauce). Bake in the oven for another 10 to 15 minutes, basting a couple of times with the sauce. Cook until the pork is delightfully sticky!
Serve hot with your favourite low FODMAP sides.
Buying Tips
Garlic infused oil is found in the oil section of your local supermarket. It should be clear with no floating bits of garlic. You can also make garlic infused oil at home by frying garlic cloves in cooking oil, until they are golden and fragrant (then remove the garlic before you continue cooking your meal). This is a low FODMAP way to capture the garlic flavour as the fructans can't leach into the oil.
Make sure you buy a leek that has long green tips (this is the low FODMAP part), as you can't use the white/light green leek bulb (this part is high FODMAP).
Monash University have tested Worcestershire sauce and it is low FODMAP, despite containing small amounts of onion and garlic. The sauce is low FODMAP because the onion and garlic are fermented during the manufacturing process which reduces the FODMAP levels.
 Make your orange juice and orange zest from fresh oranges.
Check your dried chilli flakes do not contain onion or garlic powder.
The amount of wheat in regular soy sauce is low FODMAP, however if you are feeling concerned you can buy gluten free soy sauce (Tamari).
Choose plain canned tomatoes with no added herbs or spices. Check there is no added onion or garlic.
Choose a stock that does not include onion or garlic. We prefer to use Massel Chicken Stock Cube 7's (in the yellow & blue packet). This product is low FODMAP, gluten free and vegan (despite it's name) and each packet makes 7 cups of stock. This product can be brought online around the world and is available from some supermarkets.
Gluten Free Tips
Buy a gluten free Worcestershire sauce or substitute 1 tablespoon gluten free soy sauce, 1/4 teaspoon Chinese five spice, and 1/2 tsp brown sugar for every tablespoon of Worcestershire sauce. Often the ingredient labels don't state they are gluten free, so if the ingredients look safe then ring the manufacturer to confirm.
Herbs and spices are naturally gluten free, however they can become contaminated during manufacturing processes. If you are highly sensitive to gluten, check the dried herbs and spices do not contain a warning for trace gluten. If you are just on the low FODMAP diet you do not need to worry about this.
If you are highly sensitive to gluten, check all packaged products, processed meat (like bacon), nuts, seeds and dried fruit do not contain a warning for trace gluten. If you are just on the low FODMAP diet you do not need to worry about this.
Dairy Free Tips