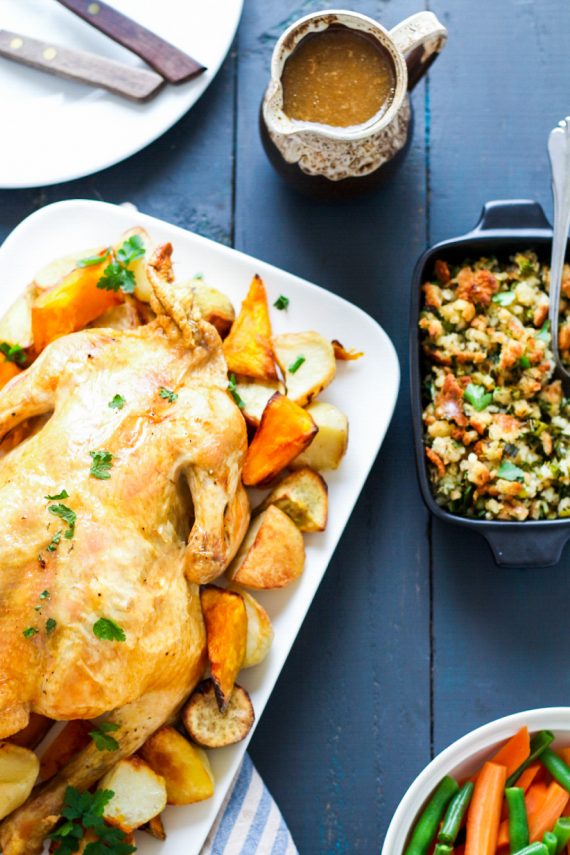 Ingredients
Imperial Units

|

Metric Units
Servings:
Herb Stuffing
4
dairy free spread (olive oil spread or butter)*
120
leek (green tips only)*
125
low FODMAP chicken stock*
Roast Chicken
Carrots
Roast Veggies
420
Japanese (Jap) pumpkin (Kabocha squash or Buttercup squash) OR sweet potato
Garlic Butter Green Beans
1
dairy free spread (olive oil spread or butter)*
Homemade Gravy
250
low FODMAP chicken stock*
0.5
pan juices (just use what ever juice is left in the pan)*
* See the FODMAP Tips, Dairy Tips and Gluten Free Tips for the ingredient notes above the method.
Equipment
roasting tray
small saucepan
medium sized casserole dish
oven tray
Roast Chicken with Stuffing & Homemade Gravy
Everyone loves a good roast! Every Sunday night growing up we would have a traditional roast dinner with delicious homemade gravy. It was a time to relax, enjoy good food, and catch up with the family. This recipe will teach you how to make yummy low FODMAP gravy using the pan juices and a safe stuffing to make sure you don't feel like you are missing out.
Note on Sweet Potato: Sweet potato is high FODMAP in large serves. This recipe contains 70g per person, which is a low FODMAP serving size. If you are feeling concerned you can swap the sweet potato for a low FODMAP pumpkin like Kabocha squash or spaghetti squash.
#LowFODMAP #FODMAPfriendly #GlutenFree #DairyFree #SoyFree #EggFree #NutFree

Gluten Free Option
Low FODMAP
Dairy Free
Egg Free
Nut Free
Soy Free
MAKE GLUTEN FREE
SHOW NUTRITION
Nutrition per serve
NON-DAIRY FREE

|

DAIRY FREE

|

GLUTEN FREE
---
Love this recipe? Get your weekly meal plans.
LEARN MORE
Method

|

FODMAP tips

|

Gluten Free tips

|

Dairy Free tips
---
Method
Preheat the oven to 180ºC (350ºF) bake function. Take the chicken out of the fridge and allow it to warm for 30 minutes at room temperature. While the chicken warms you can prepare it for roasting. Place the chicken in a roasting tray (if possible use a smaller roasting tray & don't line the tray as you will want to use the tray juices later). Drizzle with olive oil and a few good grinds of salt and pepper. Rub the seasonings into the skin - don't forget to season underneath the chicken. I don't like soggy stuffing so I bake the stuffing as a side dish. Instead I place a handful of fresh thyme and a large lemon into the chicken cavity. Make sure you prick the lemon skin all over before placing it in the cavity.
While the chicken finishes warming, you can start preparing your stuffing. Roughly shred the gluten free bread into small pieces and place a large bowl. In a small bowl melt the dairy free spread (olive oil spread or butter) in the microwave, and then mix it with the garlic infused oil. Drizzle it over the bread and toss until the bread is well coated. Spread the bread out onto a baking tray, place in the oven and bake for 5 minutes, then turn/toss the bread, and cook for another 3 to 5 minutes, until the bread starts going golden brown. Then remove from the oven.
Place the chicken in the oven on the middle rack or just slightly above. Every 30 minutes, baste the chicken using the pan juices. Cover with tinfoil once the skin has turned golden brown. The chicken will need to cook for about 1 hour 40 minutes, until the juices run clear.
Finish preparing the stuffing. If you want your stuffing to be finer you can place it into a food processor and process until it's your desired texture. I like my stuffing chunky and crunchy so I don't always do this. Place the toasted bread in a medium sized casserole dish. Roughly chop the green leek tips and fresh parsley. Place the leek tips, fresh parsley, dried herbs (sage, oregano, thyme), salt and pepper in the dish and mix well. Place to one side.
Prepare the roast vegetables. Peel and cut the potato and sweet potato (or pumpkin) into small chunks. Place in a large roasting tray. Drizzle in olive oil and season with salt and pepper. Mix well. Place in the oven about 50 minutes after the chicken. Turn the roast vegetables after 25 minutes of cooking. Cook until golden and tender (this should take about 45 to 55 minutes).
Prepare the carrots by cutting into small sticks. Place in a microwave proof bowl, add about 2 tablespoons of water and cover with a plate. You will cook these in the microwave as you make the gravy.
Prepare the green beans by removing the tips. Place to one side.
When you remove the chicken, you need to place the stuffing into the oven. Before baking the stuffing, pour the hot chicken stock evenly over the stuffing - you want the stuffing moist but not soggy (you can add more stock if needed). Place in the oven and bake uncovered for about 15 minutes, stirring half way through. If the top won't go crunchy grill it under the oven grill on high for 2 to 3 minutes.
Once the chicken is cooked, remove it from the oven, transfer it to a carving board, and wrap in tinfoil. Allow to rest while you make the gravy, green beans, and carrots.
To make the gravy place the roasting tray over the stove element over medium low heat. Add one cup of hot chicken stock and stir until the pan juices dissolve. In a small cup, place the cornflour with 1 & 1/2 tablespoons of warm water. Mix until the corn starch dissolves. Add the corn starch mixture to the gravy and mix well. Continue to stir occasionally until the gravy thickens (this should take 2 to 3 minutes). If the gravy won't thicken dissolve some more corn starch and add it to the pan. Season with salt & pepper as needed. Transfer to a gravy boat or cup for serving.
While the gravy cooks, blanch the green beans in a small saucepan of boiling water for 2 to 3 minutes, until they are bright green and tender. Drain and mix through the dairy frre spread (butter) and garlic infused oil.
Cook the carrots in the microwave for 2 to 3 minutes on high until tender. Then drain.
Carve the roast chicken. Serve with the roast veggies, garlic butter green beans, carrots, crunchy bread stuffing, and homemade gravy.
Buying Tips
Check that the cornflour (corn starch) is made from maize and not wheat.
Garlic infused oil is found in the oil section of your local supermarket. It should be clear with no floating bits of garlic. You can also make garlic infused oil at home by frying garlic cloves in cooking oil, until they are golden and fragrant (then remove the garlic before you continue cooking your meal). This is a low FODMAP way to capture the garlic flavour as the fructans can't leach into the oil.
Make sure you buy a leek that has long green tips (this is the low FODMAP part), as you can't use the white/light green leek bulb (this part is high FODMAP).
You can't buy pan juices, they come from your roast meat.
We buy whole raw chicken roasts (without giblets) that have not been prepared in broth or solutions. If your whole chicken contains broth or seasonings then make sure they do not contain onion or garlic. Also make sure your chicken does not come with stuffing.
Choose a stock that does not include onion or garlic. We prefer to use Massel Chicken Stock Cube 7's (in the yellow & blue packet). This product is low FODMAP, gluten free and vegan (despite it's name) and each packet makes 7 cups of stock. This product can be brought online around the world and is available from some supermarkets.
Wheat or spelt sourdough breads make good options. Also check your Monash or FODMAP Friendly apps for certified low FODMAP breads in your area. Avoid ingredients like inulin, apple or pear juice, apple fibre, concentrated fruit juices, honey, or high fructose corn syrup. Also check what flours have been used, avoid products that contain amaranth flour, lupin flour, chickpea/besan/gram/garbanzo bean flour, lentil flour or large amounts of soy flour or coconut flour especially if choosing gluten free bread.
Gluten Free Tips
Herbs and spices are naturally gluten free, however they can become contaminated during manufacturing processes. If you are highly sensitive to gluten, check the dried herbs and spices do not contain a warning for trace gluten. If you are just on the low FODMAP diet you do not need to worry about this.
Dairy Free Tips
Use a dairy free spread or olive oil spread instead of butter. Butter is considered low FODMAP.