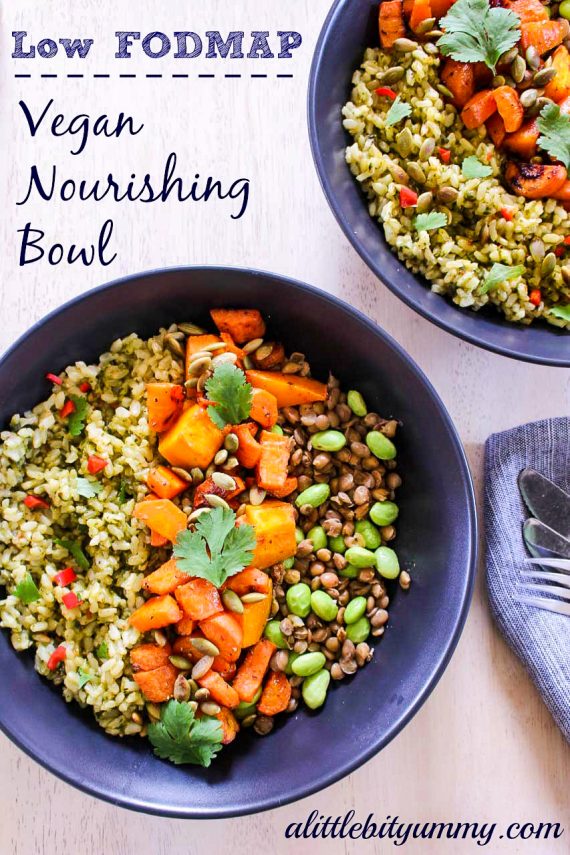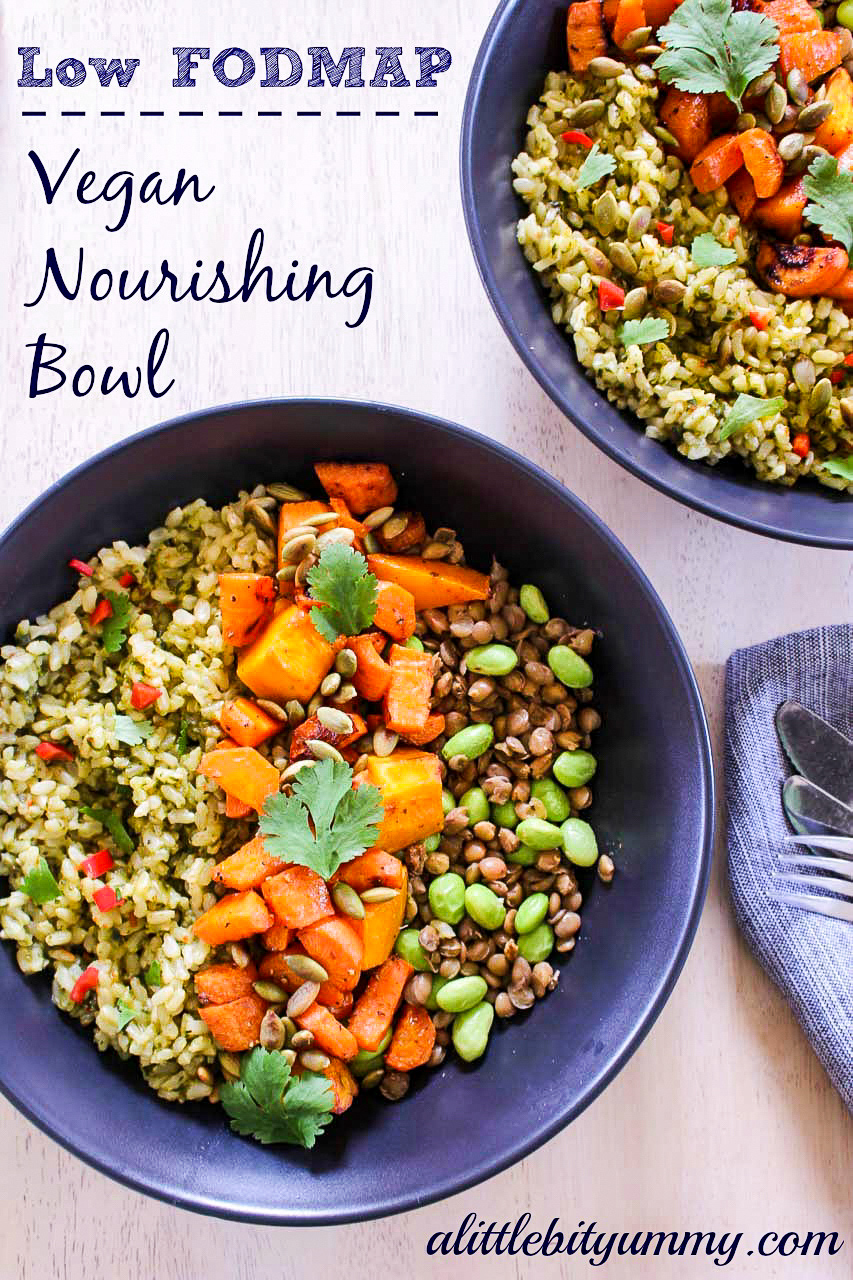 Ingredients
Imperial Units

|

Metric Units
Servings:
Yummy Green Rice
315
long grain brown rice
750
low FODMAP vegetable stock*
10
fresh cilantro (mainly leaves, lightly packed)
1
mild red chillies (deseeded & roughly chopped)
10
green onions/scallions (green tips only, finely chopped)*
1
salt & pepper (to taste)
Roasted Vegetables
360
carrot (peeled & cut into cubes)
240
Japanese (Jap) pumpkin (Kabocha squash or Buttercup squash) OR sweet potato
Seasoned Lentils
400
canned lentils (drained & rinsed)*
0.125
chilli powder (just a pinch - add more to taste)*
0.5
large limes (use the juice)
1
salt & pepper (to taste)
Garnishes
3
pumpkin seeds (lightly toasted)*
3
fresh cilantro (finely chopped for garnish)
Edamame Beans
120
edamame beans (frozen)
* See the FODMAP Tips, Dairy Tips and Gluten Free Tips for the ingredient notes above the method.
Equipment
large frypan
large saucepan
roasting tray
blender/stick blender
small saucepan
Low FODMAP Vegan Nourishing Bowl
This low FODMAP vegan nourishing bowl makes a delicious lunch or dinner! I love the way the spicy lentils combine with the yummy green rice and the sweetness of the roasted vegetables. The pumpkin seeds also provide a nice crunch!
How to Replace Low FODMAP Pumpkin: If you can't find low FODMAP pumpkin you can use sweet potato, just make sure you use the same amount as listed for the pumpkin to stay within low FODMAP limits.
Gluten Free Option
Low FODMAP
Dairy Free
Egg Free
Nut Free
MAKE GLUTEN FREE
SHOW NUTRITION
Nutrition per serve
NON-DAIRY FREE

|

DAIRY FREE

|

GLUTEN FREE
---
Love this recipe? Get your weekly meal plans.
FREE TRIAL
Method

|

FODMAP tips

|

Gluten Free tips

|

Dairy Free tips
---
Method
Preheat the oven to 200ºC (390ºF) bake function.
Place the brown rice into a large saucepan. Add the vegetable stock and over medium-high heat bring to a rolling boil. Then turn down the heat to low, cover with a lid, and allow to gently simmer until the water evaporates (20 to 30 minutes).
Peel and cut the carrot and pumpkin into small chunks. Mix through the olive oil, smoked paprika and a couple of grinds of salt. Place in a roasting tray. Bake for 25 to 30 minutes until golden and tender. Turn once during cooking.
While the veggies roast, finish cooking the green rice and season the lentils. Once the vegetables are cooking, roughly chop the baby spinach, deseed and finely dice the mild red chillies, and finely chop the green onions/scallions (green tips only). Place the chopped spinach, diced mild red chillies, finely chopped green onions/scallions (green tips only), fresh cilantro, garlic infused oil, and water into the blender. Blend into a chunky paste then stir through the cooking brown rice.
Watch the brown rice and if it stops simmering turn up the heat slightly. Once the water has absorbed out of the rice, turn off the heat and allow to stand for about 10 minutes. Then fluff the rice using a fork and season with salt and pepper to taste.
While the rice finishes cooking, make the spicy lentils and toast the pumpkin seeds. Toast the pumpkin seeds in a small frypan (no oil needed) for 2 to 3 minutes until lightly golden.
Drain and rinse the lentils, add to the frypan over medium heat. Season with the cumin and chilli powder. Add the water and allow to simmer and fry for 4 to 5 minutes. Once the water has evaporated, remove from the heat and add a squeeze of lime juice, and salt and pepper to taste. Place to one side.
Blanch the frozen edamame beans in boiling water for 3 to 4 minutes until tender.
Serve the green rice with the spicy lentils and top with the roasted vegetables, toasted pumpkin seeds, edamame beans, and some fresh cilantro. Enjoy!
Buying Tips
Garlic infused oil is found in the oil section of your local supermarket. It should be clear with no floating bits of garlic. You can also make garlic infused oil at home by frying garlic cloves in cooking oil, until they are golden and fragrant (then remove the garlic before you continue cooking your meal). This is a low FODMAP way to capture the garlic flavour as the fructans can't leach into the oil.
Buy a bunch of green onions/scallions with long green tips. You can use the green tips of the green onions/scallions (which are low FODMAP) and not the white stem when cooking.
Make sure your chilli powder does not include garlic powder. You may need to shop around to find a pure chilli powder. When developing recipes we used a mild powdered chilli that was not mixed with any other ingredients
Canned lentils are lower in FODMAPs as the oligosaccharides leach into the brine. Just make sure you drain and rinse them well before using.
Choose a stock that does not include onion or garlic. We prefer to use Massel Chicken Stock Cube 7's (in the yellow & blue packet). This product is low FODMAP, gluten free and vegan (despite it's name) and each packet makes 7 cups of stock. This product can be brought online around the world and is available from some supermarkets.
Gluten Free Tips
Herbs and spices are naturally gluten free, however they can become contaminated during manufacturing processes. If you are highly sensitive to gluten, check the dried herbs and spices do not contain a warning for trace gluten. If you are just on the low FODMAP diet you do not need to worry about this.
If you are highly sensitive to gluten, check all packaged products, processed meat (like bacon), nuts, seeds and dried fruit do not contain a warning for trace gluten. If you are just on the low FODMAP diet you do not need to worry about this.
Dairy Free Tips