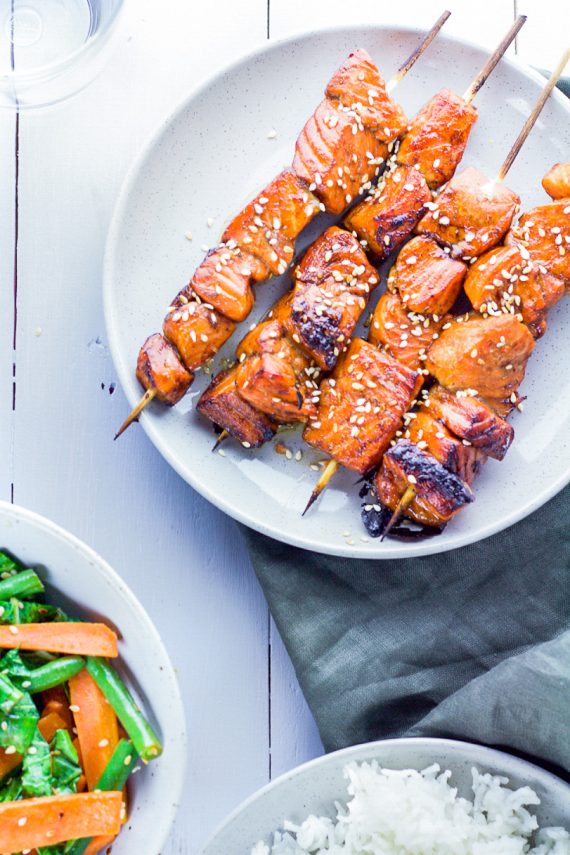 Ingredients
Imperial Units

|

Metric Units
Servings:
Sweet & Sticky Salmon Skewers
400
fresh salmon fillets (boneless & skinless)
1
large limes (zest & juice)
1
sesame seeds (toasted)*
* See the FODMAP Tips, Dairy Tips and Gluten Free Tips for the ingredient notes above the method.
Equipment
small frypan
roasting tray
bamboo skewer
Low FODMAP Sweet & Sticky Salmon Skewers
Maple soy marinade creates beautifully sticky and sweet salmon skewers. Cook these on the BBQ or under the oven grill for a tasty low FODMAP salmon dish.
Gluten Free Option
Low FODMAP
Dairy Free
Egg Free
Nut Free
MAKE GLUTEN FREE
SHOW NUTRITION
Nutrition per serve
NON-DAIRY FREE

|

DAIRY FREE

|

GLUTEN FREE
---
Love this recipe? Get your weekly meal plans.
FREE TRIAL
Method

|

FODMAP tips

|

Gluten Free tips

|

Dairy Free tips
---
Method
Debone and skin the salmon, then cut into 2.5cm (1 inch) cubes. In a bowl, mix together the garlic infused oil, crushed ginger, maple syrup, lime juice and zest, and soy sauce. Add the salmon and allow to marinate for 10 minutes.
Place the wooden skewers in a bowl of water (this will help stop them burning).
Slide the salmon pieces onto skewers (we do 1 per person). Place in a lightly oiled roasting tray. Then grill in the oven for 8 to 10 minutes until cooked through. Turn 3 times during cooking (every couple of minutes), each time basting with more marinade.
While the salmon cooks, toast the sesame seeds over medium high heat for 1 to 2 minutes until golden. 
Serve the sweet and sticky salmon skewers with a sprinkle of toasted sesame seeds.
Buying Tips
Garlic infused oil is found in the oil section of your local supermarket. It should be clear with no floating bits of garlic. You can also make garlic infused oil at home by frying garlic cloves in cooking oil, until they are golden and fragrant (then remove the garlic before you continue cooking your meal). This is a low FODMAP way to capture the garlic flavour as the fructans can't leach into the oil.
Check the crushed ginger does not contain garlic. Crushed ginger is grated ginger that has been preserved in a jar. You can swap it for fresh ginger if you prefer.
Make sure you use pure maple syrup (low FODMAP) not maple flavoured syrup (potentially high FODMAP).
The amount of wheat in regular soy sauce is low FODMAP, however if you are feeling concerned you can buy gluten free soy sauce (Tamari).
Gluten Free Tips
If you are highly sensitive to gluten, check all packaged products, processed meat (like bacon), nuts, seeds and dried fruit do not contain a warning for trace gluten. If you are just on the low FODMAP diet you do not need to worry about this.
Dairy Free Tips