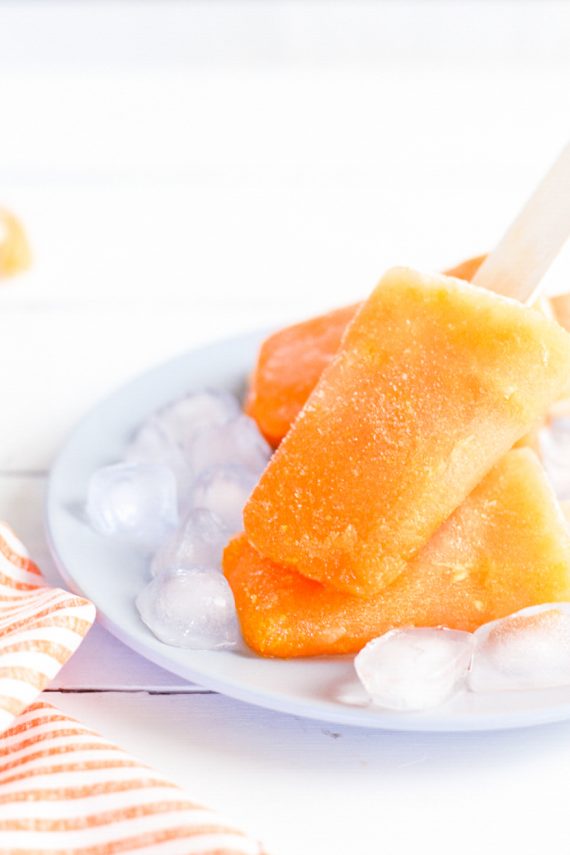 Ingredients
Imperial Units

|

Metric Units
Servings:
(85ml popsicles)
Sunshine Popsicles
1
imperial mandarins (peeled & chopped)
2
confectioners sugar (powdered sugar) (add more to taste)*
* See the FODMAP Tips, Dairy Tips and Gluten Free Tips for the ingredient notes above the method.
Equipment
Low FODMAP Sunshine Popsicles
For those of you enjoying the glorious summer weather in the Northern Hemisphere - this recipe is for you! In the spirit of your summer, I have created these delightfully refreshing sunshine popsicles aka orange and carrot ice blocks.... In the meantime I'm going to crank the heating up and pretend it's summer in my living room! 
Gluten Free Option
Low FODMAP
Dairy Free
Egg Free
Nut Free
Soy Free
MAKE GLUTEN FREE
SHOW NUTRITION
Nutrition per serve
NON-DAIRY FREE

|

DAIRY FREE

|

GLUTEN FREE
---
Love this recipe? Get your weekly meal plans.
FREE TRIAL
Method

|

FODMAP tips

|

Gluten Free tips

|

Dairy Free tips
---
Method
Grate the carrots (we used a food processor to make this easier). Place the grated carrot into a clean cloth, wrap tightly, and then squeeze the juice out of the carrots and into a bowl.
Zest one orange. Then juice the oranges and finely dice the mandarin. Combine the carrot juice, orange juice and diced mandarin in a small bowl. Stir through the confectioners sugar (powdered sugar) and taste (if it's still too sour, then add more if needed).
Pour into the popsicle moulds and place in the freezer to freeze overnight. If you are adding wooden sticks to your ice blocks (instead of using the popsicle holder tops), then add them about 2 hours after they go into the freezer. This way the liquid will be icy enough to keep them upright.
To remove the popsicles from the holder submerge the holder in warm water for about 2 minutes, then gently squeeze them out.
Enjoy!
 Storage Tip: If you want to keep the popsicles for a future date store them in small plastic bags in the freezer.
Buying Tips
 Make your orange juice and orange zest from fresh oranges.
Gluten Free Tips
Most icing sugars (powdered sugar) are gluten free, however some do contain wheat starch. This means you should check that your icing/powdered sugar is gluten free.
Dairy Free Tips