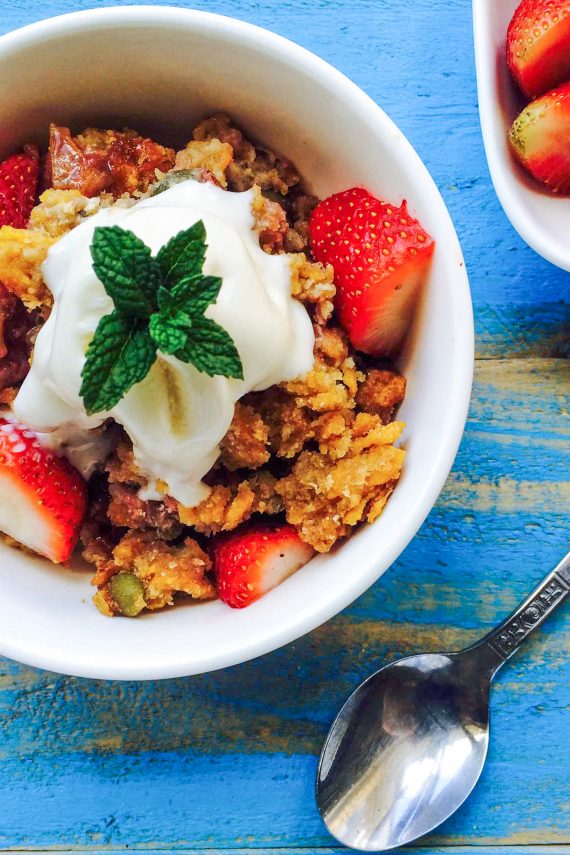 Ingredients
Imperial Units

|

Metric Units
Servings:
Fruit Filling
140
strawberries (fresh or frozen)
Crumble Topping
50
gluten free cornflakes*
35
gluten free all purpose flour*
3
dried shredded coconut*
4
dairy free spread (olive oil spread or butter) (softened but not melted)*
* See the FODMAP Tips, Dairy Tips and Gluten Free Tips for the ingredient notes above the method.
Equipment
roasting tray
large deep oven dish
Low FODMAP Strawberry & Rhubarb Crumble
This low FODMAP strawberry and rhubarb crumble makes a great snack or delicious dessert. This crumble contains a safe low FODMAP serve of fruit but you must divide it into the recommended number of servings. I normally divide it into slightly smaller servings so I don't have too much sugar at once. The crumble is yummy by itself or you can serve it with low FODMAP ice cream or yoghurt.
Gluten Free Option
Low FODMAP
Dairy Free
Egg Free
Nut Free
Soy Free
MAKE GLUTEN FREE
SHOW NUTRITION
Nutrition per serve
NON-DAIRY FREE

|

DAIRY FREE

|

GLUTEN FREE
---
Love this recipe? Get your weekly meal plans.
FREE TRIAL
Method

|

FODMAP tips

|

Gluten Free tips

|

Dairy Free tips
---
Method
Preheat the oven to 200ºC (390ºF). Prepare the rhubarb by washing the stalks, removing any stringy pieces of the outside skin, then cut into small pieces. Place in a small, shallow roasting tray with two tablespoons of water. Sprinkle with one teaspoon of white sugar. Roast for ten minutes, until the rhubarb goes tender. Then remove and turn the oven down to 180ºC (355ºF).
While the rhubarb roasts make the crumble in a large bowl. Crush the cornflakes into small bits (I used a plastic bag and my hands). Mix together the cornflakes, brown sugar, gluten free all purpose flour, shredded dried coconut, and pumpkin seeds. Soften the dairy free spread (olive oil spread or butter) slightly - do not melt it. Add the dairy free spread to the bowl and work into the mixture until it forms small crumbs, and there are no large lumps left.
Transfer the rhubarb to an oven proof dish ( for 2 serves I use a 17cm by 10cm, or 7 inch by 4 inch dish). Add the strawberries (if the strawberries are large, cut into smaller pieces). I used frozen strawberries (you don't need to thaw them). Sprinkle with white sugar and corn starch. Spread the crumble topping evenly on top. Place the dish on a flat baking tray in case it boils over. Cook in the oven for about 15 to 20 minutes, or until the topping goes golden brown.
Serve hot. This crumble is great by itself or served with low FODMAP vanilla ice cream or yoghurt and a couple of fresh strawberries on the side. I always divide this recipe into slightly smaller serves so I don't have too much sugar all at once!
Buying Tips
Check that the cornflour (corn starch) is made from maize and not wheat.
Buy a gluten free plain flour or gluten free all purpose flour. The one I used contains these ingredients: maize starch, rice flour, tapioca starch, rice bran, & guar gum. Avoid flour blends that contain soy flour, chickpea/besan/gram/garbanzo bean flour, lentil flour, coconut flour, amaranth flour, or lupin flour.
Buy gluten free cornflakes that do not contain any high FODMAP ingredients like inulin, apple or pear juice, apple fibre, concentrated fruit juices, honey, or high fructose corn syrup.
Gluten Free Tips
If you are highly sensitive to gluten, check all packaged products, processed meat (like bacon), nuts, seeds and dried fruit do not contain a warning for trace gluten. If you are just on the low FODMAP diet you do not need to worry about this.
Dairy Free Tips
Use a dairy free spread or olive oil spread instead of butter. Butter is considered low FODMAP.