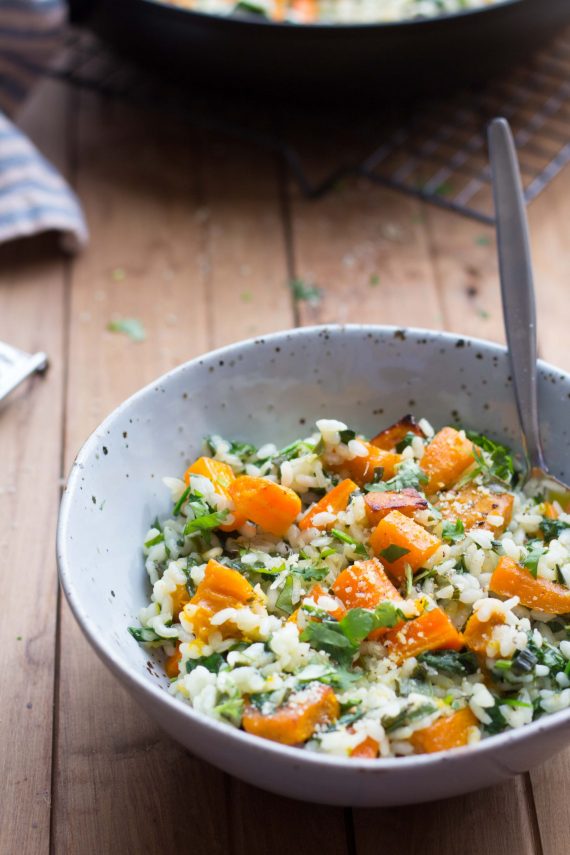 Ingredients
Imperial Units

|

Metric Units
Servings:
Roast Veggies
240
Japanese (Jap) pumpkin (Kabocha squash or Buttercup squash)
Risotto
318
medium grain white rice (risotto rice)*
40
leek (green tips only)*
1
dairy free spread (olive oil spread or butter) (or olive oil)*
1000
low FODMAP chicken stock/vegetable stock*
3
fresh cilantro (chopped)
50
parmesan cheese or soy based vegan cheese (optional) (grated)*
* See the FODMAP Tips, Dairy Tips and Gluten Free Tips for the ingredient notes above the method.
Equipment
large saucepan
roasting tray
Low FODMAP Pumpkin & Carrot Risotto
This low FODMAP pumpkin and carrot risotto is delicious. It combines fresh lemon flavours with the comfort of creamy rice and sweet roast veggies. This dish is great on its own or with pan fried white fleshed fish.
Gluten Free Option
Low FODMAP
Dairy Free
Egg Free
Nut Free
Soy Free
MAKE GLUTEN FREE
SHOW NUTRITION
Nutrition per serve
NON-DAIRY FREE

|

DAIRY FREE

|

GLUTEN FREE
---
Love this recipe? Get your weekly meal plans.
FREE TRIAL
Method

|

FODMAP tips

|

Gluten Free tips

|

Dairy Free tips
---
Method
Preheat the oven to 200ºC (390ºF) bake function. Peel and chop the pumpkin & carrot into 1.5cm (0.60 inch) pieces. Place in an oven dish, drizzle with olive oil and season with salt and pepper. Bake for 20 to 25 minutes (until soft and slightly golden). Toss a couple of times during cooking.
While the roast veggies are cooking, make the risotto. Roughly chop the green leek tips. Make the stock if using stock cubes, and shred the spinach. Heat a large saucepan over medium heat. Fry the leek tips in the dairy free spread (olive oil spread or butter) and garlic infused oil for two minutes. Add the rice, stir through the mixture for about 1 minute.
Next add 125ml (1/2 a cup) of stock at a time, stir every now and then until the liquid has absorbed into the rice. Carry on adding and stirring in the stock, a splash at a time. Turn down the heat to medium low if needed (if the rice is cooking too quickly and starting to stick to the bottom of the pan). Once the rice has absorbed about 3/4 of the stock, check and see if the rice is cooked (should take about 20 minutes). If it isn't, add more stock and continue cooking for another few minutes. While the risotto cooks, zest the lemons (the trick is just to zest the yellow layer and not the bitter white layer underneath).
While the rice finishes cooking, stir through the shredded spinach, lemon juice and lemon zest. Season with salt and pepper. Then stir through the roast veggies, chopped fresh cilantro and grated cheese (if using).
Serve the pumpkin and carrot risotto in bowls. Enjoy!
Buying Tips
Garlic infused oil is found in the oil section of your local supermarket. It should be clear with no floating bits of garlic. You can also make garlic infused oil at home by frying garlic cloves in cooking oil, until they are golden and fragrant (then remove the garlic before you continue cooking your meal). This is a low FODMAP way to capture the garlic flavour as the fructans can't leach into the oil.
Make sure you buy a leek that has long green tips (this is the low FODMAP part), as you can't use the white/light green leek bulb (this part is high FODMAP).
Risotto rice is a medium grain white rice like Arborio rice. This rice will go creamier than standard long grain white rice.
Make your lemon juice and lemon zest from fresh lemon.
Check the vegan soy based cheese does not include onion, garlic or coconut flour in the ingredients. Cheddar, Colby, mozzarella, and parmesan cheeses are all low FODMAP.
Choose a stock that does not include onion or garlic. We prefer to use Massel Chicken Stock Cube 7's (in the yellow & blue packet). This product is low FODMAP, gluten free and vegan (despite it's name) and each packet makes 7 cups of stock. This product can be brought online around the world and is available from some supermarkets.
Gluten Free Tips
Dairy Free Tips
Use a dairy free spread or olive oil spread instead of butter. Butter is considered low FODMAP.