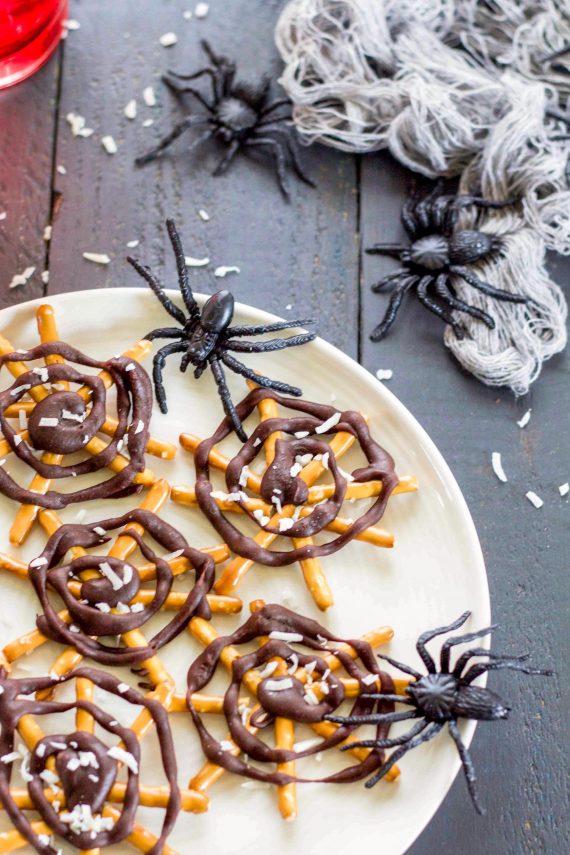 Ingredients
Imperial Units

|

Metric Units
Servings:
(2 spiderwebs per serve)
Halloween Pretzel Spiderwebs
2
dried shredded coconut*
* See the FODMAP Tips, Dairy Tips and Gluten Free Tips for the ingredient notes above the method.
Equipment
Low FODMAP Halloween Pretzel Spiderwebs
Okay so I didn't quite get to prepare the Halloween recipe I had planned as my car broke down and I'm stuck at home! However, these delicious dark chocolate & coconut pretzel spiderwebs make the perfect Halloween treat. The bonus is they only need 3 ingredients!
Note on Pretzels: If you are a Coeliac, then make sure you use gluten free pretzels, otherwise if you are just on the low FODMAP diet you can use normal pretzels. The small amount of wheat in the pretzels is within the low FODMAP threshold. The recommended serving size is 2 spiderwebs.
Gluten Free Option
Low FODMAP
Dairy Free
Egg Free
Nut Free
Soy Free
MAKE GLUTEN FREE
SHOW NUTRITION
Nutrition per serve
NON-DAIRY FREE

|

DAIRY FREE

|

GLUTEN FREE
---
Love this recipe? Get your weekly meal plans.
FREE TRIAL
Method

|

FODMAP tips

|

Gluten Free tips

|

Dairy Free tips
---
Method
Line a baking tray with baking paper. Then carefully break the pretzel sticks in half (you need 4 per spiderweb). Assemble the pretzels in a star pattern on the tray. Make sure you pop the broken pretzel ends to the middle of your star shape. Do this until you have the base for 12 spiderwebs.
Break up your dark chocolate. Place in a microwave proof bowl and microwave in 15 second intervals, until it melts (stir after each interval). Allow to cool for a minute and then transfer the dark chocolate into a resealable ziplock bag. Cut the very tip off one of the bag corners.
Gently squeeze the dark chocolate onto the pretzels. Start in the centre of your shape, until all pieces are connected, then drizzle the chocolate out in a circular motion to from the web. Sprinkle with finely shredded coconut.
Allow the chocolate to harden. If you are in a rush you can pop them into the freezer (make sure the tray stays flat) for 15 to 20 minutes. Then pop them off the tray using a flat spatular or knife. Store in an airtight container and keep cool. Enjoy!
Buying Tips
Choose a dark chocolate that doesn't contain inulin or high FODMAP sweeteners like honey, high fructose corn syrup, agave syrup or fructose. Also avoid dark chocolate that contains high FODMAP fruit or nuts.
Pretzels made from wheat flour are low FODMAP in 1/2 cup serves, however portion size is key so avoid larger serving sizes. Also avoid buying pretzels that are predominantly made from soy flour, lupin flour or besan/chickpea flour as the pretzels could container higher levels of FODMAPs.
Gluten Free Tips
If you are highly sensitive to gluten, check all packaged products, processed meat (like bacon), nuts, seeds and dried fruit do not contain a warning for trace gluten. If you are just on the low FODMAP diet you do not need to worry about this.
Dairy Free Tips