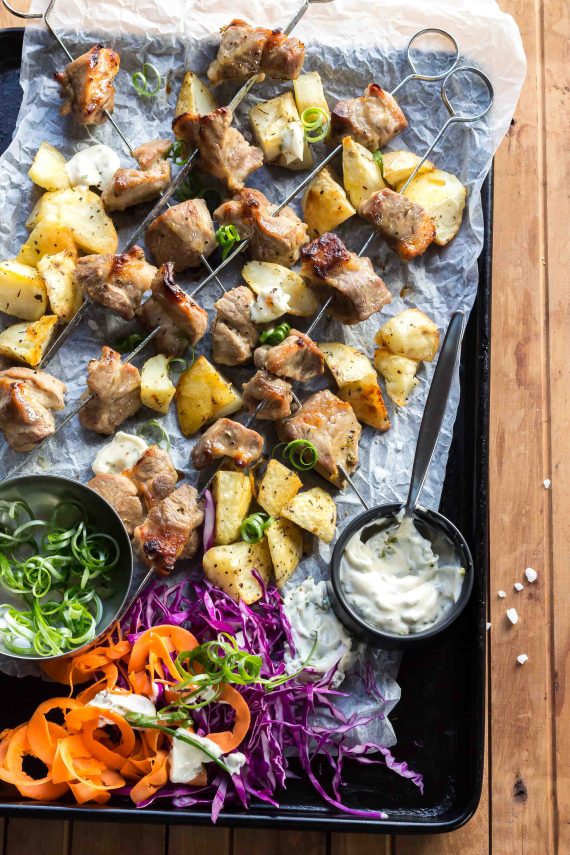 Ingredients
Imperial Units

|

Metric Units
Servings:
Pork Skewers
850
pork fillet or pork neck
125
freshly squeezed orange juice*
1
fresh thyme (leaves only)
Crunchy Potato
1200
potato (peeled & cut into chunks)
0.5
Italian mixed herbs (no onion or garlic)*
Chive Slaw
4
red cabbage (finely sliced)*
3
carrot (grated or spiralled)
20
green onions/scallions (green tips only, finely sliced)*
* See the FODMAP Tips, Dairy Tips and Gluten Free Tips for the ingredient notes above the method.
Low FODMAP Orange Thyme Pork Skewers with Slaw
These low FODMAP orange thyme pork skewers with chive slaw are sure to be a hit at your next gathering! The yummy pork skewers are easy to throw together… just make sure you leave enough time for them to marinate. Our top tip for juicy pork is to choose a pork cut that is marbled with a little bit of fat.
Gluten Free Option
Low FODMAP
Dairy Free
Egg Free
Nut Free
Soy Free
MAKE GLUTEN FREE
SHOW NUTRITION
Nutrition per serve
NON-DAIRY FREE

|

DAIRY FREE

|

GLUTEN FREE
---
Love this recipe? Get your weekly meal plans.
FREE TRIAL
Method

|

FODMAP tips

|

Gluten Free tips

|

Dairy Free tips
---
Method
Cut the pork into large 3cm (1.2 inch) cubes. Freshly squeeze the orange juice. Place the orange juice, maple syrup, garlic infused oil, and thyme leaves in a large bowl and mix well. Add the pork pieces and place in the fridge for 30 minutes or overnight.
Make the slaw. Finely shred the red cabbage, grate the carrots and finely slice the green leaves of the spring onion before placing in a large bowl. In a cup mix together the mayonnaise, dried chives and garlic infused oil. Then toss through the slaw.
Pre-heat the oven to 220ºC (430ºF) bake function. Cut the potatoes into bite-sized pieces, dry with a paper towel, then transfer into a roasting tray. Drizzle generously with olive oil, sprinkle with Italian herbs, and season with salt and pepper. Place in the oven. Bake for 45 to 50 minutes, turning twice during cooking, until golden brown and crunchy.
After the potato has been in the oven for 45 minutes add the pork. Remove the pork from the marinade and thread onto skewers. Place in a large roasting tray with a drizzle of oil. Bake for ten minutes, then baste with the marinade and bake for another 10 minutes until golden brown and cooked through. BBQ option: Alternatively cook the pork skewers on the BBQ for about 15 minutes until golden and cooked through.
Serve the orange thyme pork skewers with the crunchy potato and chive slaw. Enjoy!
Buying Tips
When buying cabbage make sure you choose common cabbage or red/purple cabbage  (these are low FODMAP) not savoy cabbage which can be high FODMAP.
Garlic infused oil is found in the oil section of your local supermarket. It should be clear with no floating bits of garlic. You can also make garlic infused oil at home by frying garlic cloves in cooking oil, until they are golden and fragrant (then remove the garlic before you continue cooking your meal). This is a low FODMAP way to capture the garlic flavour as the fructans can't leach into the oil.
Make sure you use pure maple syrup (low FODMAP) not maple flavoured syrup (potentially high FODMAP).
Buy a bunch of green onions/scallions with long green tips. You can use the green tips of the green onions/scallions (which are low FODMAP) and not the white stem when cooking.
 Make your orange juice and orange zest from fresh oranges.
Make sure you choose Italian mixed herbs that do not include onion or garlic powder.
Choose a mayonnaise that does not include onion or garlic powder. We like using Best Foods Mayonnaise (Lite or regular). If you are a meal plan member you can also grab the recipe for our egg free mayonnaise here.
Gluten Free Tips
Herbs and spices are naturally gluten free, however they can become contaminated during manufacturing processes. If you are highly sensitive to gluten, check the dried herbs and spices do not contain a warning for trace gluten. If you are just on the low FODMAP diet you do not need to worry about this.
If you are highly sensitive to gluten, check all packaged products, processed meat (like bacon), nuts, seeds and dried fruit do not contain a warning for trace gluten. If you are just on the low FODMAP diet you do not need to worry about this.
Dairy Free Tips