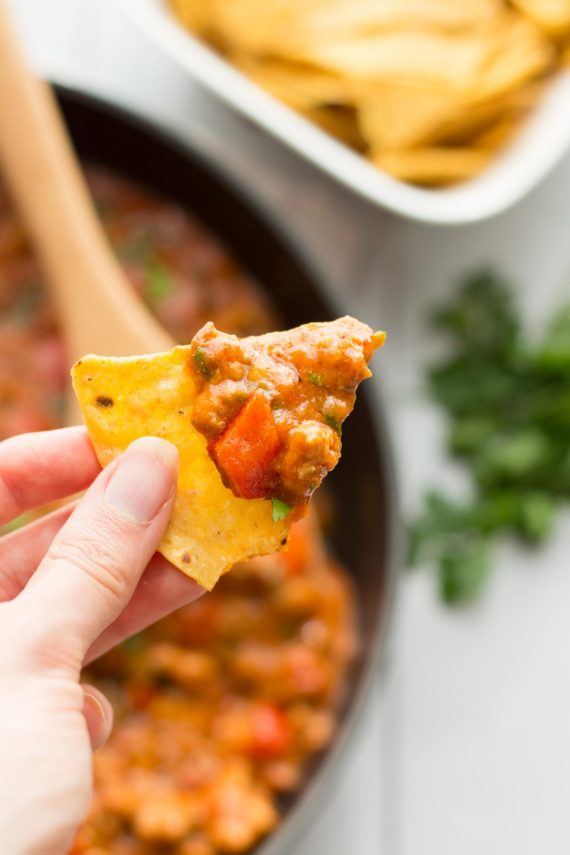 Ingredients
Imperial Units

|

Metric Units
SERVES 8
Cheesy Pork Taco Dip
2
neutral oil (rice bran, canola, sunflower)
1
red bell peppers (deseeded & diced)
375
FODMAPPED Slow Roasted Vegetable Simmer Sauce
20
green onions/scallions (green tips only, finely sliced)*
Cheese Sauce
2
dairy free spread (olive oil spread or butter)*
3
gluten free all purpose flour*
170
colby or cheddar cheese (grated)
To Serve
* See the FODMAP Tips, Dairy Tips and Gluten Free Tips for the ingredient notes above the method.
Equipment
large frypan
large saucepan
Low FODMAP Cheesy Pork Taco Dip
Looking for the perfect dip for you next social gathering? Our low FODMAP cheesy pork taco dip is sure to be a hit! To make the prep work super easy for this recipe we used FODMAPPED slow cooked roast vegetables (sponsored post).
Gluten Free Option
Low FODMAP
Egg Free
Soy Free
MAKE GLUTEN FREE
SHOW NUTRITION
Nutrition per serve
NON-DAIRY FREE

|

DAIRY FREE

|

GLUTEN FREE
---
Love this recipe? Get your weekly meal plans.
FREE TRIAL
Method

|

FODMAP tips

|

Gluten Free tips

|

Dairy Free tips
---
Method
Heat a large frypan over medium high heat. Add the neutral oil and fry the lean ground pork until golden brown. Add the red bell peppers and fry for a further minute. Mix through the FODMAPPED slow roast vegetable sauce, paprika, cumin, oregano, chilli powder and ground coriander. Season well with salt and pepper and turn down the heat to low.
While the pork browns, make the cheese sauce. Melt the dairy free spread (olive oil spread or butter) in a medium sized sauce pan over medium heat. Whisk through the flour and allow to bubble for 1 minute (don't let it brown) while you stir it. Then whisk through 1/2 cup of low FODMAP milk, once smooth whisk through the rest of the milk and add the cheese. Allow to cook until thick, stirring occasionally.
Finely chop the green onions/scallions (green tips only) and the fresh cilantro.
Mix the cheese sauce through the pork mixture. Taste and adjust the spices as needed. Then remove from the heat and mix through the fresh herbs.
Serve warm with tortilla chips.
Serving tip: Keep this dip warm by serving it in your crock pot (keep the heat setting on warm or low).
Buying Tips
Buy a gluten free plain flour or gluten free all purpose flour. The one I used contains these ingredients: maize starch, rice flour, tapioca starch, rice bran, & guar gum. Avoid flour blends that contain soy flour, chickpea/besan/gram/garbanzo bean flour, lentil flour, coconut flour, amaranth flour, or lupin flour.
Buy a bunch of green onions/scallions with long green tips. You can use the green tips of the green onions/scallions (which are low FODMAP) and not the white stem when cooking.
Make sure your chilli powder does not include garlic powder. You may need to shop around to find a pure chilli powder. When developing recipes we used a mild powdered chilli that was not mixed with any other ingredients
Choose plain potato chips and avoid chips that are flavoured with high FODMAP ingredients like onion powder, garlic powder, milk powder, whey powder (chicken flavoured or sour cream & chives often contain sneaky FODMAPs). Plain potato chips, ready salted or salt and vinegar often make good low FODMAP options.
Gluten Free Tips
Herbs and spices are naturally gluten free, however they can become contaminated during manufacturing processes. If you are highly sensitive to gluten, check the dried herbs and spices do not contain a warning for trace gluten. If you are just on the low FODMAP diet you do not need to worry about this.
If you are highly sensitive to gluten, check all packaged products, processed meat (like bacon), nuts, seeds and dried fruit do not contain a warning for trace gluten. If you are just on the low FODMAP diet you do not need to worry about this.
Dairy Free Tips
Use a dairy free spread or olive oil spread instead of butter. Butter is considered low FODMAP.