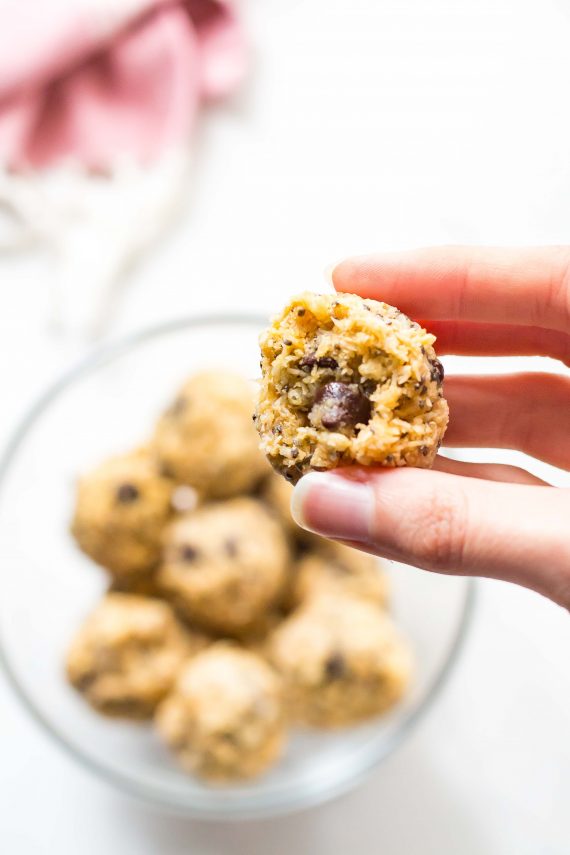 Ingredients
Imperial Units

|

Metric Units
SERVES 26 (limit 2-3 per serve)
Ingredients
2
dried shredded coconut*
* See the FODMAP Tips, Dairy Tips and Gluten Free Tips for the ingredient notes above the method.
Low FODMAP Dark Chocolate & Peanut Butter Energy Bites
Looking for a tasty energy bite? We've got you covered with these yummy peanut butter and dark chocolate bites. They are a breeze to make… and there isn't a date in sight!
Gluten Free Option
Low FODMAP
Dairy Free
Egg Free
Soy Free
MAKE GLUTEN FREE
SHOW NUTRITION
Nutrition per serve
NON-DAIRY FREE

|

DAIRY FREE

|

GLUTEN FREE
---
Love this recipe? Get your weekly meal plans.
LEARN MORE
Method

|

FODMAP tips

|

Gluten Free tips

|

Dairy Free tips
---
Method
In a food processor pulse the puffed rice and desiccated coconut until they are coarsely ground.
Next add the peanut butter, maple syrup, chia seeds, salt, vanilla essence, and dark chocolate chips. Pulse again until the chocolate chips are smaller and the ingredients are well mixed.
Using a tablespoon measure, scoop up the mixture and mold into balls. If the mixture is a little bit too dry add another drizzle of maple syrup and mix again.
Freeze until solid, then store in the fridge or freezer. They will last in the fridge for up to 7 days.
Enjoy! Just remember to limit your serve to 2 – 3 balls at a time to keep within low FODMAP limits.
Buying Tips
Make sure you use pure maple syrup (low FODMAP) not maple flavoured syrup (potentially high FODMAP).
Choose a dark chocolate that doesn't contain inulin or high FODMAP sweeteners like honey, high fructose corn syrup, agave syrup or fructose. Also avoid dark chocolate that contains high FODMAP fruit or nuts.
Check the puffed rice doesn't include high FODMAP ingredients like inulin, honey, apple or pear juice, or fruit juice concentrate. Small amounts of barley malt, golden syrup or molasses are likely to within low FODMAP limits.
Check the peanut butter does not contain high FODMAP ingredients like honey, high fructose corn syrup, inulin (chicory root), agave syrup.
Gluten Free Tips
Check the peanut butter is gluten free.
If you are highly sensitive to gluten, check all packaged products, processed meat (like bacon), nuts, seeds and dried fruit do not contain a warning for trace gluten. If you are just on the low FODMAP diet you do not need to worry about this.
Dairy Free Tips