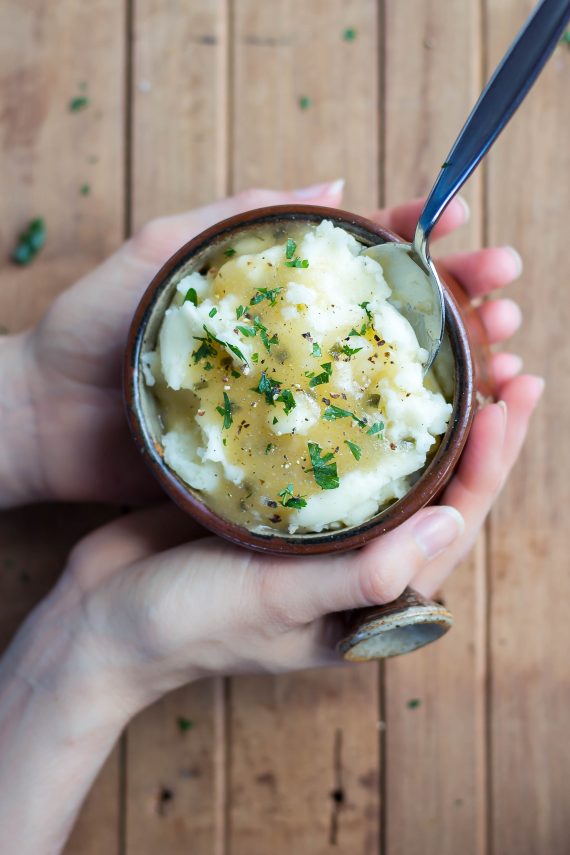 Ingredients
Imperial Units

|

Metric Units
Servings:
Creamy Mashed Potato
1000
potato (washed & peeled)
2
dairy free spread (olive oil spread or butter)*
Homemade Gravy
2
dairy free spread (olive oil spread or butter)*
1
low FODMAP chicken or vegetable bouillon*
0.5
worcestershire sauce*
* See the FODMAP Tips, Dairy Tips and Gluten Free Tips for the ingredient notes above the method.
Equipment
large saucepan
small saucepan
Low FODMAP Creamy Mashed Potato with Gravy
Low FODMAP creamy mashed potato with homemade gravy is my idea of the perfect comfort food. I love how the mashed potato just melts in your mouth and the homemade gravy makes it super tasty.
Gluten Free Option
Low FODMAP
Dairy Free
Egg Free
Nut Free
Soy Free
MAKE GLUTEN FREE
SHOW NUTRITION
Nutrition per serve
NON-DAIRY FREE

|

DAIRY FREE

|

GLUTEN FREE
---
Love this recipe? Get your weekly meal plans.
FREE TRIAL
Method

|

FODMAP tips

|

Gluten Free tips

|

Dairy Free tips
---
Method
Peel and dice the potatoes. Place in a large saucepan of hot water, cover and bring to the boil. Cook for 15 to 20 minutes until tender. Then mash until smooth with the low FODMAP milk, dairy free spread, garlic infused oil and salt. Add an extra splash of low FODMAP milk as you mash if it is too dry, then whip with a fork until fluffy.
While your potatoes cook, make your gravy. In a small saucepan, melt the dairy free spread over medium heat. Next, add the cornflour/cornstarch and mix through, cook for about a minute until it's frothy (don't let it brown). Whisk through the boiling water, stock/bouillon powder, low FODMAP milk, dried chives, black pepper, and Worcestershire sauce. Season well with salt to taste. Simmer until thick, stirring occasionally. If you happen to be roasting or pan frying meat, then add the gravy to the pan once you have finished (mix well). This will give your gravy an extra flavour boost.
Serve the mashed potato hot with the homemade gravy.
Buying Tips
Check that the cornflour (corn starch) is made from maize and not wheat.
Garlic infused oil is found in the oil section of your local supermarket. It should be clear with no floating bits of garlic. You can also make garlic infused oil at home by frying garlic cloves in cooking oil, until they are golden and fragrant (then remove the garlic before you continue cooking your meal). This is a low FODMAP way to capture the garlic flavour as the fructans can't leach into the oil.
Monash University have tested Worcestershire sauce and it is low FODMAP, despite containing small amounts of onion and garlic. The sauce is low FODMAP because the onion and garlic are fermented during the manufacturing process which reduces the FODMAP levels.
If possible choose a chicken or vegetable boullion powder that is FODMAP approved. We used Massel Stock Powder Chicken Style which is tested and approved by Monash FODMAP. If your product hasn't been tested, then choose a stock powder that doesn't include onion or garlic powder.
Gluten Free Tips
Buy a gluten free Worcestershire sauce or substitute 1 tablespoon gluten free soy sauce, 1/4 teaspoon Chinese five spice, and 1/2 tsp brown sugar for every tablespoon of Worcestershire sauce. Often the ingredient labels don't state they are gluten free, so if the ingredients look safe then ring the manufacturer to confirm.
Herbs and spices are naturally gluten free, however they can become contaminated during manufacturing processes. If you are highly sensitive to gluten, check the dried herbs and spices do not contain a warning for trace gluten. If you are just on the low FODMAP diet you do not need to worry about this.
Dairy Free Tips
Use a dairy free spread or olive oil spread instead of butter. Butter is considered low FODMAP.