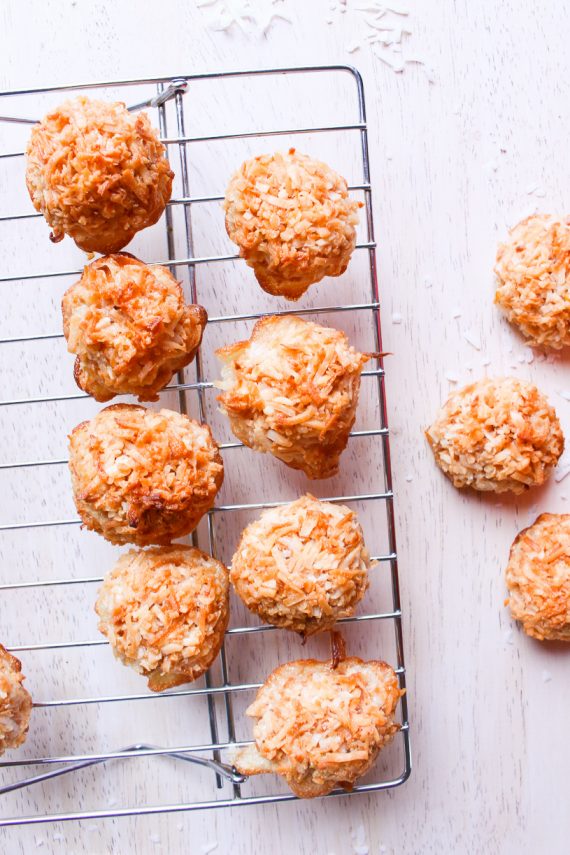 Ingredients
Imperial Units

|

Metric Units
SERVES 24 (Limit 2 per serve)
Coconut Macaroons
240
dried shredded coconut (sweetened)
0.125
salt (about a pinch)
* See the FODMAP Tips, Dairy Tips and Gluten Free Tips for the ingredient notes above the method.
Equipment
microplane (for zesting)
roasting tray
baking tray
large mixing bowl
wire cooling rack
Low FODMAP Coconut Macaroons
Coconut macaroons make a tasty low FODMAP treat and they are so easy to make! I love adding a little bit of lemon zest which brings out the vanilla and coconut flavours even more. What do you like to add to your macaroons?
Note on shredded coconut: Shredded coconut is low FODMAP in 18g (1/4 cup) serves and contains moderate amounts of sorbitol in 1/2 cup (37g) serves. These coconut macaroons are low FODMAP providing you limit your serve to two macaroons at a time.
Gluten Free Option
Low FODMAP
Dairy Free
Nut Free
Soy Free
MAKE GLUTEN FREE
SHOW NUTRITION
Nutrition per serve
NON-DAIRY FREE

|

DAIRY FREE

|

GLUTEN FREE
---
Love this recipe? Get your weekly meal plans.
LEARN MORE
Method

|

FODMAP tips

|

Gluten Free tips

|

Dairy Free tips
---
Method
Preheat the oven to 160ºC (320ºF) bake function and shift the wire rack into the bottom third of the oven.
Weigh out your shredded coconut. If it is very coarse you might what to chop it a bit finer. Then place in a roasting tray. Toast in the oven for 3 to 5 minutes. Turn the coconut once or twice, until it is lightly golden (just starting to colour), then remove. This will create a much deeper coconut flavour! Allow to cool slightly.
Zest the lemon and separate the egg whites. Then whisk the egg whites, sugar, vanilla, salt and lemon zest, until the egg whites and sugar are well combined, frothy, and white.
Pour the coconut over the egg white mixture and gently mix until the coconut is evenly moistened.  Line a baking tray with baking paper.
Wet your hands before shaping the macaroons (this will help stop the coconut sticking to you).  Shape the coconut into small balls about 3cm (1.2 inch) in diameter, and place them evenly on the baking tray (they will expand slightly so leave room).
Bake your macaroons in the oven for about 15 to 20 minutes, until golden.
Allow to cool for five minutes, before transferring to a wire rack. Then pop into an airtight container (they will last for up to a week).
Enjoy! Just remember to limit your serve to two macaroons at a time.
Buying Tips
Make your lemon juice and lemon zest from fresh lemon.
Gluten Free Tips
Dairy Free Tips