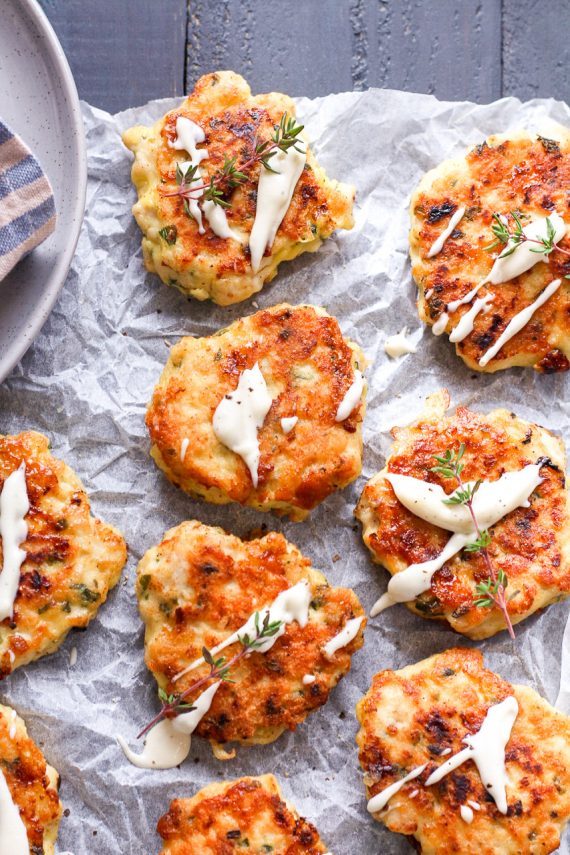 Ingredients
Imperial Units

|

Metric Units
Servings:
(3 fritters per serve)
Chicken Fritters
35
gluten free all purpose flour*
84
mozzarella cheese or soy based vegan cheese (optional) (grated)*
2
fresh basil (finely chopped)
Low FODMAP Aioli
* See the FODMAP Tips, Dairy Tips and Gluten Free Tips for the ingredient notes above the method.
Equipment
large frypan
grater
large mixing bowl
Low FODMAP Cheesy Chicken Fritters
When you are craving takeaway chicken... try these instead! These cheesy chicken fritters are insanely easy to make and they are super tasty. Just make sure you have some friends there to share them otherwise you might end up eating the whole batch by yourself...
Dairy Free Option: These fritters work beautifully with a vegan cheese alternative if you want them to be dairy free, otherwise my flatmates assure me they work just as well with mozzarella cheese.
Gluten Free Option
Low FODMAP
Dairy Free
Nut Free
Soy Free
MAKE GLUTEN FREE
SHOW NUTRITION
Nutrition per serve
NON-DAIRY FREE

|

DAIRY FREE

|

GLUTEN FREE
---
Love this recipe? Get your weekly meal plans.
FREE TRIAL
Method

|

FODMAP tips

|

Gluten Free tips

|

Dairy Free tips
---
Method
Finely chop your fresh basil and grate the cheese. Place the ground chicken, eggs, mayonnaise, flour, cheese, basil, dried chives, salt and pepper in a bowl. Stir until well combined.
Heat a large non-stick frypan over medium heat and add a drizzle of olive oil (about 1 tablespoon). Once the oil is hot, use a 1/4 cup measurement to scoop the mixture into fritters, pop into the pan and then flatten slightly with a spatula. Fry each side for 3-4 minutes until golden brown, add more oil as needed. Once the chicken is fully cooked, place the fritters on a paper towel lined plate to drain. Cook the fritters in batches.
To make the low FODMAP aioli (if using), mix the mayonnaise, lemon juice, lemon zest, garlic infused oil and salt and pepper in a small bowl, until smooth.
Serve the fritters hot with a side of aioli.
Buying Tips
Garlic infused oil is found in the oil section of your local supermarket. It should be clear with no floating bits of garlic. You can also make garlic infused oil at home by frying garlic cloves in cooking oil, until they are golden and fragrant (then remove the garlic before you continue cooking your meal). This is a low FODMAP way to capture the garlic flavour as the fructans can't leach into the oil.
Buy a gluten free plain flour or gluten free all purpose flour. The one I used contains these ingredients: maize starch, rice flour, tapioca starch, rice bran, & guar gum. Avoid flour blends that contain soy flour, chickpea/besan/gram/garbanzo bean flour, lentil flour, coconut flour, amaranth flour, or lupin flour.
Make your lemon juice and lemon zest from fresh lemon.
Check the vegan soy based cheese does not include onion, garlic or coconut flour in the ingredients. Cheddar, Colby, mozzarella, and parmesan cheeses are all low FODMAP.
Choose a mayonnaise that does not include onion or garlic powder. We like using Best Foods Mayonnaise (Lite or regular). If you are a meal plan member you can also grab the recipe for our egg free mayonnaise here.
Gluten Free Tips
Herbs and spices are naturally gluten free, however they can become contaminated during manufacturing processes. If you are highly sensitive to gluten, check the dried herbs and spices do not contain a warning for trace gluten. If you are just on the low FODMAP diet you do not need to worry about this.
If you are highly sensitive to gluten, check all packaged products, processed meat (like bacon), nuts, seeds and dried fruit do not contain a warning for trace gluten. If you are just on the low FODMAP diet you do not need to worry about this.
Dairy Free Tips