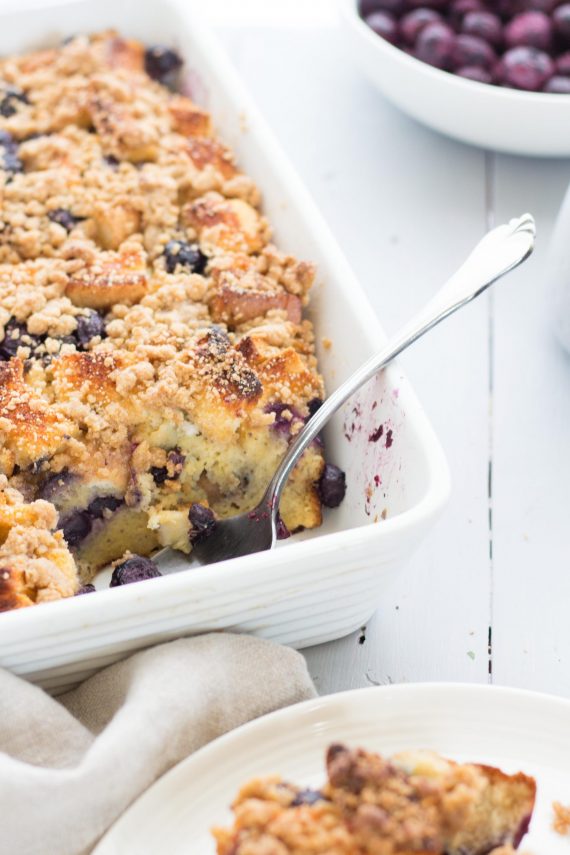 Ingredients
Imperial Units

|

Metric Units
SERVES 12
French Toast Bake
150
blueberries (fresh or frozen)
Cinnamon Brown Sugar Topping
66.67
brown sugar (packed)
70
gluten free all purpose flour*
70
dairy free spread (olive oil spread or butter)*
* See the FODMAP Tips, Dairy Tips and Gluten Free Tips for the ingredient notes above the method.
Equipment
Delicious Blueberry French Toast Bake
This low FODMAP blueberry French toast bake is simply delicious and perfect for Christmas morning.  This dish has minimal prep. You can make it the night before and let the refrigerator do all the work! Wake up on Christmas morning to the comforting aromas of nutmeg and cinnamon.
If possible use bread that is going slightly stale as this will help stop your bake from going soggy. I leave my bread out on the bench for a few hours to dry out before making the French toast bake. This dish is best if you leave it overnight to soak. This dish is designed to feed 10 to 12 people so if you are serving fewer people watch your portion size to make sure you don't consume too much gluten free bread. Also if you are a vegetarian, serve the French toast bake with a side of low FODMAP fruit instead of bacon.

FODMAP Note: Common bananas when they are firm (unripe - green or just yellow) are low FODMAP in 100g serves, however they become high FODMAP for fructans when ripe (yellow with brown spots).
#LowFODMAP #GlutenFreeOption #DairyFreeOption #NutFree #SoyFreeOption

Option to Reduce Serving Sizes: Here are the quantities if you want to make this recipe for 5 to 6 people. Leftovers will keep in the fridge for 3 days. Ingredients: 250g gluten free bread (8.815 or 1/2 a loaf), 90g (3.17oz or 1/2 cup) fresh or frozen blueberries, 4 large eggs, 280ml (1 cup & 2 tbsp) soy protein milk  or low FODMAP milk, 1/4 tsp cinnamon, 1/8 tsp nutmeg, 1 tsp vanilla essence, 50g (1.76oz or 1/4 cup) brown sugar. Ingredients for cinnamon brown sugar topping: 35g (1.25oz) brown sugar, 35g (1.25oz) gluten free all purpose flour, 1/4 tsp cinnamon, 35g (1.25oz) dairy free spread (or butter). Use an 20cm or 8 inch baking pan.
Gluten Free Option
Low FODMAP
Dairy Free
Soy Free
MAKE GLUTEN FREE
SHOW NUTRITION
Nutrition per serve
NON-DAIRY FREE

|

DAIRY FREE

|

GLUTEN FREE
---
Love this recipe? Get your weekly meal plans.
LEARN MORE
Method

|

FODMAP tips

|

Gluten Free tips

|

Dairy Free tips
---
Method
Grease the oven proof dish with dairy free spread (olive oil spread or butter) or spray with nonstick spray.
Slice the gluten free bread into 2.5cm (1 inch) cubes. Spread the cubes evenly into the oven proof dish and sprinkle with the blueberries. Set aside.
In a large bowl, whisk the eggs, low FODMAP milk, cinnamon, nutmeg, vanilla essence, and brown sugar together until no brown sugar lumps remain. Pour evenly over the bread. Wrap tightly with plastic wrap and refrigerate for at least 3 hours or overnight.
Preheat oven to 180ºC (350°F). Remove oven proof dish from the refrigerator.
Prepare the cinnamon brown sugar topping. In a medium sized bowl whisk the brown sugar, gluten free all purpose flour, and cinnamon until there are no lumps. Cut the dairy free spread (olive oil spread or butter) into cubes - you want it cold and not at room temperature. Using your fingers or two forks, rub 3/4 of the dairy free spread (olive oil spread or butter) into the mixture until you have small bread crumb sized lumps with a few larger lumps (add more butter if needed). Sprinkle evenly across the top of the bread and then add the remaining dairy free spread (olive oil spread or butter) in small lumps evenly across the top.
Place in the middle of the oven and bake for 40 minutes, then check and continue cooking for another 10 minutes or until golden brown on top. Serve immediately and top with bacon, maple syrup or fresh fruit.
Cover leftovers and refrigerate for up to 3 to 4 days. To reheat place the serve in the microwave and heat on high for 40 seconds or until warm. Then transfer to an oven proof dish and grill/broil in the oven on high for 1 to 2 minutes, until the top goes crunchy.
Buying Tips
Buy a gluten free plain flour or gluten free all purpose flour. The one I used contains these ingredients: maize starch, rice flour, tapioca starch, rice bran, & guar gum. Avoid flour blends that contain soy flour, chickpea/besan/gram/garbanzo bean flour, lentil flour, coconut flour, amaranth flour, or lupin flour.
Wheat or spelt sourdough breads make good options. Also check your Monash or FODMAP Friendly apps for certified low FODMAP breads in your area. Avoid ingredients like inulin, apple or pear juice, apple fibre, concentrated fruit juices, honey, or high fructose corn syrup. Also check what flours have been used, avoid products that contain amaranth flour, lupin flour, chickpea/besan/gram/garbanzo bean flour, lentil flour or large amounts of soy flour or coconut flour especially if choosing gluten free bread.
Gluten Free Tips
Herbs and spices are naturally gluten free, however they can become contaminated during manufacturing processes. If you are highly sensitive to gluten, check the dried herbs and spices do not contain a warning for trace gluten. If you are just on the low FODMAP diet you do not need to worry about this.
Dairy Free Tips
Use a dairy free spread or olive oil spread instead of butter. Butter is considered low FODMAP.