Gastroenteritis, aka the stomach flu, is horrific and feels like a type of cruel torture. It left me clinging to the porcelain throne for dear life. I remember praying to the gastro gods to have mercy on my soul as my guts somersaulted, and I wondered what end I was going to project food from next. I would not wish gastro upon my worst enemy! Although it doesn't feel like it at the time you will make it through (sometimes barely), however recovery can be tough, and over the next few days you will need to choose your food wisely.  Keep reading for my low FODMAP guide to gastro:
Causes of Gastroenteritis
Viral gastroenteritis (aka stomach flu) can be caused by a number of virus like noroviruses (the most common cause of foodborne illness in the world) or rotavirus (more common in children who are infected when they put their fingers, or other objects contaminated with the virus, in their mouths) (1 2).
Bacterial gastroenteritis (aka food poisoning) occurs when you eat contaminated food. There are a number of varieties including: yersinia, found in pork; staphylococcus, found in dairy products, meat, and eggs; shigella, found in water (often swimming pools); salmonella, found in meat, dairy products, and eggs; campylobacter, found in meat and poultry; E. coli, found in ground beef and salads (3).
Symptoms of Gastroenteritis
Sudden watery diarrhea
Nausea
Cramps and abdominal pain
Vomiting
Low to mild fever
Treat the Symptoms
Know When to Get Help
Don't be afraid to contact your doctor or phone your local health line if you are concerned about your symptoms. Here's what to look out for:
Stay Hydrated
The first 24 to 48 hours are about staying hydrated and replacing the fluids you have lost.
Try sucking on ice chips or taking small sips of water (2).
Drink rehydration fluids like Enerlyte or gastrolyte that are available through your pharmacy (1 2 4). Just check these for added high FODMAP sweeteners like sorbitol, mannitol, maltitol, and isomalt.
Sports drinks like Powerade or Gatorade can be beneficial (2). These drinks contain electrolytes that can help you recover faster. However, once again make sure you check these products carefully for high fructose corn syrup as well as other high FODMAP sweeteners.
Low FODMAP chicken broth is also a good option.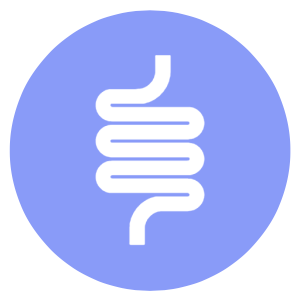 Are you ready to take control of your gut symptoms?
No thanks, my gut is perfect.
Flat soda (like low FODMAP lemonade or non-alcoholic ginger beer) can be good options in small amounts (2 4). These are best diluted with water (one part soda to four parts water). Just be aware that carbonation can be an additional IBS trigger food so make sure you let these beverages go flat before consuming.
Eat Small Amounts Often
Once the worst of the diarrhea and vomiting has settled, you can start to reintroduce solid foods. Start eating when you feel hungry and stop eating if nausea returns.
Final Thoughts
Gastroenteritis is horrible, but the good news is the symptoms will pass. Just remember to nurture yourself, stay hydrated and remember to seek help if you are feeling concerned.