On this wet and miserable weekend, I've been pondering my relationship with food. Every day, I read headlines that demonize food, frighten us and worst of all make us feel guilty. This fear is often built on social constructs and I believe it's time to ditch the food guilt.
Food is the essence of life. It brings us together, it comforts us in times of need, and most of all it nourishes us, both body and soul. I get that when food can cause severe pain or unbearable symptoms that food fear can take over. Believe me I've been there. The way to manage this fear is to develop an understanding of your food triggers and other factors that influence symptoms.
On top of this symptom based fear, how do you balance out the overstated food based influence coming from the media? This influence can amp up your food stress and anxiety. I'm not convinced that sensationalized headlines around what 'healthy eating' is, actually helps us lead healthier and happier lives. Instead I fear that these headlines are driving us to over-restrict our diets based on fear, not based on science.
I, for one, want to enjoy to enjoy my food and not feel guilty when I occasionally indulge in a piece of low FODMAP chocolate brownie! Terms like 'detox' and 'clean eating' add to our food obsessions and turn normal foods like sugar, fat and gluten into food villains. With all the hype, it's easy to forget that small amounts of sugar and fat can be part of a healthy diet. In terms of gluten, unless you are a coeliac then there is normally no need to avoid it.
So what does this mean for those of us on a restrictive medical diet like the low FODMAP diet?
When it comes to FODMAPs remember that the foods themselves aren't bad or evil. In fact, the low FODMAP diet isn't even about avoiding FODMAPs – it's all about reducing the overall FODMAP load in the foods we consume to help reduce symptoms. These foods aren't bad for our overall health and wellbeing, they can be just the opposite, and we only need to limit the foods that cause us personal discomfort.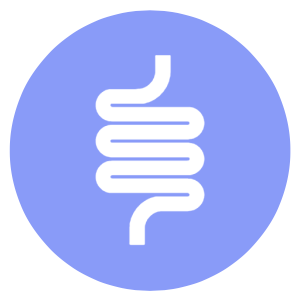 Are you ready to take control of your gut symptoms?
No thanks, my gut is perfect.
If you find yourself becoming hyper-vigilant about what you are eating, then it might be time to ditch the food diary, and seek support from a health care professional who can help you manage food based anxiety. Stressing about food can kick off the IBS and stress cycle and compound your symptoms. It's also really important to recognize that not all of our health issues are caused by food, when it comes to IBS, stress, hormones, and the brain gut connection all play a role.
Are you over-restricting?
My advice to you is to be careful what messages you take on board from the media. At the end of the day if you are eating a good range of fruit and vegetables, whole foods where possible, and enjoying the occasional treat, then it's likely you have struck a great food balance. Be brutally honest with yourself and ask if over-restricting your diet further is medically necessary to help you feel better. It's a good idea to talk to your health care professional or a dietitian before removing additional foods from your diet. At end of the day the more food restrictions you have, the bigger impact it can have on your long-term quality of life, as it puts you at risk of malnutrition and makes shopping, eating out and socializing so much harder. Food variety helps to nourish your body both mentally and physically.
Enjoy a treat & explore new foods
There is nothing wrong with a treat every now and then so ditch the guilt, and make sure you enjoy it. Take the time to savor the flavours, texture and smell. Let it nourish your soul.
Also remember that when it comes to FODMAPs they can cause gastrointestinal symptoms, but they do not cause physical damage to our intestinal tract. This means if you want to try something new you can – sometimes your body might even surprise you! Our symptom thresholds also change over time, so remember to go back and test foods periodically to see if you can add them back in.
Take home message
It's time to ditch the food guilt and be at peace with your food choices. Focus on only restricting food choices that help you control your symptoms. I'm here to help you embrace food, no matter your food intolerances, and teach you to enjoy what you can in moderation!