April is Irritable Bowel Syndrome awareness month and it's time to spread the word about IBS. Irritable bowel syndrome is a challenging condition to live with and it can affect every aspect of a person's life. IBS awareness is on the rise but it is still poorly understood in our communities and often carries unnecessary stigma. Help us raise awareness this month by tweeting the facts below and sharing our Irritable Bowel Syndrome infographic.
Get your tweet on with these IBS facts
You're not #alone. Up to 15% of the #global #population is affected by #IBS… that's over 1 billion people. #IBSawarenessmonth
#IBS affects our #workplaces as IBS sufferers on average miss 2 days of work per month. Managing workplace #stress can help reduce #symptoms. #IBSawarenessmonth
IBS is a serious #medical condition. In the #USA alone, #IBS costs the #economy $20 billion in lost #productivity per year. Help us raise awareness. #IBSawarenessmonth
It takes on average 4 years for an #IBS sufferer to be #diagnosed. #Patients often struggle to get effective #support and treatment #plans. #IBSawarenessmonth
It's #notjustIBS .. this condition is more than just the #physical #symptoms. It can affect the patients ability to #work, social #relationships, #family dynamics and #mentalhealth. #IBSawarenessmonth
It is estimated that less than 50% of #IBS sufferers talk to their #health care practitioners about their #symptoms. Help start the #conversation today. #IBSawarenessmonth
Patients with #IBS do not feel like they are receiving timely #diagnosis, are being #heard, that their #symptoms are being taken seriously, or that they have #access to effective #evidence based #treatment plans. It's time to #breakthecycle. #IBSawarenessmonth
Share your story
Everyone experiences irritable bowel syndrome in a different way. If you would like to share your story let us know (you can do it anonymously). We are here to be your voice and provide you with a platform. Email Alana at [email protected]
Share on Facebook
Irritable Bowel Syndrome is a common condition and it's likely that someone you know is suffering in silence. Show your support by sharing this Irritable Bowel Syndrome Infographic on Facebook.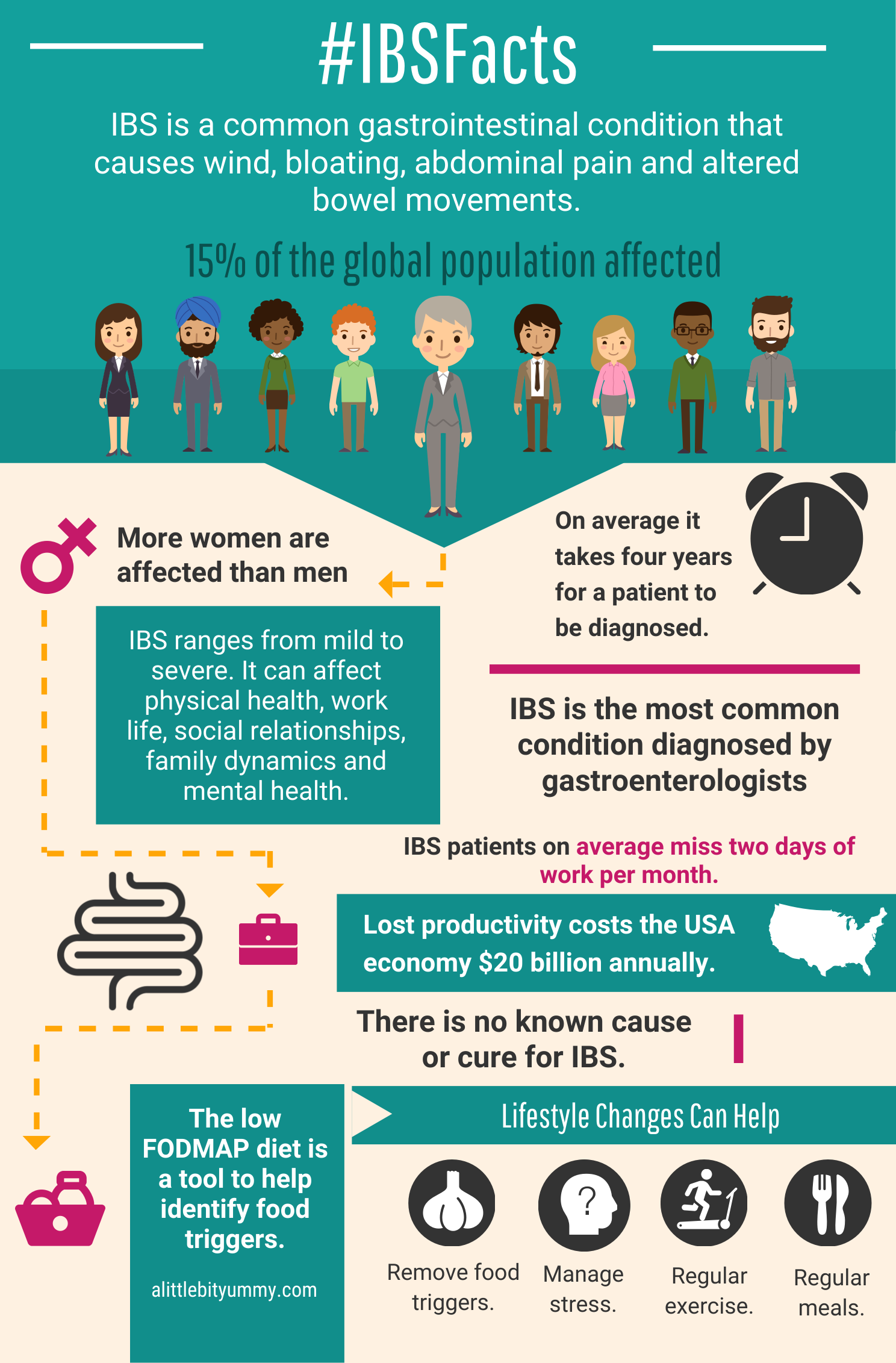 Pin it to Pinterest
Help us raise awareness on Pinterest by sharing our extended Irritable Bowel Syndrome Infographic on Pinterest.