The low FODMAP diet does require you to get into the kitchen and cook, which can be stressful if your kitchen is a disaster zone! This article will give you a few quick tips on how to de-clutter and de-stress your kitchen, to create a nicer cooking zone.
1. De-clutter your counter.
Your countertop is where the cooking action happens and it is a valuable workspace. This means you should only store your most important kitchen gadgets on it! Think about what appliances you use every day and keep those on the countertop. The rest should be stored in a cabinet or popped into a box and kept out of your way. My most used kitchen appliances are my blender, toaster, food processor and electric kettle.
2. Don't store your mail on the bench top!
Incoming and outgoing letters, junk mail and newspapers can clutter the bench top using up precious space.  As soon as your junk mail comes in, try to throw it out (preferably into a recycling bin). If you can use a mail organiser with slots for incoming and outgoing mail.  This will help keep important mail tidy and out of your way.
3. Clean as you go.
There is nothing worse to waking up to a pile of dirty dishes or coming home to a messy kitchen. Wash dirty dishes as you make them to stop the pile becoming overwhelming. You can also clean as you cook. Fill the sink with hot soapy water straight after peeling the vegetables, then you can wash each dish as you finish using it. Wipe up spills as they happen, and give the bench tops a quick wipe down once you have finished cooking.
4. Clean out & organise your refrigerator.
Rummaging through the refrigerator for ingredients can cause frustration, and it is particularly disgusting if you happen to encounter furry or wilted food on your hunt. Clean out any expired or wilting food, as well as any items you know you will never use. Organise items so those you use all the time are at the front, and keep the vegetables in the chiller bins to keep them fresh. I also suggest you buy stackable containers to store leftovers in (this will help reduce wasted space in the fridge). Each week clean out the fridge and do a stock take before you go shopping, to reduce waste and clutter.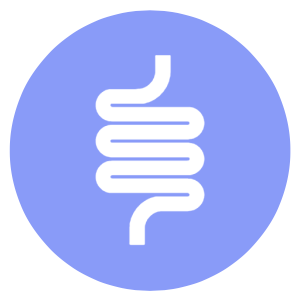 Are you ready to take control of your gut symptoms?
No thanks, my gut is perfect.
5. Organise your pantry.
Donate any food you are not going to use and throw out expired food. Make sure you organise the pantry in a way that makes sense to you. I have created areas in mine for spices, condiments, tinned vegetables and fruit, cereals grains & pasta, oils, baking ingredients, and fresh produce like fruit and potatoes. Make sure everything is labelled and that the labels are facing out, so you can quickly identify the products you want to use.
6. Deal with the overflowing container cupboard (we all have one!).
Don't under-estimate how irritating an overflowing cupboard can be when you are tired and in a rush! Take a few minutes to throw out mismatched and broken lids, and then stack the cupboard so the containers you use the most are at the front.
7. Redecorate.
If you have a little bit of spare cash then give your kitchen a quick makeover. Pop a calming colour on the walls, brighten up the space with some artwork and buy some comfy bar stools (you can use these while you prep food when you are feeling weary). Create a space you want to spend time in.