With our modern, fast-paced lifestyle and high pressure work life, often snacks get pushed down to the bottom of the priority list. Sometimes we can think that skipping snacks can buy us more time to work, but ironically, it can do the exact opposite. We find ourselves lacking in energy levels, working less productively and battling the fuzzies to get us through to 5pm. This means packing nourishing low FODMAP snacks should be a priority.
Snacks can be a powerful tool in maintaining general health and wellbeing, especially in the management of Irritable Bowel Syndrome. Not only does snacking provide an opportunity to add extra nourishment to our diets, but it is a reminder to take a break, have a mindful moment and manage our stress.
Here are my top 5 nourishing low FODMAP snacks to take to work:

1. Lactose free yoghurt
For convenience, you can choose lactose free yoghurt in snack sized tubs, or alternatively, portion them out into small containers you can take to work with you. Traditional Greek yoghurt that is strained is also lactose free. But be sure to read your labels carefully, sneaky FODMAP ingredients such as inulin can sometimes be present. Alternatively, Liddell's lactose free yoghurt has been tested at FODMAP Friendly and is certified as low FODMAP so you can #eatwithconfidence.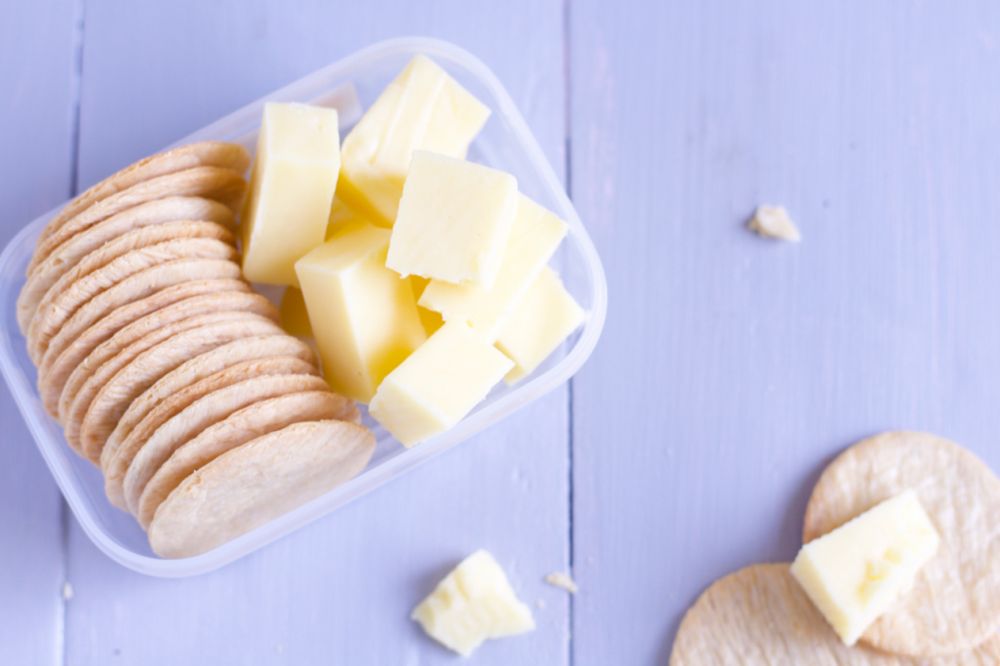 2. Cheese and crackers
Yes you can still have your cheese and crackers and do lofo! A gluten free crispbread made from rice, corn, quinoa or buckwheat are generally safe alternatives to regular wheat crackers and crispbread (again, be sure to read your labels). Arnott's Rice Cruskits have been tested by Monash University and are low FODMAP. Orgran's Crispibread range have not been tested but are low FODMAP by ingredient.

3. Handful of nuts or seeds
Monash University and FODMAP Friendly have tested the following nuts and seeds to be low FODMAP in the serves listed below.

– Almonds, brazil nuts, hazelnuts, pecans and walnuts (<10 pieces)
– Chestnuts (20 boiled or 10 roasted)
– Macadamias (20 nuts)
– Peanuts (32 nuts)
– Chia, egusi, poppy, pumpkin, sesame, sunflower seeds (2 tbs)

4. Banana and peanut butter
A slightly green or under-ripe banana with peanut butter made from 100% peanuts is a wonderfully filling mid-meal snack. Here are some 100% peanut butter products available at the supermarket – Sanitarium's Natural Peanut Butter, Kraft Natural Peanut Butter, Macro Organics Peanut Butter.

5. Vegetable sticks with low FODMAP dip
What a great opportunity to sneak more veg into your day! Some of my favourite vegetable sticks include carrots, cucumber, capsicum and green beans. Team these up with a low FODMAP dip such as Traditional Low FODMAP Hummus  or Low FODMAP Chive and Onion Infused Dip  from A Little Bit Yummy, and you're on your way to getting your recommended 5 serves of vegetables per day.