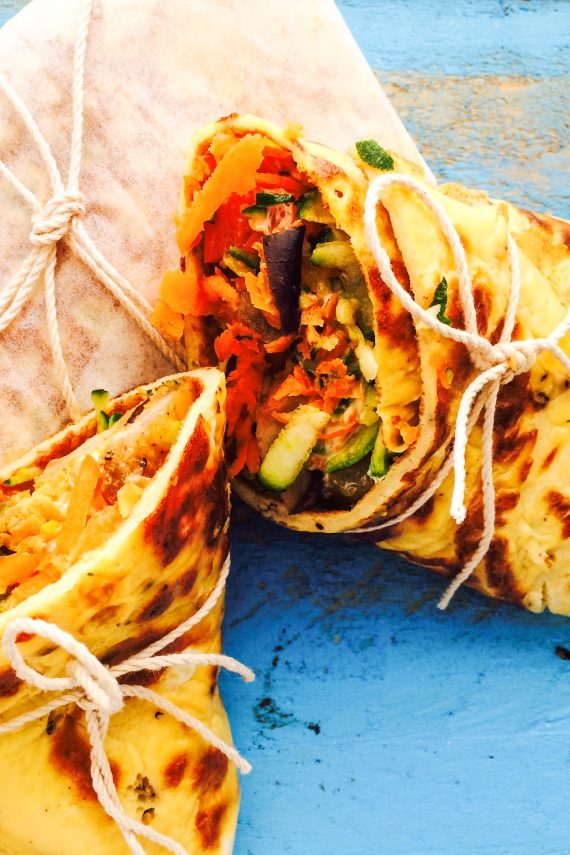 Ingredients
Imperial Units

|

Metric Units
Servings:
Egg Wraps
0.5
gluten free all purpose flour*
1
neutral oil (rice bran, canola, sunflower)
Veggie Filling
Garlic Infused Mayonnaise Dressing
* See the FODMAP Tips, Dairy Tips and Gluten Free Tips for the ingredient notes above the method.
Equipment
Tasty Egg Wraps with Garlic Infused Dressing
These tasty egg wraps are packed full of low FODMAP veggies! The garlic infused mayonnaise perfectly complements the veggies and makes the wraps delicious to eat both hot or cold.  It is important to note that garlic infused oil is safe to use on the low FODMAP diet, as the oil contains the garlic flavour but not the fructans that cause our gastrointestinal issues. 

Gluten Free Option
Low FODMAP
Dairy Free
Soy Free
MAKE GLUTEN FREE
SHOW NUTRITION
Nutrition per serve
NON-DAIRY FREE

|

DAIRY FREE

|

GLUTEN FREE
---
Love this recipe? Get your weekly meal plans.
LEARN MORE
Method

|

FODMAP tips

|

Gluten Free tips

|

Dairy Free tips
---
Method
Put a medium sized nonstick frypan on to heat over medium-low heat. Mix together the soy protein milk (lactose free milk or milk substitute) and all purpose gluten free flour in a medium sized bowl. Once smooth, whisk in the eggs until the mixture is evenly yellow. Season with salt and pepper.
Grease the nonstick pan with neutral oil. Add one serve of mixture to the pan and tip the pan in a circular motion until it is evenly spread over the base. Allow to cook for about 1 minute and until the edges start to lift. Using a spatular or fish slice gently lift up and flip the wrap and cook for another 30 seconds or so, until the wrap is starting to go golden on that side. Repeat the process to make each wrap.
Cut the eggplant into small pieces. Deseed and slice the red bell peppers into small pieces. Turn the pan heat up to medium-high heat and fry the veggies for about 3 to 4 minutes, until the bottom of the eggplant goes golden brown. While the veggies cook, grate the carrot and zucchinis. Flip the eggplant and red bell peppers and add the grated carrot and zucchinis to the pan. Season with salt and pepper and a sprinkle of paprika. Cook for a further 2 to 3 minutes.
Make the garlic mayonnaise by mixing together the mayonnaise, garlic infused oil and lemon juice. Season with black pepper.
Lay the egg wraps flat and fill the centre with the veggie filling. Then drizzle with the garlic mayonnaise. Wrap the egg wraps around the filling like a soft tortilla. Then you can either eat them hot, or wrap them in baking paper and eat them cold. These wraps make a delicious lunch!
Buying Tips
Garlic infused oil is found in the oil section of your local supermarket. It should be clear with no floating bits of garlic. You can also make garlic infused oil at home by frying garlic cloves in cooking oil, until they are golden and fragrant (then remove the garlic before you continue cooking your meal). This is a low FODMAP way to capture the garlic flavour as the fructans can't leach into the oil.
Buy a gluten free plain flour or gluten free all purpose flour. The one I used contains these ingredients: maize starch, rice flour, tapioca starch, rice bran, & guar gum. Avoid flour blends that contain soy flour, chickpea/besan/gram/garbanzo bean flour, lentil flour, coconut flour, amaranth flour, or lupin flour.
Make your lemon juice and lemon zest from fresh lemon.
Choose a mayonnaise that does not include onion or garlic powder. We like using Best Foods Mayonnaise (Lite or regular). If you are a meal plan member you can also grab the recipe for our egg free mayonnaise here.
Gluten Free Tips
Herbs and spices are naturally gluten free, however they can become contaminated during manufacturing processes. If you are highly sensitive to gluten, check the dried herbs and spices do not contain a warning for trace gluten. If you are just on the low FODMAP diet you do not need to worry about this.
If you are highly sensitive to gluten, check all packaged products, processed meat (like bacon), nuts, seeds and dried fruit do not contain a warning for trace gluten. If you are just on the low FODMAP diet you do not need to worry about this.
Dairy Free Tips