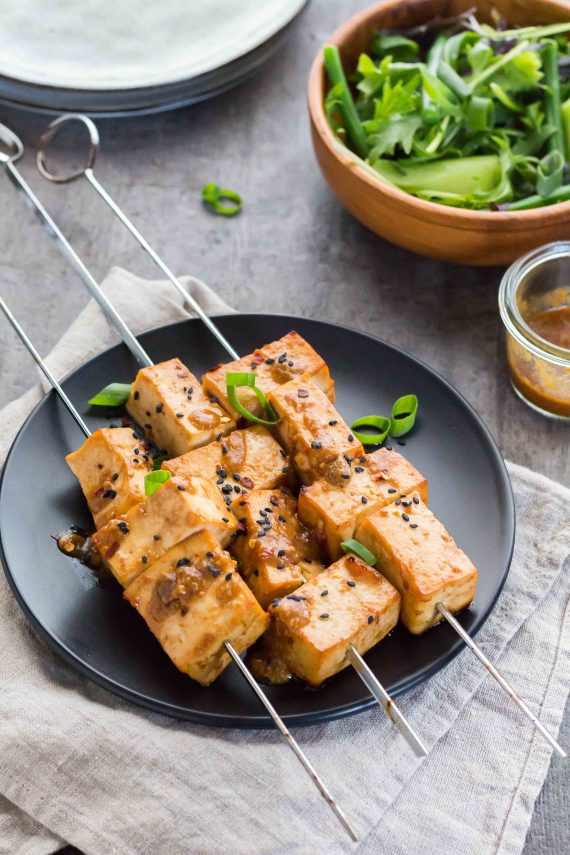 Ingredients
Imperial Units

|

Metric Units
Servings:
Tofu Skewers
2
miso paste (dark yellow, no bonito)*
0.5
crushed/pureed red chilli *
3
sesame seeds (to serve)*
Rice
263
long grain white rice or basmati rice
Side Salad
90
assorted lettuce leaves (mesclun salad)
1
cucumbers (peeled & cut into chunks)
40
green onions/scallions (green tips only, finely sliced)*
166
green beans (cut into bite sized pieces)
0.5
oranges (couple of squeezes of orange juice to taste)
* See the FODMAP Tips, Dairy Tips and Gluten Free Tips for the ingredient notes above the method.
Equipment
large mixing bowl
medium mixing bowl
small saucepan
roasting dish
Miso & Chilli Tofu Skewers
Miso & chilli tofu skewers create a delicious vegan meal. Banish boring tofu by marinating your tofu for at least two hours before you cook or prep your tofu the night before.
FODMAP Note:Make sure you choose firm tofu not silken tofu to keep the FODMAP content of the meal low.
Cooking Note:Choose plain miso paste that doesn't include bonito. If you need to be gluten free, then choose a gluten free option. Miso can often be found in the International Aisle of your supermarket or in your local Asian grocery store.
Gluten Free Option
Low FODMAP
Dairy Free
Egg Free
Nut Free
MAKE GLUTEN FREE
SHOW NUTRITION
Nutrition per serve
NON-DAIRY FREE

|

DAIRY FREE

|

GLUTEN FREE
---
Love this recipe? Get your weekly meal plans.
LEARN MORE
Method

|

FODMAP tips

|

Gluten Free tips

|

Dairy Free tips
---
Method
Make the marinade by mixing together the miso, garlic infused oil, soy sauce, chilli paste and maple syrup. Mix well. Cut the tofu into bite sized pieces and add to the marinade. Cover and chill in the fridge for at least 2 hours or overnight.
30 minutes before you want to eat, place the rice on to cook according to packet instructions.
Preheat the oven to 190ºC (375ºF) bake function.
Make the side salad. Peel and cut the cucumber into chunky sticks. Blanch the green beans in boiling water until bright green and tender. Then drain and refresh by rinsing in cold water. Thinly slice the spring onion tips. Toss the mesculn salad, cucumber, spring onion and green beans in a large bowl. Drizzle with olive oil and orange juice. Season with a couple of grinds of salt and pepper. Mix well.
Thread the tofu onto skewers (pre-soaked) and place on a baking tray lined with baking paper. Bake in the oven for 8-12 minutes until caramelized and slightly crisp on the outside. While the tofu cooks, heat the leftover marinade in a small sauce pan until hot.
Serve the tofu skewers hot and garnish with sesame seeds. Have the rice and the fresh salad on the side. Drizzle with the leftover miso sauce.
Buying Tips
Garlic infused oil is found in the oil section of your local supermarket. It should be clear with no floating bits of garlic. You can also make garlic infused oil at home by frying garlic cloves in cooking oil, until they are golden and fragrant (then remove the garlic before you continue cooking your meal). This is a low FODMAP way to capture the garlic flavour as the fructans can't leach into the oil.
Make sure you use pure maple syrup (low FODMAP) not maple flavoured syrup (potentially high FODMAP).
Miso paste should be found in your local supermarket or Asian food store. We prefer using miso paste that does not include bonito. The ingredients in our miso paste includes: water, soybeans, rice, and salt. Make sure you check the miso paste does not include onion or garlic.
Make sure you buy firm tofu (these are often preserved in liquid, just drain the liquid off before using). The high levels oligosaccharides/FODMAPs are drained off with the liquid and during the manufacturing process, which makes the tofu low FODMAP. Avoid using Silken tofu as this product is high FODMAP.
Buy a bunch of green onions/scallions with long green tips. You can use the green tips of the green onions/scallions (which are low FODMAP) and not the white stem when cooking.
Crushed/pureed red chilli is just fresh red chilli that has been pureed into a paste (usually with a bit of salt and a preservative). Often you can find it in jars in the supermarket. If you can't find it, then you can replace it in the recipe using finely chopped mild red chilli.
The amount of wheat in regular soy sauce is low FODMAP, however if you are feeling concerned you can buy gluten free soy sauce (Tamari).
Gluten Free Tips
If you are highly sensitive to gluten, check all packaged products, processed meat (like bacon), nuts, seeds and dried fruit do not contain a warning for trace gluten. If you are just on the low FODMAP diet you do not need to worry about this.
Dairy Free Tips