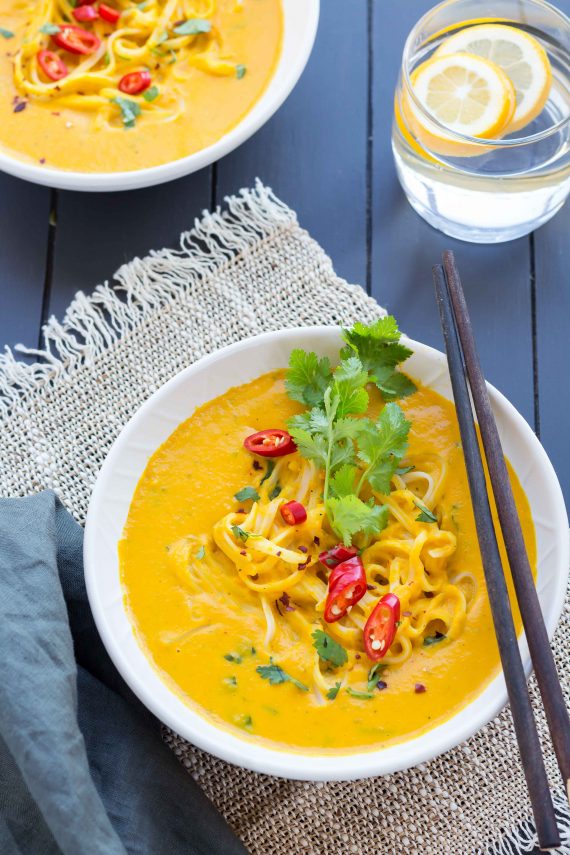 Ingredients
Imperial Units

|

Metric Units
Servings:
Roast Vegetables
850
Japanese (Jap) pumpkin (Kabocha squash or Buttercup squash) (peeled, deseeded & cut into cubes)
250
carrot (peeled & cut into cubes)
Other Soup Ingredients
500
low FODMAP chicken stock/vegetable stock*
40
green onions/scallions (green tips only, finely chopped)*
2
Thai fish sauce (nam pla)*
0.125
dried chilli flakes (start with a pinch and add more to taste)*
375
coconut milk (canned)
0.25
fresh cilantro (chopped)
* See the FODMAP Tips, Dairy Tips and Gluten Free Tips for the ingredient notes above the method.
Equipment
large saucepan
roasting tray
blender/stick blender
Low FODMAP Thai Pumpkin Noodle Soup
Nothing beats thick and creamy Thai pumpkin noodle soup! I love how the fresh Asian flavours of ginger, spring onion, coconut milk and coriander/cilantro combine to make a taste sensation.
Make this meal vegan: Simply swap the fish sauce for a splash of soy sauce to create a yummy vegan meal.
FODMAP note: Canned coconut milk is low FODMAP in 80ml (1/3 cup) serves. This recipe is low FODMAP providing you divide it between the recommended number of serves.
Gluten Free Option
Low FODMAP
Dairy Free
Egg Free
Nut Free
Soy Free
MAKE GLUTEN FREE
SHOW NUTRITION
Nutrition per serve
NON-DAIRY FREE

|

DAIRY FREE

|

GLUTEN FREE
---
Love this recipe? Get your weekly meal plans.
FREE TRIAL
Method

|

FODMAP tips

|

Gluten Free tips

|

Dairy Free tips
---
Method
Preheat the oven 180ºC (350ºF) bake function. Deseed and skin your pumpkin before cutting into 3cm (1.2 inch) cubes. Cut the carrot into cubes. Place the carrot and pumpkin in a roasting tray and drizzle with oil, toss until well coated. Sprinkle with cumin and season well with salt and pepper. Bake in the oven for 20 to 30 minutes, turn once. Remove when soft and golden (do not burn).
Allow the veggies to cool for 10 minutes. Then blend until smooth with the stock. Heat a large saucepan. Add a drizzle of olive oil and fry the spring onion tips for 2 to 3 minutes until fragrant, add the ginger and cook for a further minute. Pour in the pureed pumpkin and coconut milk. Then stir through the lemon zest, fish sauce (or soy sauce), and chilli flakes. Allow to simmer over low heat for 10 to 15 minutes. If your soup gets too thick, thin it with a splash of boiling water.
While the soup simmers, cook your noodles according to packet directions (we normally under cook ours by 1 to 2 minutes so they don't go soggy).
Stir the cooked noodles through the soup, along with the fresh coriander/cilantro. Serve immediately. Enjoy!
Buying Tips
Check the crushed ginger does not contain garlic. Crushed ginger is grated ginger that has been preserved in a jar. You can swap it for fresh ginger if you prefer.
Buy a bunch of green onions/scallions with long green tips. You can use the green tips of the green onions/scallions (which are low FODMAP) and not the white stem when cooking.
Make your lemon juice and lemon zest from fresh lemon.
Check your dried chilli flakes do not contain onion or garlic powder.
Choose a stock that does not include onion or garlic. We prefer to use Massel Chicken Stock Cube 7's (in the yellow & blue packet). This product is low FODMAP, gluten free and vegan (despite it's name) and each packet makes 7 cups of stock. This product can be brought online around the world and is available from some supermarkets.
Gluten Free Tips
Herbs and spices are naturally gluten free, however they can become contaminated during manufacturing processes. If you are highly sensitive to gluten, check the dried herbs and spices do not contain a warning for trace gluten. If you are just on the low FODMAP diet you do not need to worry about this.
If you are highly sensitive to gluten, check all packaged products, processed meat (like bacon), nuts, seeds and dried fruit do not contain a warning for trace gluten. If you are just on the low FODMAP diet you do not need to worry about this.
Dairy Free Tips