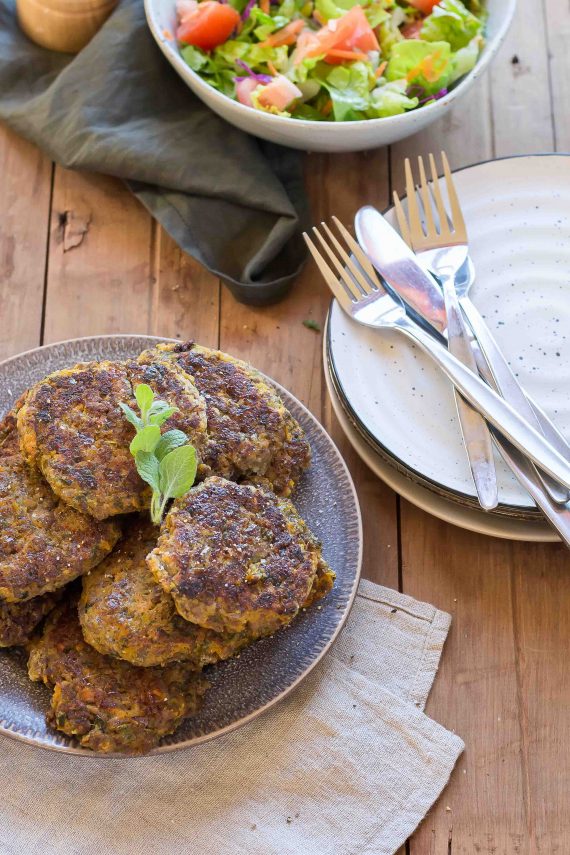 Ingredients
Imperial Units

|

Metric Units
Servings:
Lamb Fritters
250
sweet potato (peeled & diced)*
250
potato (peeled & diced)
450
lean ground lamb (or ground beef)
40
green onions/scallions (green tips only, finely chopped)*
1
fresh cilantro (chopped)
Salad
4
lettuce (butter, iceberg, red coral) (roughly chopped)
1
small cucumbers (diced)
* See the FODMAP Tips, Dairy Tips and Gluten Free Tips for the ingredient notes above the method.
Equipment
large frypan
large saucepan
roasting tray
Low FODMAP Sweet Potato & Lamb Fritters with Salad
These melt in your mouth lamb fritters are the perfect combo of fresh Asian flavours. They freeze and reheat well so make a double batch and pop them into the freezer.
This recipe contains small low FODMAP serves of sweet potato. During the first phase of the low FODMAP diet avoid larger serves of sweet potato, until you are ready to challenge, as sweet potato becomes high FODMAP in large serves.
Gluten Free Option
Low FODMAP
Dairy Free
Egg Free
Nut Free
Soy Free
MAKE GLUTEN FREE
SHOW NUTRITION
Nutrition per serve
NON-DAIRY FREE

|

DAIRY FREE

|

GLUTEN FREE
---
Love this recipe? Get your weekly meal plans.
FREE TRIAL
Method

|

FODMAP tips

|

Gluten Free tips

|

Dairy Free tips
---
Method
Preheat the oven to 180ºC (355ºF) bake function.
Peel and cube the sweet potato and potato. Place in a large saucepan of hot water over high heat and boil for about ten minutes until soft. Roughly mash with a fork.
While the potatoes cook, make the lamb. Heat the garlic infused oil in a large frypan, add the ground lamb mince and allow to brown. Then stir through the ginger, spring onion tips, soy sauce, oyster sauce and fresh cilantro/coriander.
Place the mashed potato and lamb mixture into a large bowl, mix well. Using a 1/4 cup measure, scoop and shape into even sized fritters and place on a roasting tray lined with baking paper. Dust with flour and brush with a little bit of olive oil.
Place in the oven and bake for 10 minutes each side, until golden brown.
Make the salad. Then serve the lamb fritters hot with a side salad.
Buying Tips
Garlic infused oil is found in the oil section of your local supermarket. It should be clear with no floating bits of garlic. You can also make garlic infused oil at home by frying garlic cloves in cooking oil, until they are golden and fragrant (then remove the garlic before you continue cooking your meal). This is a low FODMAP way to capture the garlic flavour as the fructans can't leach into the oil.
Check the crushed ginger does not contain garlic. Crushed ginger is grated ginger that has been preserved in a jar. You can swap it for fresh ginger if you prefer.
Buy a bunch of green onions/scallions with long green tips. You can use the green tips of the green onions/scallions (which are low FODMAP) and not the white stem when cooking.
The amount of wheat in regular soy sauce is low FODMAP, however if you are feeling concerned you can buy gluten free soy sauce (Tamari).
Sweet potato is low FODMAP in 70g serves and becomes high FODMAP in larger serves. Our recipes only use a low FODMAP portion of sweet potato. However if you are concerned you can normally swap the sweet potato for regular potato, carrot or parsnip.
Gluten Free Tips
Dairy Free Tips