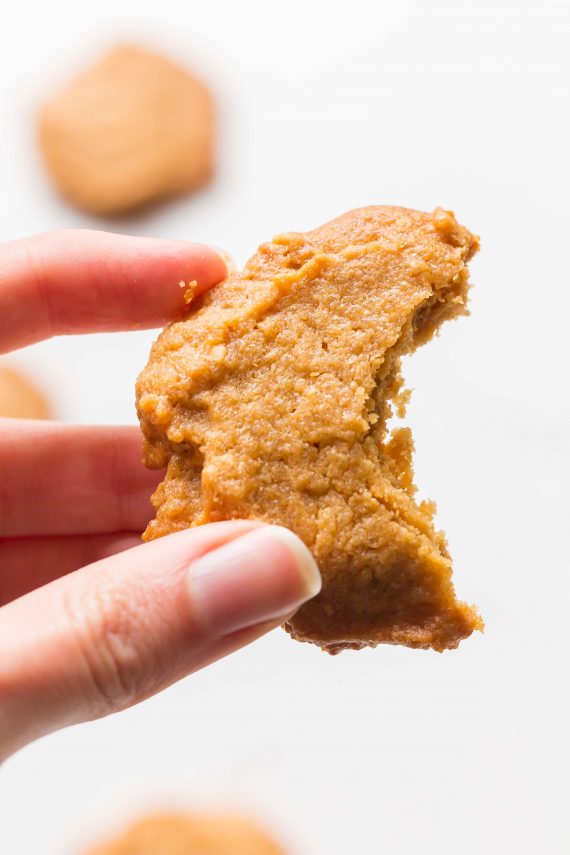 Ingredients
Imperial Units

|

Metric Units
SERVES 24 (enjoy up to 2 cookies per serve)
Peanut Butter Cookies
* See the FODMAP Tips, Dairy Tips and Gluten Free Tips for the ingredient notes above the method.
Equipment
Low FODMAP Peanut Butter Cookies
Did someone say low FODMAP peanut butter cookies? These little babies are my new addiction! I also love how you only need 3 ingredients to make them. This recipe is from my childhood and has been kindly donated by my mum.
Gluten Free Option
Low FODMAP
Dairy Free
Soy Free
MAKE GLUTEN FREE
SHOW NUTRITION
Nutrition per serve
NON-DAIRY FREE

|

DAIRY FREE

|

GLUTEN FREE
---
Love this recipe? Get your weekly meal plans.
FREE TRIAL
Method

|

FODMAP tips

|

Gluten Free tips

|

Dairy Free tips
---
Method
Preheat the oven to 160ºC (320ºF) bake function. Line a cookie tray with baking paper.
Heat the peanut butter in the microwave for 30 seconds until slightly warm. Then in a large bowl mix together the peanut butter, sugar, and eggs.
Scoop out the mixture using a tablespoon measure and drop onto the cookie tray.
Place in the middle of the oven and bake for 10 minutes until golden (watch carefully as these cookies like to burn if you're not careful!).
Enjoy! Just limit your intake to two cookies per serve.
Bulk Cooking Tip: These cookies also freeze well so make sure you make a double batch!
Buying Tips
Check the peanut butter does not contain high FODMAP ingredients like honey, high fructose corn syrup, inulin (chicory root), agave syrup.
Gluten Free Tips
Check the peanut butter is gluten free.
Dairy Free Tips