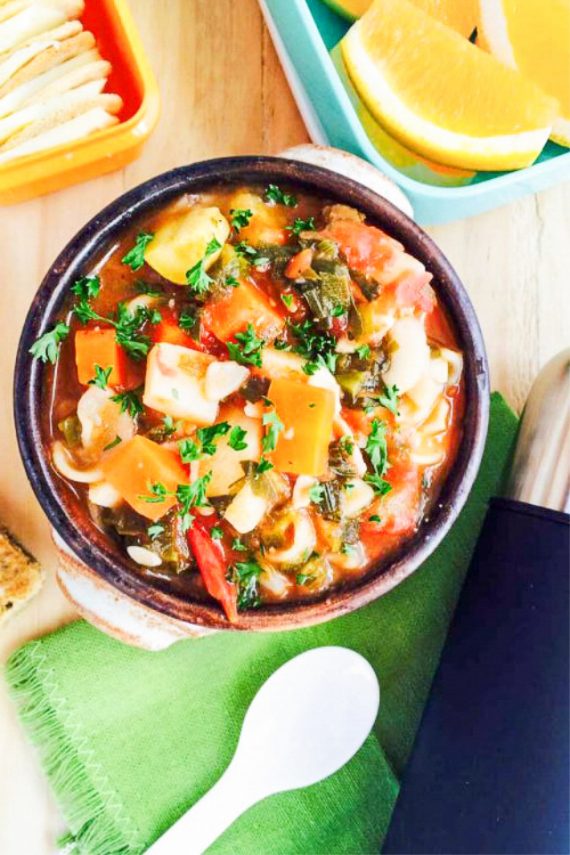 Ingredients
Imperial Units

|

Metric Units
Servings:
Low FODMAP Minestrone Soup
1
portion of minestrone soup
Low FODMAP ANZAC Slice
Crackers & Cheese
12
rice crackers (plain)*
40
colby or cheddar cheese or soy based vegan cheese (optional)*
Fruit
1
oranges (cut into segments)
* See the FODMAP Tips, Dairy Tips and Gluten Free Tips for the ingredient notes above the method.
Low FODMAP Lunchbox #2
Looking for some lunchbox inspiration?  Hot minestrone soup makes a yummy and filling lunch. Pack the soup in a thermos to keep it hot until you need it.  I love pairing my soup with some crackers, fruit, and a low FODMAP slice to create a nutritious lunchbox.
Note on cheese: Some cheeses are low FODMAP, however if you cannot tolerate any dairy, try swapping the cheese for chive dip.
Gluten Free Option
Low FODMAP
Egg Free
Nut Free
Soy Free
MAKE GLUTEN FREE
SHOW NUTRITION
Nutrition per serve
NON-DAIRY FREE

|

DAIRY FREE

|

GLUTEN FREE
---
Love this recipe? Get your weekly meal plans.
FREE TRIAL
Method

|

FODMAP tips

|

Gluten Free tips

|

Dairy Free tips
---
Method
Make the ANZAC slice over the weekend to reduce your work during the week. Store in an airtight container in the fridge to help it last longer.
Your minestrone soup can be made on Sunday and used over the next few days as lunch. Remember to slightly under cook your gluten free pasta to stop it from disintegrating when you reheat it. Each morning before you head off to work, warm your thermos with some hot water while you heat the soup, then drain the thermos and fill with soup.
If you want to get prepared you can pre-cut your cheese in advance and store the portions in snack size bags. That way you can just grab and go. If you don't want to use cheese, try my dairy free chive dip instead.
Cut the orange into segments and store in a small container or bag.
Pack your lunchbox with hot minestrone soup, a piece of ANZAC slice, crackers and cheese/dip, and an orange. Enjoy!
Buying Tips
Check the vegan soy based cheese does not include onion, garlic or coconut flour in the ingredients. Cheddar, Colby, mozzarella, and parmesan cheeses are all low FODMAP.
Choose plain rice cakes or rice crackers and avoid ones that are flavoured with high FODMAP ingredients like onion powder, garlic powder, milk powder, milk solids, whey powder (chicken flavoured or sour cream & chives often contain sneaky FODMAPs). Also check that there is no inulin (chicory root/dietary fibre) listed in the ingredients list.
Gluten Free Tips
If you are highly sensitive to gluten, check all packaged products, processed meat (like bacon), nuts, seeds and dried fruit do not contain a warning for trace gluten. If you are just on the low FODMAP diet you do not need to worry about this.
Dairy Free Tips