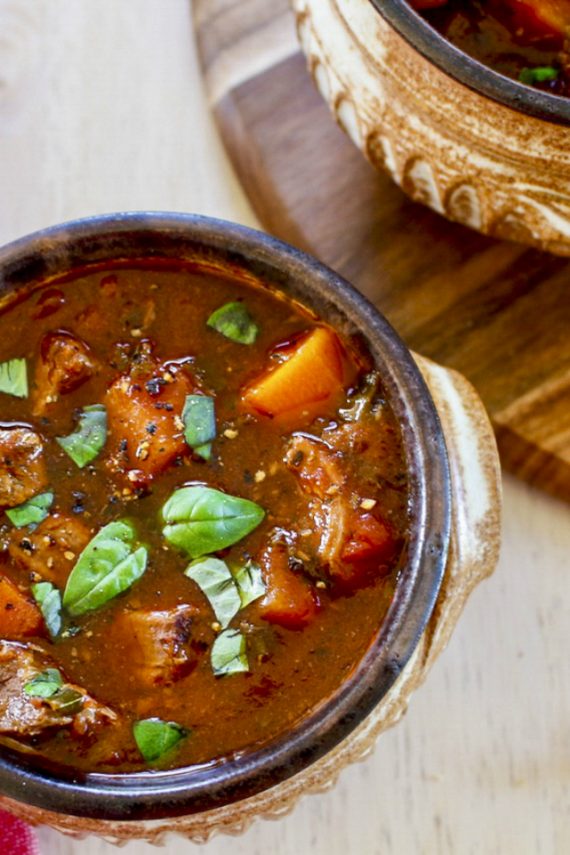 Ingredients
Imperial Units

|

Metric Units
Servings:
Easy Peasy Beef Stew
400
plain crushed/chopped tomatoes (canned)*
240
carrot (peeled & roughly chopped)
250
low FODMAP chicken stock*
60
leek (green tips only, roughly sliced)*
2
corn starch (dissolve in cold water before adding)*
2
lemon juice (squeeze of)*
* See the FODMAP Tips, Dairy Tips and Gluten Free Tips for the ingredient notes above the method.
Equipment
Easy Peasy Beef Stew
This easy beef stew is perfect for a cold winter's night or busy work day. You can throw the ingredients into a slow cooker and arrive home to a perfectly cooked low FODMAP meal. 
Note on tomato paste: Monash University uses 1 tablespoon of tomato paste and 1/2 a cup of canned tomato per serve in their recipes. This means that the below recipe is considered low FODMAP per serve.
Gluten Free Option
Low FODMAP
Dairy Free
Egg Free
Nut Free
Soy Free
MAKE GLUTEN FREE
SHOW NUTRITION
Nutrition per serve
NON-DAIRY FREE

|

DAIRY FREE

|

GLUTEN FREE
---
Love this recipe? Get your weekly meal plans.
FREE TRIAL
Method

|

FODMAP tips

|

Gluten Free tips

|

Dairy Free tips
---
Method
Roughly chop the green leek tips. Then peel and cut the carrots into chunks.
Chop beef into 2 cm cubes, rub with olive oil and season with salt and pepper. Heat a large non-stick fry pan over medium heat. Brown beef in batches using the garlic infused oil. Add the beef to the slow cooker and pour over the tomatoes and tomato paste.
Make your FODMAP friendly chicken stock if needed. Add the chicken stock to the fry pan and stir around (this is to capture the flavour), and then add to the slow cooker. Stir in the green leek tips, chopped carrots, oregano, bay leaf, and basil. Add a few grinds of salt and pepper. Don't be afraid to add liberal amounts of salt! Salt helps enhance the other flavours.
When cooking the stew you have a few options. Either use the auto setting on your slow cooker and cook for 6 hours, or you can cook on low setting for 8 to 9 hours, or on high for 4 hours…. It helps to check that it is turned on as I have been known to walk away and come back hours later to an uncooked meal!
Add a squeeze of lemon juice to bring out the flavours in the stew. Then if the stew is too runny, you can dissolve the corn starch into in a small amount of warm water, and mix through the stew. Allow to thicken for a few minutes.
Season with an extra drizzle of garlic infused oil and a couple of grinds of salt and pepper. Serve in bowls with a side of toasted gluten free bread.
Buying Tips
Check that the cornflour (corn starch) is made from maize and not wheat.
Garlic infused oil is found in the oil section of your local supermarket. It should be clear with no floating bits of garlic. You can also make garlic infused oil at home by frying garlic cloves in cooking oil, until they are golden and fragrant (then remove the garlic before you continue cooking your meal). This is a low FODMAP way to capture the garlic flavour as the fructans can't leach into the oil.
Make sure you buy a leek that has long green tips (this is the low FODMAP part), as you can't use the white/light green leek bulb (this part is high FODMAP).
Make your lemon juice and lemon zest from fresh lemon.
Choose plain canned tomatoes with no added herbs or spices. Check there is no added onion or garlic.
Choose a stock that does not include onion or garlic. We prefer to use Massel Chicken Stock Cube 7's (in the yellow & blue packet). This product is low FODMAP, gluten free and vegan (despite it's name) and each packet makes 7 cups of stock. This product can be brought online around the world and is available from some supermarkets.
Wheat or spelt sourdough breads make good options. Also check your Monash or FODMAP Friendly apps for certified low FODMAP breads in your area. Avoid ingredients like inulin, apple or pear juice, apple fibre, concentrated fruit juices, honey, or high fructose corn syrup. Also check what flours have been used, avoid products that contain amaranth flour, lupin flour, chickpea/besan/gram/garbanzo bean flour, lentil flour or large amounts of soy flour or coconut flour especially if choosing gluten free bread.
Gluten Free Tips
Herbs and spices are naturally gluten free, however they can become contaminated during manufacturing processes. If you are highly sensitive to gluten, check the dried herbs and spices do not contain a warning for trace gluten. If you are just on the low FODMAP diet you do not need to worry about this.
Dairy Free Tips