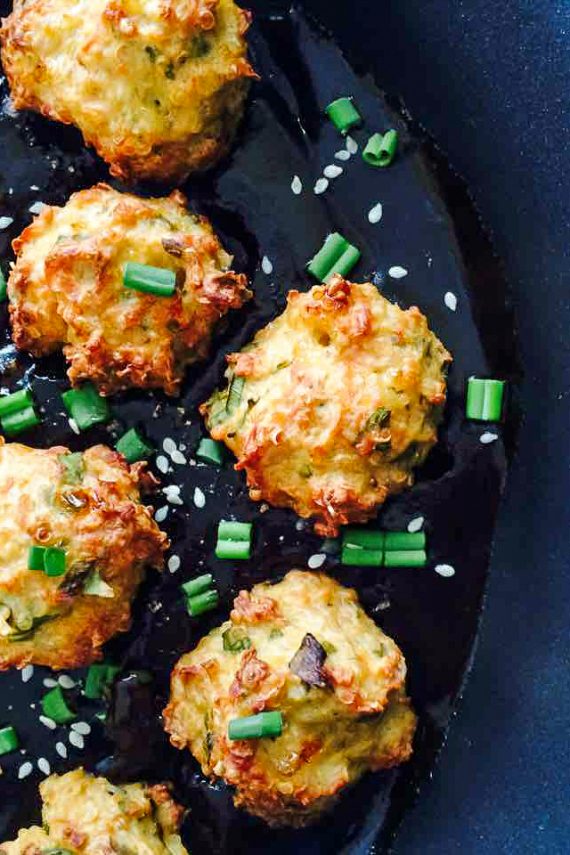 Ingredients
Imperial Units

|

Metric Units
Servings:
(5 meatballs per serve)
Chicken Quinoa Meatballs
20
green onions/scallions (green tips only, finely chopped)*
0.25
dried chilli flakes*
2
Thai fish sauce (nam pla)
2
gluten free all purpose flour (as needed)*
Teriyaki Sauce
* See the FODMAP Tips, Dairy Tips and Gluten Free Tips for the ingredient notes above the method.
Equipment
large saucepan
roasting tray
large mixing bowl
small saucepan
Chicken Quinoa Meatballs with Teriyaki Sauce
This low FODMAP recipe makes a simple and delicious appetizer or main meal. The chicken quinoa meatballs have tangy bursts of lime and fresh cilantro, which makes them perfect to dip in my low FODMAP teriyaki sauce. To transform this into a main meal try adding some rice and low FODMAP vegetables for a tasty dinner.
Gluten Free Option
Low FODMAP
Dairy Free
Nut Free
MAKE GLUTEN FREE
SHOW NUTRITION
Nutrition per serve
NON-DAIRY FREE

|

DAIRY FREE

|

GLUTEN FREE
---
Love this recipe? Get your weekly meal plans.
LEARN MORE
Method

|

FODMAP tips

|

Gluten Free tips

|

Dairy Free tips
---
Method
Rinse the quinoa under running water using a fine mesh sieve for 40 seconds (this will help remove the bitter taste). Place the quinoa in a medium saucepan with the olive oil, and toast for 1 minute over medium high heat. Then add the water. Bring to a rolling boil. Turn down the heat to medium low and allow to simmer until cooked (about 12 to 15 minutes). Remove from heat once the quinoa is soft and the water has evaporated (you want it soft but not too wet).
Preheat the oven to 200ºC (400ºF) fan bake function.
While the quinoa cooks, finely chop the green onions/scallions (green tips only), and the fresh cilantro, and zest and juice the lime. Beat the egg in a small bowl. Place the ground chicken, green onions/scallions (green tips only), fresh cilantro,  beaten egg, chilli flakes, ginger, sesame seeds, fish sauce, brown sugar, lime juice and zest into a large bowl. Add the quinoa once cooked. Season with a few grinds of salt and black pepper.
Then mix until well combined. If your mixture is a bit wet add a couple of tablespoons of gluten free flour and mix through. Using clean hands roll the mixture into small (walnut size) meatballs.
Place the meatballs on a large, lightly oiled baking tray or line it with baking paper. Bake in the oven for 18 to 20 minutes, or until all sides are golden and the meatballs are cooked through.
Make the sauce by mixing together the soy sauce, rice vinegar, garlic infused oil, ginger, sesame oil, and water in a small saucepan. Place the saucepan over medium high heat. Dissolve the corn starch in a little bit of warm water and then mix into the sauce. Allow to thicken for 2 to 3 minutes, stirring occasionally. Taste and add more brown sugar or rice wine vinegar if needed.
Serve the meatballs with the sauce and garnish with some green onions/scallions (green tips only) and a sprinkle of sesame seeds.
Buying Tips
Check that the cornflour (corn starch) is made from maize and not wheat.
Garlic infused oil is found in the oil section of your local supermarket. It should be clear with no floating bits of garlic. You can also make garlic infused oil at home by frying garlic cloves in cooking oil, until they are golden and fragrant (then remove the garlic before you continue cooking your meal). This is a low FODMAP way to capture the garlic flavour as the fructans can't leach into the oil.
Check the crushed ginger does not contain garlic. Crushed ginger is grated ginger that has been preserved in a jar. You can swap it for fresh ginger if you prefer.
Quinoa is pronounced KEE-noh-ah and can be found in the bulk bins or with the rice in most supermarkets.
Buy a gluten free plain flour or gluten free all purpose flour. The one I used contains these ingredients: maize starch, rice flour, tapioca starch, rice bran, & guar gum. Avoid flour blends that contain soy flour, chickpea/besan/gram/garbanzo bean flour, lentil flour, coconut flour, amaranth flour, or lupin flour.
Buy a bunch of green onions/scallions with long green tips. You can use the green tips of the green onions/scallions (which are low FODMAP) and not the white stem when cooking.
Check your dried chilli flakes do not contain onion or garlic powder.
The amount of wheat in regular soy sauce is low FODMAP, however if you are feeling concerned you can buy gluten free soy sauce (Tamari).
Gluten Free Tips
Herbs and spices are naturally gluten free, however they can become contaminated during manufacturing processes. If you are highly sensitive to gluten, check the dried herbs and spices do not contain a warning for trace gluten. If you are just on the low FODMAP diet you do not need to worry about this.
If you are highly sensitive to gluten, check all packaged products, processed meat (like bacon), nuts, seeds and dried fruit do not contain a warning for trace gluten. If you are just on the low FODMAP diet you do not need to worry about this.
Dairy Free Tips