What is Soy Lecithin and is it Low FODMAP?
Soy lecithin is found in a range of commercial food products you probably use in your everyday life. When it comes to FODMAPs, soy lecithin (or soya lecithin) is a very misunderstood food additive.  Unlike whole soybeans, soy lecithin is currently considered a low FODMAP food ingredient, even though it hasn't officially been tested by Monash University.
Where is Soy Lecithin Found & What is it Used For?
Soy lecithin can be found in a wide range of commercial food products like cereals, pasta, bread, chocolate, baking, meal replacement shakes, infant formulas and even ice cream (1). Soy lecithin is commonly used as an emulsifier, which means it helps blend ingredients (like water and oils) together (1 2). It can also help stabilize products by blending liquids and fine solids together (like in chocolate) (1 2). Additionally, soy lecithin can be used as a wetting and lubricating agent, for example by helping dissolve a solid powder in liquid for instant drink products (1).
So What Exactly Is Soy Lecithin?
Lecithin is a term used to describe yellow-brownish fatty substances that occur in both animal and plant tissue (1). Soy lecithin is made during the production of soybean oil (1). Water is added to the soybean oil and it is then run through a centrifuge, which separates the lecithin from the oil (1 2).
What Is The Nutritional Profile of Soy Lecithin?
Soy lecithin consists mainly of three types of phospholipids (types of fat lipids): phosphatidylcholine (PC), phosphatidylethanolamine (PE) and phosphotidylinositol (PI) (2). According to the Journal of American Oil Chemists' Society, soy lecithin's complete nutritional profile consists of:
33–35% Soybean oil
20–21% Inositol phosphatides
19–21% Phosphatidylcholine
8–20% Phosphatidylethanolamine
5–11% Other phosphatides
5% Free carbohydrates
2–5% Sterols
1% Moisture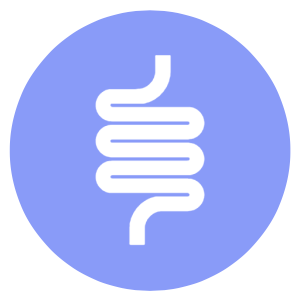 Are you ready to take control of your gut symptoms?
No thanks, my gut is perfect.
Why Is Soy Lecithin Considered Low FODMAP?
We know that FODMAPs are carbohydrates. Soy lecithin mainly consists of a mixture of fat and oil (not carbohydrates), which means it should be low FODMAP. Keep in mind that only small amounts of soy lecithin are used in processed products, which makes it unlikely that it will increase the overall FODMAP level within the products.
Final Thoughts
Soy lecithin is a mixture of fat and oil, and so it is currently considered low FODMAP.  This means you don't need to panic when you see this sneaky ingredient in your food labels.