It is almost Easter, so I thought it was time to do a low FODMAP chocolate update so you can safely indulge in chocolate! I am a chocolate addict and chocolate plays a pivotal part in my Easter celebrations, but if I'm not careful these chocolaty treats can give me gastrointestinal issues.
What chocolate is low FODMAP?
According to research conducted by Monash University different chocolate types contain varying levels of lactose, which is a high FODMAP sugar (disaccharide)  (1).
Small 20g serves of white chocolate or milk chocolate are low FODMAP. However, the research shows that one standard serving (5 pieces or 30g) of white chocolate or milk chocolate contains moderate levels of lactose  (1). This means that consuming one 30g serve of these chocolate types could trigger irritable bowel syndrome (IBS) symptoms in some people, especially if you have consumed other moderate or high FODMAP foods in the same time period.
Carob chocolate could also be problematic, as only small 6g serves of carob powder are low FODMAP, and it becomes high FODMAP for oligosaccharides (fructans) in 10g serves (1).
The good news is that one serving (5 pieces or 30g) of dark chocolate is low FODMAP and can be enjoyed during the strict low FODMAP phase (1). Limit large serves of 90g as these can contain moderate amounts of lactose (1).
Is soy lecithin in chocolate a FODMAP issue?
Soy products create a lot of confusion on the low FODMAP diet. It is important to note that soy lecithin that is found in chocolate is considered low FODMAP (3). Soy lecithin is made from a mixture of phospholipids and oil (4), neither of which are believed to contain FODMAPs.  Soy lecithin is used as an emulsifier, which means it makes oil and water mix together (4).
In chocolate the soy lecithin helps keep the cocoa butter (fat) portion stable, so it doesn't separate from the moisture, cocoa solids and dairy (in the case of milk chocolate) that make up the rest of the chocolate (4). So don't worry when you see soy lecithin listed in your chocolate ingredient list.
What to look for when choosing chocolate:
If you want a larger serve look for dark chocolate, as it contains small amounts or no milk ingredients, which reduces the amount of lactose you consume
Avoid chocolates that contain inulin or chicory root as this is a high FODMAP ingredient
Check what sweeteners are used in the product and watch out for high FODMAP sweeteners like high fructose corn syrup, honey, agave syrup, or sugar alcohols like sorbitol, mannitol, maltitol, isomalt or erythritol.
Save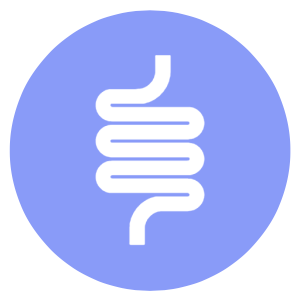 Are you ready to take control of your gut symptoms?
No thanks, my gut is perfect.
Consider avoiding chocolate that contains dried fruit as this could increase your overall FODMAP load
Don't panic when you see soy lecithin listed in the ingredients as this ingredient is considered low FODMAP
Just before you gorge yourself on huge amounts of dark chocolate, it is important to note that any chocolate is high in saturated fat, which means when you overindulge it can affect gut motility and trigger IBS symptoms (2).
When indulging in chocolate this Easter choose dark chocolate if you want a larger serve, enjoy small serves of milk or white chocolate, and avoid chocolate that contains high FODMAP ingredients.
Happy holidays!Save
Save
Save
Save