The world is changing and with the novel coronavirus spreading, a lot of people are feeling anxious.  In many countries isolation measures are being put in place to help reduce the risk of people catching Covid-19 and the burden of the virus on our health care systems.
At A Little Bit Yummy we want to help ease your anxiety, (especially if your anxiety results in loose poo!) and help you prepare a low FODMAP isolation pantry for the Covid-19 virus.
Before we go any further, it's important not to panic buy food and supplies. Only get what you need and if you feel like you need to buy a large quantity of food, you may need to split this over several shops or place an online food order. Remember there will be community members who need food to feed themselves today.
If your grocery store is running low on supplies, it will be restocked soon. At this stage food delivery services (like Uber Eats), online grocery shopping and grocery stores/supermarkets are remaining open. This means there are multiple food sources to explore to keep you and your family supplied with food.
Listen to your local authorities as they can guide you on how much you should prepare. The guidelines we have been hearing is to prepare yourself for a 14 day stay at home.
This article will cover:
What happens if the grocery store is already empty?
We know that due to panic buying of food some stores are running low on stock (stock will be replenished over the coming days). Write a list of essentials and then see if you can place an online order. It's possible online orders might take a few days to get to you. In the meantime, reach out to friends/neighbours/community members if you are in urgent need of supplies for you and your family.
There will be people in the community who have plenty and others that need help. Yes, I'm talking to you toilet paper hoarders out there! Try and help each other out. You can package care kits and leave them on the doorstep to avoid person to person contact if you are worried about this type of contact.
Also remember that there are plenty of ways to turn fresh fruit and vegetables into long life options at home by bottling, preserving, or freezing the produce so consider this as you assess what resources are available.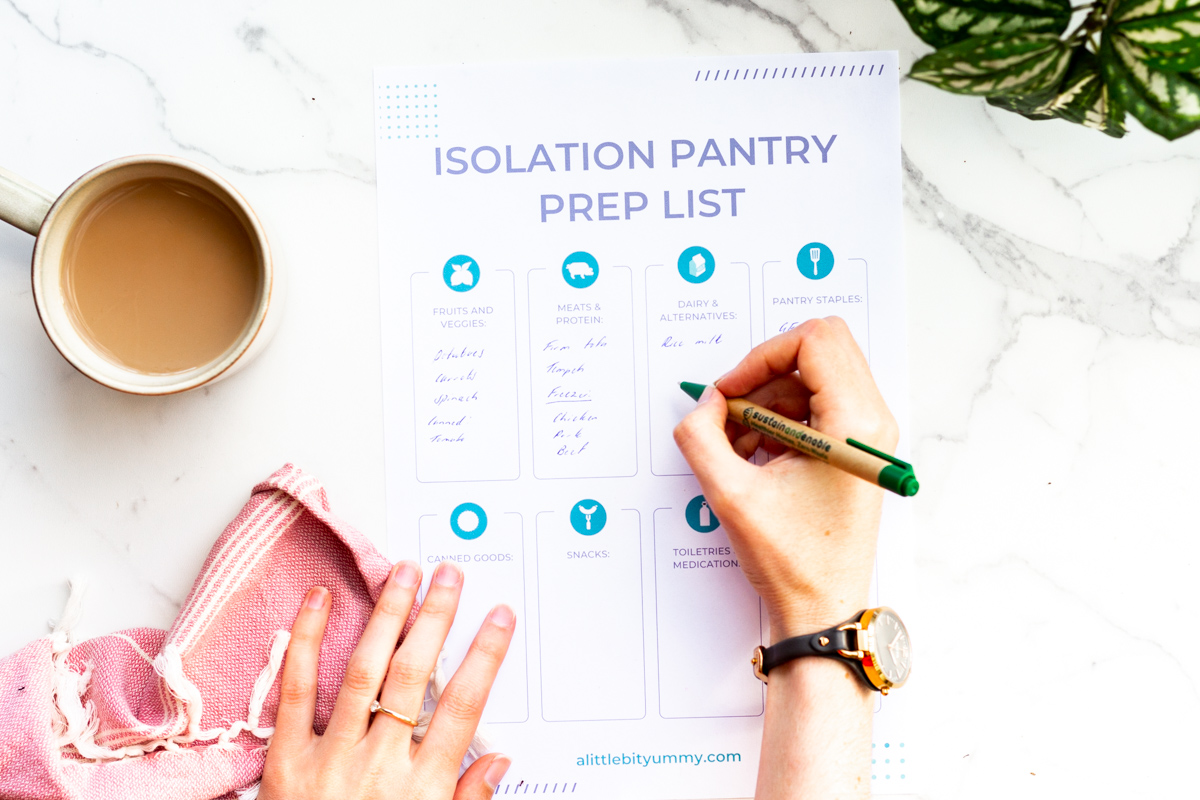 Isolation Preparation Steps
Take stock of the food you have
We often have a lot more food than we realise stashed in our pantries, fridges and freezers so before you buy anything else, have a look at what you've got and write an inventory list. This will stop you from buying more than you need.
Write a two week meal plan
What your isolation pantry supplies looks like will be highly personal to you and your family. Work out what your family would normally eat in 2 weeks and use this to prepare your plan.
If you a struggling to draft a plan, then try breaking your plan into smaller pieces. Start by writing down what you have eaten for the last 3 nights – now write down what you might eat for the next 3 nights. Keep expanding from there. Also think about what you would like to eat – especially if you are in self-isolation and have the time to prepare meals. Use this for your prep list.
Now check to see if you will be getting enough vegetables and fruit, and use the ideas below to plan a nutritious yummy two week meal plan.
Keep in mind that fresh vegetables will normally stay fresh in the fridge for a week. Consider turning fresh vegetables into soups and stews that you can freeze and use later. Also look swaps for fresh vegetables to canned or frozen (this guide shows you how to turn fresh vegetables into frozen vegetables).
Don't forget to add a few treats to the list to help boost morale.
Choose foods you eat regularly and buy a little extra – then you can rotate them out of your isolation pantry supply and use before they are passed their use-by date.
Food is more important than the low FODMAP diet
In times of crisis, remember that nourishing your body with food is more important than sticking to a strict low FODMAP diet. You won't 'undo' your hard work in the first phase of the diet by eating high FODMAP foods. Get prepared to manage your symptoms with over the counter medication if needed. Talk to your pharmacist about what antidiarrheal (eg imodium), anti-gas (eg simethicone), laxative or fibre supplement might be appropriate for you. Try not to stress about it (anxious-IBS's I'm talking to you).
Once you can transition back onto the low FODMAP diet, you only need to be strictly low FODMAP for 1-2 weeks to let your symptoms settle before jumping into your reintroduction challenges.
Remember your medication
Do an audit of your medicine cabinet and make sure you have a supply of any essential prescription medication. Also see if you need medication to help control fevers, provide pain relief, or reduce gut symptoms as needed. Remember to only get what you need as others need access to medication too.
Personal hygiene is important
We know that globally there is a shortage of hand sanitiser, however good old liquid soup is still available and can help you cleanse your hands so make sure you have some in the bathroom and kitchen.
Also make sure you have enough dishwashing liquid, soap, and laundry powder for 14 days.
Please don't hoard the toilet paper. This item is becoming exceptionally hard to find. Think logically about how often you normally buy toilet paper and just get what you need.
Food & supplies for your pets
Pets need food too so try to stock a two week supply for them, or place an online order for food today. Also think about enrichment activities for them if they are being confined in a small space with you. If you have been diagnosed with Covid-19 then the CDC recommend limiting contact with your pets.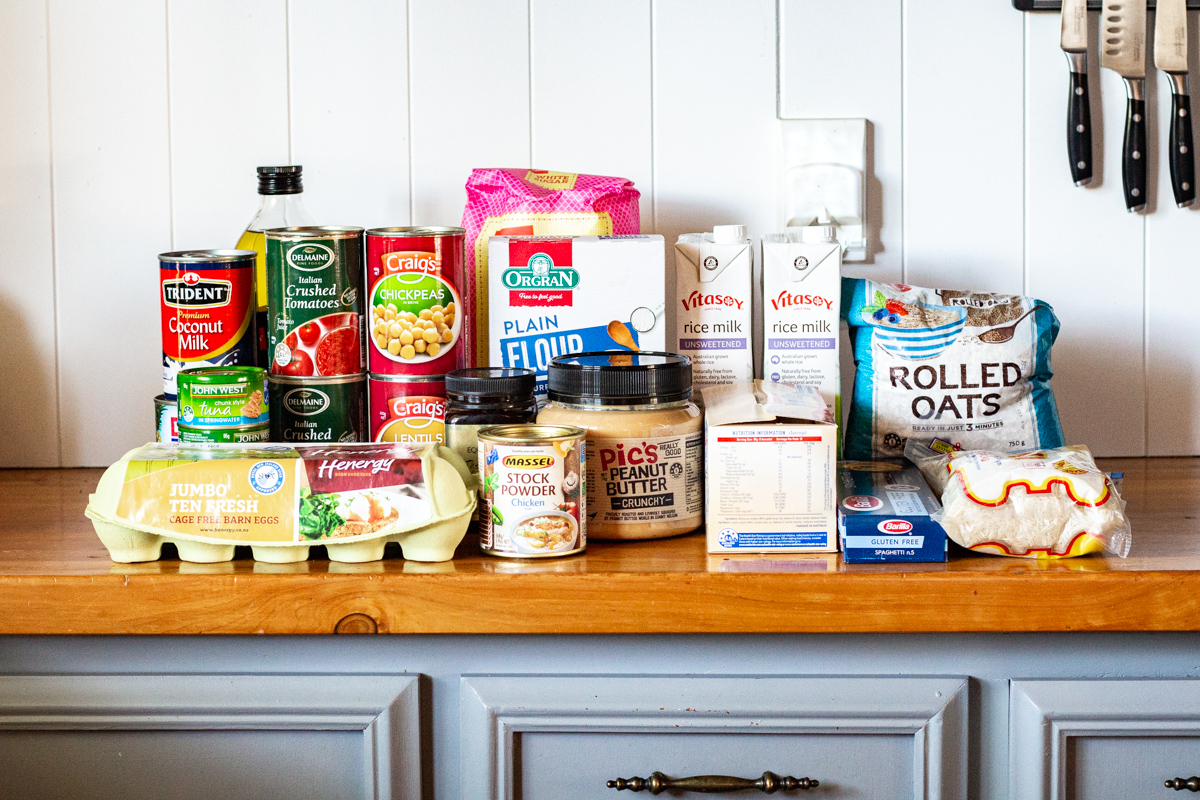 Building a Low Fodmap Isolation Pantry
Preparing your pantry for an isolation period is different to prepping for a natural disaster. At this stage we still expect utilities like water, gas, and electricity to all be running as normal. This means you can stock your fridge and freezer, as well as plan meals that are cooked in the oven or stove top.
At this stage food delivery services (like Uber Eats), online grocery shopping and grocery stores/supermarkets are remaining open. This means you should be able to buy more supplies even if you are isolated at home.
You don't need to stock your pantry with all the options on the list below. Choose some foods that you eat frequently now and will enjoy eating – you might never need to go into isolation and you don't want to end up with a pile of foods you really don't like!  Be flexible at the grocery store as you might need to adapt your list as you go. Stock your pantry over several shopping trips if you need to buy a lot (we don't want to strip the store of food).
Here are some low FODMAP ideas to get you started:
Medium life vegetables: Carrots, Japanese pumpkin (Kabocha squash, buttercup pumpkin), potatoes. These will keep in a cool dry place for multiple weeks.
Eggs: Keep using these in your everyday meals to rotate them out. Eggs stay safe to eat for up to 5 weeks. As long as your eggs sink when you float them in cold water they are still fresh.
Fridge staples: Cheese, butter/dairy free spread, firm tofu, tempeh
Fresh herbs: Place them in pots on your window sill. Fresh herbs are packed with vitamin C and they bring lots of flavour to meals made with canned vegetables.
Freezer foods: Low FODMAP vegetables – green beans, broccoli, carrots, spinach; low FODMAP berries – strawberries, blueberries (¼ cup serve), raspberries; frozen meat
Stock & flavourings: You have the ability to cook so think about how you can make the meals taste good. Dried herbs and spices as well as powdered low FODMAP stock can help.
Baking supplies: Gluten free flour, sugar, baking powder, baking soda, cocoa powder. Having these staples in your pantry means your can make bread, muffins, or a treat.
Ready to eat canned meat: Salmon, sardines, tuna, corn beef, chicken. Check that they are stored in brine or oil and do not contain high FODMAP ingredients like garlic or onion.
Canned low FODMAP fruit like pineapple and mandarins. Buy canned low FODMAP fruit in syrup (avoid any with high FODMAP sweeteners). Sugar syrups are less likely to contain excess fructose providing they are made from low FODMAP sweeteners.
Canned vegetables: Green beans, tomatoes, baby carrots as well as canned lentils, chickpeas, and champignon mushrooms. Canned lentils, chickpeas, and champignon mushrooms should be drained and rinsed well to lower the FODMAP content.
Dried fruit: Dried cranberries, banana chips, and desiccated coconut are all low FODMAP in small serves.
Low FODMAP nuts & seeds:Chestnuts, macadamia nuts, brazil nuts, peanuts, pinenuts, sunflower seeds, pumpkin seeds, sesame seeds. Avoid nuts with added salt, as they will encourage you to consume more of your water supply.
Spreads: Peanut butter, sunflower seed butter, pumpkin seed butter, strawberry jam, vegemite.
Grains, cereals & snacks: Rice, quinoa, polenta, plain rice cakes, rice crackers, granola (check for high FODMAP ingredients), oats, gluten free cornflakes, certified low FODMAP granola/muesli bars, plain potato chips, plain corn chips, popcorn, pretzels..
Drinks: Cranberry juice, tomato juice blends, tea, coffee, hot chocolate, bottled or boxed water.
Milk & milk replacement: Lactose free UHT milk, UHT coconut milk (limit serve to ½ cup), soy milk made from soy protein,  almond milk, rice milk (limit serve to 200ml), canned coconut milk (limit serve to ¼ cup), hemp milk, quinoa milk, macadamia milk. Also add lactase enzyme drops to your food kit. Lactase drops will convert standard UHT cow's milk into lactose free milk. Powdered coconut milk is also low FODMAP in 1 tablespoon serves. Use regular milk powdered for other family members.
Comfort foods:

Low FODMAP dark chocolate

, pre-packaged low FODMAP gluten free baking, low FODMAP candy.
Foods for infants: If you have young children prepare for their needs.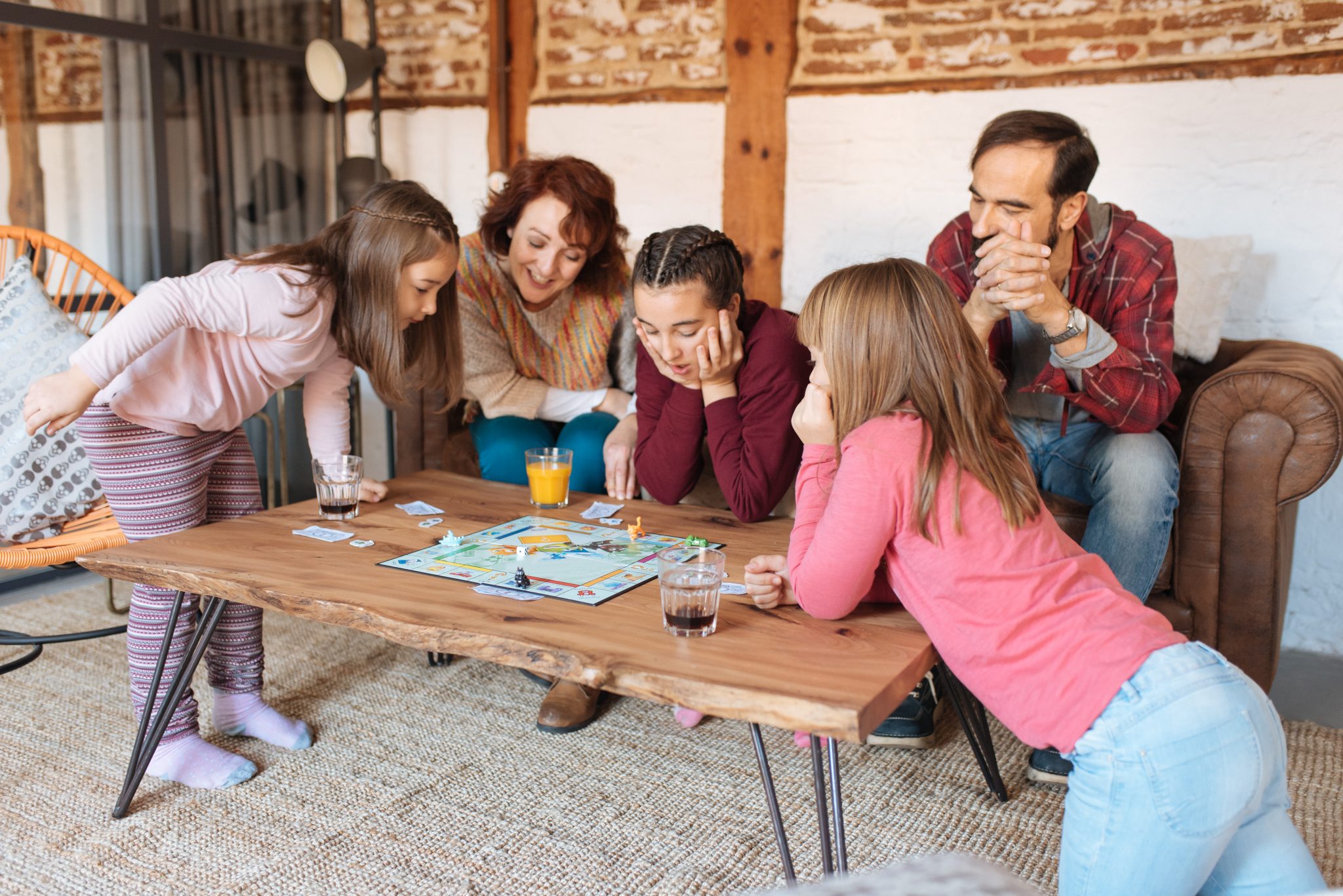 Avoiding Cabin Fever & Staying Busy
14 days without being able to leave your home is a long time. There are a few things you can do to keep yourself busy and to reduce anxiety:
Create a daily routine. Routines are important for mental health and should include waking up at a regular time, daily exercise, some time in the sunshine time if possible, regular eating times, and moments for self care like mindfulness.
Turn off the TV. Listening to the news 24/7 is likely to increase your anxiety levels. Instead turn off the TV and check once a day to keep up to date with any developments.
Can you work from home? If you can then create a work station and set yourself 'work hours'.
Keep your kids busy. Stock up on arts & craft supplies, activity books, reading books, board games, puzzles and a supply of children friendly TV shows/movies. Also talk to teachers about work kids can do at home.
Make sure you all have device-free time! Healthy bodies need to move so break out the living room dance party, practise some yoga, aerobics, stretching, or even power walking on the spot. 
Do all the jobs you've putting off like sorting out the kitchen cupboards, going through the linen, sorting through clothing and making a pile to donate (wash and dry first), or getting that spring cleaning or mending done. This is a great time to walk through each room and decide how you want it organized!
Empower yourself to understand your gut symptoms. Now is the time to get a great understanding of how the low FODMAP diet works and get prepared to figure out your food triggers. Our FODMAP Made Easy programme has online courses that walk you through each phase of the low FODMAP diet.
Plan some indoor family activities: play lava, hide and seek, build forts and huts out of blankets and sheets (this is the one time you can camp in the lounge and not have to find extra time to clean up for the next day!).
Learn a new skill. There are plenty of online websites and courses where you can learn a new skill or language (for when the borders reopen!)
Get into the habit of practising daily mindfulness. This can help you manage stress and anxiety as well as reduce gut based symptoms. Download a free App or look on YouTube to help get you started.
Learn to cook! Now is the time to start learning cooking basics and get creative with your emergency staples. We have over 850+ low FODMAP recipes for you to explore in our

FODMAP Recipe Club

.
Keep the adults entertained (no not the naughty stuff!). Think more along the lines of reading a book, doing a craft, breaking out a puzzle, board games if you are living with others (say hello to Banana Grams), or hooking into online scramble or your local paper's Quiz of the Day. You can also de-stress and embrace the luxury of being at home by having a bubble bath or doing your nails.
Take care of your pet's needs. If you are not well enough to walk your pet, ask a friend or neighbor to take them, or let them out to play regularly. If you need to keep them inside, make sure you have a few extra toys on hand or reuse empty containers to put small amounts of food/pet treats in give them a 'puzzle' to solve, or teach them new tricks. (Like bringing you the tissue box!)
Final Thoughts
Our thoughts are with you in this challenging time. If you need more help stocking your low FODMAP pantry or just need some more support, then please let us know. Take care.