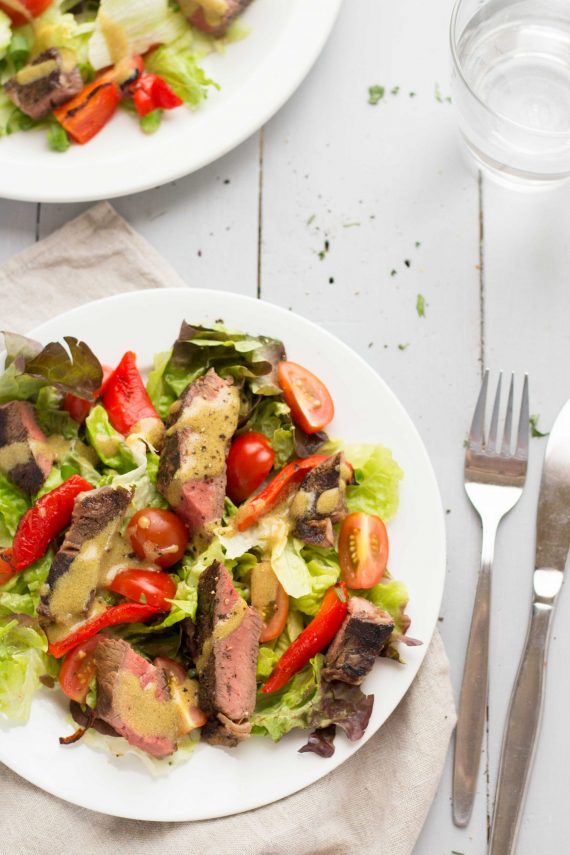 Ingredients
Imperial Units

|

Metric Units
Servings:
Beef Salad
1
neutral oil (rice bran, canola, sunflower)
6
lettuce (butter, iceberg, red coral)
1
red bell peppers (deseeded & cut into strips)
10
green onions/scallions (green tips only, finely sliced)*
Mustard Vinaigrette
* See the FODMAP Tips, Dairy Tips and Gluten Free Tips for the ingredient notes above the method.
Equipment
small plastic ziplock bag
Summer Beef Salad with Mustard Vinaigrette
There is nothing nicer than a yummy salad on a hot day. This low FODMAP summer beef salad is easy to whip up and the mustard vinaigrette will have your family fighting for leftovers!
Gluten Free Option
Low FODMAP
Dairy Free
Egg Free
Nut Free
Soy Free
MAKE GLUTEN FREE
SHOW NUTRITION
Nutrition per serve
NON-DAIRY FREE

|

DAIRY FREE

|

GLUTEN FREE
---
Love this recipe? Get your weekly meal plans.
FREE TRIAL
Method

|

FODMAP tips

|

Gluten Free tips

|

Dairy Free tips
---
Method
Cut the red bell peppers into strips and grill in the oven at 220ºC (440ºF) until the skins start to blacken. Remove from oven and allow to cool before peeling the outer blistered skin off (this is the part that has gone black). While the red bell peppers cooks you can do steps 2, 3 & 4.
Prepare the green beans by removing the ends and cutting into bite sized pieces. Wash and shred the lettuce before dividing between the plates. Halve the cherry tomatoes and finely slice the green onions/scallions (green tips only). Put a small saucepan of water on to boil.
Season the rump steak by rubbing each side in the neutral oil and salt and pepper. Heat a large frypan over medium-high heat and cook the steak for 3-4 minutes per side for medium rare, or until cooked to your liking. Allow to rest for five minutes before thinly slicing.
While the steak cooks, you can blanch the green beans in boiling water for two minutes (they should go bright green and tender). Drain and rinse under cold water, then drain again.
To make the mustard vinaigrette mix the dijon mustard, white vinegar, olive oil, sugar and black pepper together until smooth. If the vinaigrette is too sour try adding a couple of pinches of sugar until it is sweet enough.
Assemble the salad and serve the sliced rump steak on top, before drizzling in mustard vinaigrette.
Buying Tips
Buy a bunch of green onions/scallions with long green tips. You can use the green tips of the green onions/scallions (which are low FODMAP) and not the white stem when cooking.
Check your mustard does not contain onion or garlic powder.
Gluten Free Tips
Herbs and spices are naturally gluten free, however they can become contaminated during manufacturing processes. If you are highly sensitive to gluten, check the dried herbs and spices do not contain a warning for trace gluten. If you are just on the low FODMAP diet you do not need to worry about this.
Dairy Free Tips