The whole goal of the low FODMAP diet is to help us get healthy and gain good symptom control. So where do probiotics fit, and can we get them from low FODMAP probiotic food?
Probiotics are beneficial bacteria found in fermented foods and when we eat them they can offer a range of health benefits including improved digestion and gut health (1). These benefits sound pretty good, right? Just make sure you don't confuse probiotics with prebiotics (prebiotics feed the beneficial bacteria).
If we dig a little bit deeper, the official probiotic definition by the World Health Organisation, defines a probiotic as a microorganism which can confer a health benefit to the host (2). Probiotics are live, beneficial bacteria that are good for our health and digestive system. They are found naturally inside our intestinal flora but are also present in the foods we eat.
Are there different types of probiotics?
There are lots of different types of probiotics but they mainly classified under two families (2):
Lactobacillus – appear to be the most common and are found in fermented foods and dairy products.
Bifidobacterium – which are also found in dairy products.
6 Low FODMAP Probiotic Foods
During the FODMAP diet it's important to eat a range of low FODMAP foods including some with natural probiotics to protect your gut health. Here are 6 foods to help boost your probiotic count:
1. Tempeh
This is a fermented soybean product, which typically comes in a firm patty and has a strong earthy taste, which can be similar to mushroom. Try enjoying this high protein meat alternative in a variety of dishes like stir fries, lasagne or vegetarian burger patties.
SaveSave
SaveSave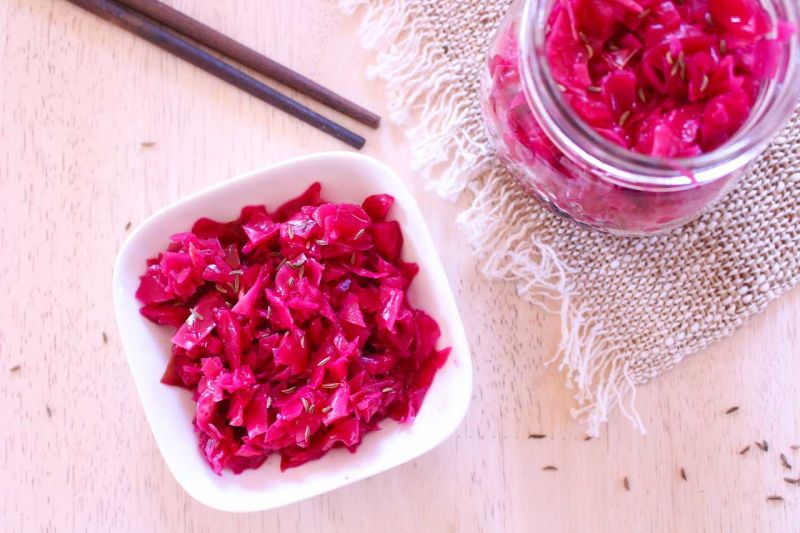 2. Red Cabbage Sauerkraut
Sauerkraut is one of the oldest traditional fermented foods and is especially popular in Europe. Red cabbage sauerkraut is made from finely shredded fermented red cabbage and is low FODMAP in ½ cup serves (3). We love serving it in low FODMAP corned beef burgers. The probiotics found in red cabbage sauerkraut tend to be of the Lactobacillus species and Plantarum species (4, 5). Just take care when choosing your sauerkraut as traditional sauerkraut made from common cabbage is high FODMAP (3).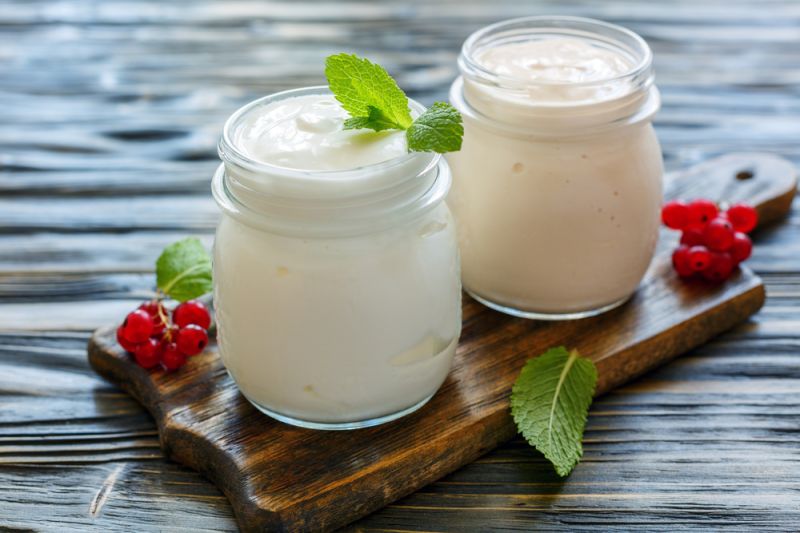 3. Low FODMAP Yoghurt
Lactose free yoghurt contains a wide variety of probiotic species, and some companies have added extra cultures to their yoghurt to achieve higher levels of probiotic diversity (6). In general, the more cultures like L. Acidophilus, L. Rhamnosus and other strains, the more well-rounded your gut flora will be (6).  Not all yoghurts are low FODMAP, so choose one that has added lactase and watch out for sneaky high FODMAP ingredients. Lactase is an enzyme which breaks down the lactose.
Coconut yoghurt is low FODMAP and some brands are fortified with probiotics so check the label for live or active cultures.
When choosing your low FODMAP yoghurt, make sure you watch out for sneaky high FODMAP ingredients like honey, inulin, chicory root fibre, coconut water, agave, high fructose corn syrup, fructose or high FODMAP fruits.
4. Lactose free Kefir
Kefir is a drinkable cultured milk, and it is often called "drinkable yoghurt". Many enjoy kefir as part of a healthy diet for its flavour and probiotic benefits. Kefir made from milk can be high FODMAP for lactose, so you need to look for a kefir that has added lactase. The lactase enzyme breaks down the lactose and makes the kefir low FODMAP. Strains of probiotics found in kefir are similar to those found in lactose free yoghurt (6). Note some kefir products on the market are flavoured with high FODMAP fruit, so check the ingredient lists carefully.
5. Some Types of Cheese
Not all cheeses contain probiotics despite being made through a fermentation process. Good bacteria can survive the aging process in some low FODMAP cheeses like mozzarella, cheddar, and cottage cheese (7, 8).  Also look for cheeses that are fortified with live and active cultures, as these are most likely to contain probiotics, so check the labels carefully.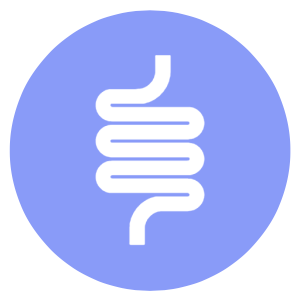 Are you ready to take control of your gut symptoms?
No thanks, my gut is perfect.
 6. Miso
Miso contains small serves of probiotics and is a salty fermented soybean paste often used in Japanese soups and sauces. It is made by fermenting the soybeans with salt and a type of fungus called koji. The predominant probiotics species in miso is a yeast belonging to the Saccharomyces family (9).
What about probiotic supplements?
Monash University recommends trying one dietary management strategy at a time (10). This means it is not currently recommended that you start a probiotic supplement while on the low FODMAP phase or reintroduction phase, as it can cloud results. You won't know if it is the probiotic or the diet working. If you want to try a probiotic talk to your dietician or doctor first, and then choose a brand that is backed by science.
Take Home Points
Probiotics are good for gut health just be careful selecting your probiotic food sources. Focus on including a wide variety of low FODMAP foods in your diet, and boost your intake of low FODMAP prebiotic and probiotic foods.
Special thanks to Paula Smith, New Zealand trained nutritionist, for helping research this article.