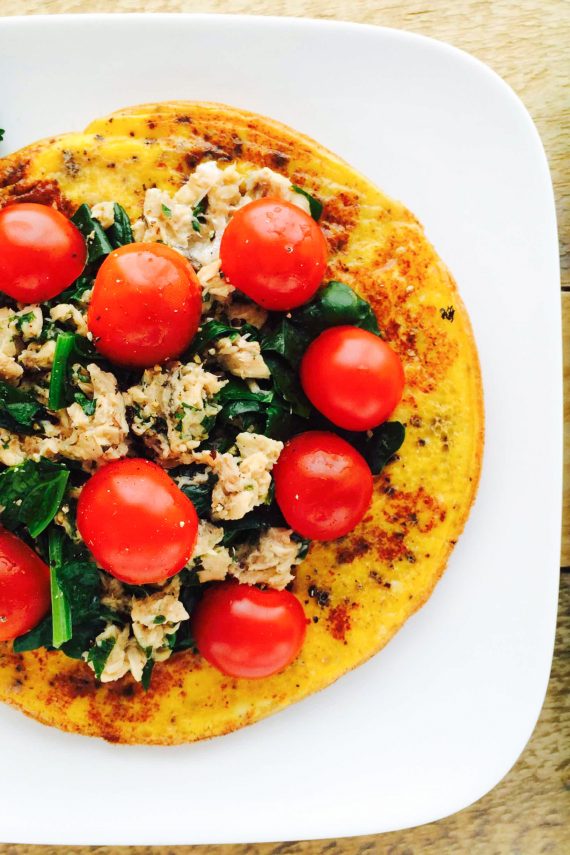 Ingredients
Imperial Units

|

Metric Units
Servings:
Salmon & Spinach Omelette
2
neutral oil (rice bran, canola, sunflower)
210
plain pink salmon (canned)*
60
spinach (washed & finely shredded)
2
fresh parsley (finely chopped)
* See the FODMAP Tips, Dairy Tips and Gluten Free Tips for the ingredient notes above the method.
Equipment
large frypan
medium frypan
Salmon & Spinach Omelette with Cherry Tomatoes
This salmon and spinach omelette makes a tasty low FODMAP brunch, and is easy to throw together on a lazy Sunday morning or make during the week for a quick lunch.
Gluten Free Option
Low FODMAP
Dairy Free
Soy Free
MAKE GLUTEN FREE
SHOW NUTRITION
Nutrition per serve
NON-DAIRY FREE

|

DAIRY FREE

|

GLUTEN FREE
---
Love this recipe? Get your weekly meal plans.
FREE TRIAL
Method

|

FODMAP tips

|

Gluten Free tips

|

Dairy Free tips
---
Method
Mix the eggs together with the low FODMAP milk until well combined. Then season with salt and pepper.
Heat a medium sized non-stick fry pan over medium-low heat, add a little bit of neutral oil and pour the egg mixture in. Alternatively you can cook smaller omelettes in a small non-stick fry pan, but you will need to cook them one after another which is a bit more time consuming. Sprinkle paprika over the top of the omelette mixture and cook until firm. Turn down the heat to medium low. If the top of the omelette isn't cooked after eight minutes, flip the omelette and cook for a further minute or place it in the oven under high grill. Make sure you keep an eye on the pan while the omelette cooks, and turn down the heat if the omelette looks like it might burn.
While the omelette cooks prepare the salmon and spinach. Drain the salmon and then remove it from the tin. Place the salmon in a small bowl and mix through the sesame oil, parsley and some salt and pepper. Heat a large non-stick fry pan over medium heat, add the salmon mixture and heat through. Then add the washed and shredded spinach and cook until the spinach wilts.
Serve the salmon and spinach mixture on the omelette and top with halved cherry tomatoes and a few grinds of black pepper.
Buying Tips
Make sure you buy plain canned salmon that doesn't have added high FODMAP ingredients like onion or garlic. You can use fresh salmon if you prefer, but you will need to cook it first.
Gluten Free Tips
Herbs and spices are naturally gluten free, however they can become contaminated during manufacturing processes. If you are highly sensitive to gluten, check the dried herbs and spices do not contain a warning for trace gluten. If you are just on the low FODMAP diet you do not need to worry about this.
Dairy Free Tips