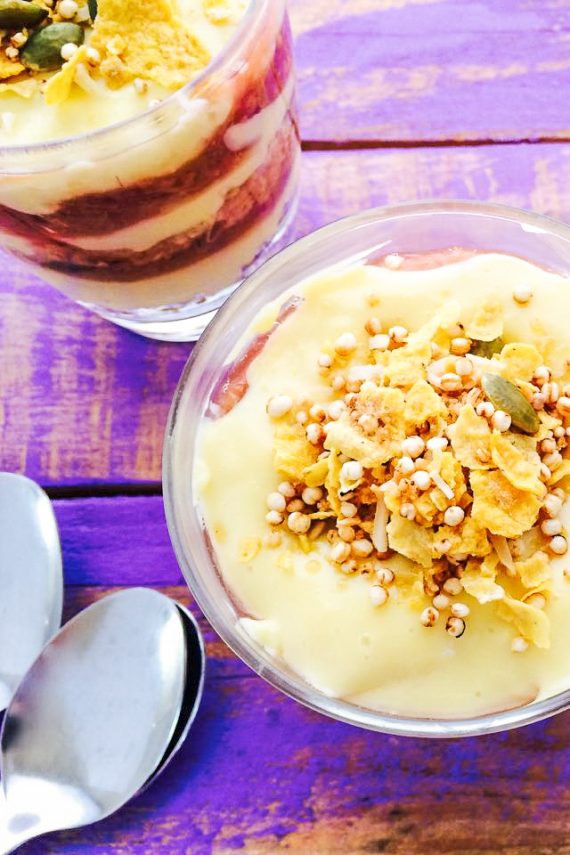 Ingredients
Imperial Units

|

Metric Units
Servings:
Stewed Rhubarb
40
raspberries (fresh or frozen)
Low FODMAP Custard
4
custard powder (not instant)*
1
vanilla extract (optional)
Low FODMAP Muesli
* See the FODMAP Tips, Dairy Tips and Gluten Free Tips for the ingredient notes above the method.
Equipment
large saucepan
large mixing bowl
Low FODMAP Rhubarb Custard Cups
These delicious low FODMAP rhubarb custard cups make the perfect dessert or snack. The tanginess of the rhubarb is balanced by the sweetness of the custard and the crunch of low FODMAP muesli. You can find my recipe for low FODMAP muesli here. This recipe does contain fruit, so make sure you divide it evenly into the recommended number of serves.
Note on custard: Commercially made custard is listed as high FODMAP for lactose in the Monash Low FODMAP app. You can make your own low FODMAP custard at home using custard powder and a low FODMAP milk. Avoid using instant custard powder that has milk based ingredients as these will contain higher levels of lactose (see buying tips for more info).
Gluten Free Option
Low FODMAP
Dairy Free
Egg Free
Nut Free
Soy Free
MAKE GLUTEN FREE
SHOW NUTRITION
Nutrition per serve
NON-DAIRY FREE

|

DAIRY FREE

|

GLUTEN FREE
---
Love this recipe? Get your weekly meal plans.
FREE TRIAL
Method

|

FODMAP tips

|

Gluten Free tips

|

Dairy Free tips
---
Method
Weigh and then chop the rhubarb. Place the rhubarb and raspberries in a small saucepan and cover with warm water. Place over medium heat and bring to a gentle simmer. Allow to simmer for about 10 minutes or until the rhubarb is soft. Drain off most of the excess liquid using a sieve. Then return the fruit to the saucepan and mash.
While the rhubarb stews, make the custard. Check the directions on your custard powder box and adjust the following directions as needed. Here is how I made my custard: place the custard powder, low FODMAP milk, and white sugar into a large microwave proof bowl. Whisk until smooth. Then whisk in the rest of the low FODMAP milk. Cook in the microwave on high for 2 minutes, then stir, cook in 1 to 2 minute increments until the custard is thick (stir after each time period). Taste the custard and stir through the vanilla essence if needed.
Layer the low FODMAP muesli, custard and stewed rhubarb into cups.
Serve immediately. Enjoy!
Buying Tips
Buy a custard powder that does not include milk powder or whey powder. We used Edmonds Gluten Free Custard Powder which contained maize cornflour, colours (beta-carotene, riboflavin), salt and flavour.
Gluten Free Tips
Dairy Free Tips