If you are feeling lonely and isolated due to your gut issues, then you are not alone. Living with a chronic illness is tough and we want to let you know that you aren't doing this alone. There are lots of people out there who understand your struggles. We're here to spread the word about IBS and to share your IBS journeys. In this article, Elaine Mealey, a registered dietitian in the United Kingdom, bravely shares her IBS journey and the process she went through to be diagnosed.
Elaine's IBS Journey
My first real memory of IBS symptoms was as a teenager sitting on my mum's bed with a stomach ache after eating Sunday roast dinner. I was sure it was the meat causing my stomach troubles, so it's not surprising that I gave up the only meat I ate (chicken) and became a vegetarian when I moved out to university.
In January 2019 I started to experience severe bloating in the evenings. My partner nudged me to go to the doctor and kept insisting "that bloating isn't normal". He was right and by the time I booked a doctor's appointment, the bloating and pain were keeping me from sleeping. I was waking some nights with the urgency to go to the toilet and then would go to the loo and not need to go.  In February I passed lots of fresh blood when going to the toilet and the fear really began to sink in.
To be safe, the doctor initially referred me for an ultrasound to rule out Ovarian Cancer, this was all clear. This was followed by blood and a stool sample testing for Inflammatory Bowel Disease and Coeliac Disease. All results were negative.
Next, I was referred to a surgeon for a colonoscopy. The initial assessment appointment was 6 weeks away and I knew there would be another wait for the actual procedure date so I decided to take things into my own hands and in a somewhat 'desperate' measure.
I couldn't endure the effect the pain and bloating were having on my quality of life any longer so I started the Low FODMAP Diet. I am not advocating that anyone does this without a diagnosis of IBS and medical support. However, I am a dietitian by background (completed a 4 year degree and worked for 9 years – including specialising in food allergies/intolerances) and work with lots of medical professionals.
As I started the diet, I doubted my ability to stick with it – but reminded myself of the willpower I had when I first became a vegetarian and missed chicken tikka so much! I used up all the freezer meals I had cooked weeks ago and couldn't be sure what vegetables/high FODMAP ingredients they contained. 
Once I was ready to prep my pantry, a dietitian friend kindly lent me Kings College University IBS booklets. I did lots of googling for low FODMAP recipe inspiration too (my two favourites were alittlebityummy.com and shecanteatwhat.com). Then I meal planned and did a big low FODMAP online shop followed by bulk cooking to get me through the first week of the diet.
It was a hard 11 weeks on the diet. By day 5 I had purchased the Monash University Low FODMAP App to make sure I had up to date food lists. Even with my dietetic background, I couldn't remember everything I could or couldn't eat!
Making sure my diet was nutritionally balanced it was like FODMAP sudoku. It was a constant challenge to get enough protein, my 5 a day (fruit & vegetables), and fibre, especially as a vegetarian. What worked for me was making a batch of something that met all the criteria and eating it for a few days.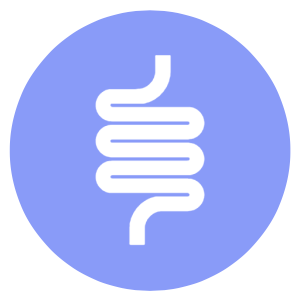 Are you ready to take control of your gut symptoms?
No thanks, my gut is perfect.
Eating out was the biggest struggle. The only option with friends I found was a gluten free pizza with a few FODMAP friendly ingredients. If I hadn't planned where to go to eat my option usually became chips with mayonnaise (couldn't even have my favourite red sauce.) I did feel sorry for myself as friends ordered freely off the menu or when their pizza arrived twice the size of mine with lots of yummy toppings. I didn't cheat though as I felt so much better eating low FODMAP. By week 2 of the diet, I wasn't bloated and the pain had gone.
I couldn't wait to reintroduce some foods. Disappointingly, I didn't have a 'major' reaction to anything apart from garlic. This might have meant that lowering my overall intake of high FODMAP foods was enough to settle my symptoms, instead of being particularly sensitive to one or more of the FODMAP groups.
I finally had my colonoscopy after 9 weeks on the low FODMAP diet. The actual procedure was ok but the bowel prep was horrid. Ten biopsies were taken and despite consuming the 2 litres of bowel prep there was still residue in my colon. Three weeks later the diagnosis was IBS-constipation and a long colon! Somewhat of an anti-climax after weeks of investigations.
I now take a regular fibre supplement or Senna and I am virtually symptom free. I've also been able to relax my low FODMAP diet and just stay clear of the garlic bread. The years of a painful stomach and poor quality of life could have been resolved a lot earlier if I gone to the GP and not just said I have 'IBS'. Don't try to manage it yourself – go and get some help as soon as you can.