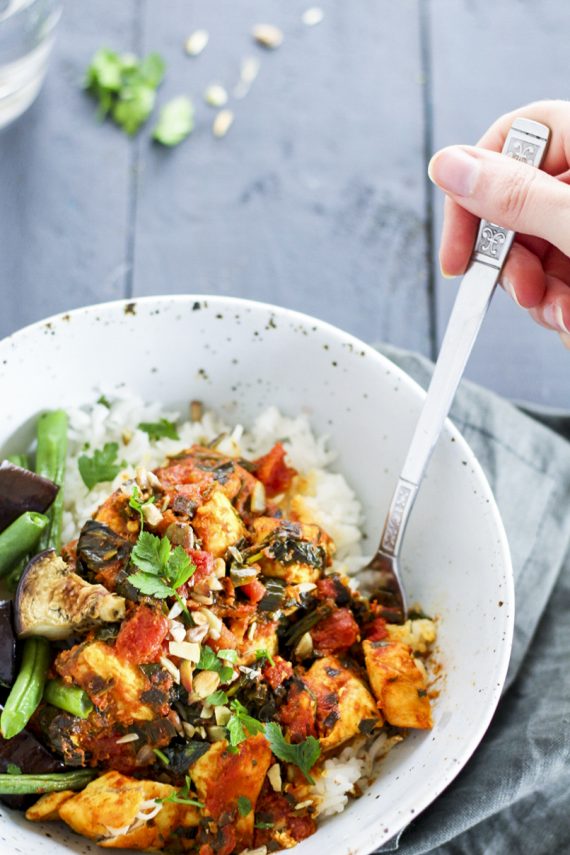 Ingredients
Imperial Units

|

Metric Units
Servings:
Rustic Chicken Saagwala
800
boneless chicken thighs (skinless)
80
leek (green tips only, roughly chopped)*
120
spinach (roughly chopped)
1
mild green chillies (deseeded & finely chopped)
400
plain crushed/chopped tomatoes (canned)*
0.5
white sugar (as needed)
* See the FODMAP Tips, Dairy Tips and Gluten Free Tips for the ingredient notes above the method.
Rustic Chicken Saagwala
This chicken saagwala dish has been specifically adapted so we low FODMAP foodies can enjoy it! It is delicious and very mild so shouldn't cause gastrointestinal issues.  To serve I suggest freshly cooked rice with a side of green beans and grilled eggplant. Also remember to divide the recipe into four serves.

Gluten Free Option
Low FODMAP
Dairy Free
Egg Free
Nut Free
Soy Free
MAKE GLUTEN FREE
SHOW NUTRITION
Nutrition per serve
NON-DAIRY FREE

|

DAIRY FREE

|

GLUTEN FREE
---
Love this recipe? Get your weekly meal plans.
LEARN MORE
Method

|

FODMAP tips

|

Gluten Free tips

|

Dairy Free tips
---
Method
Cut chicken thighs into chunks. In a large fry pan over medium high heat brown the chicken thighs in the garlic olive oil. Then remove them and place to one side for later.
Roughly slice the green leek tips. Roughly chop the spinach leaves. Deseed and finely chop the mild green chillies.
In the same pan fry the sliced green leek tips, cumin, cloves, turmeric and crushed ginger. It will turn into a lumpy paste. Then throw in the roughly chopped spinach leaves and wilt for 2 minutes.
Next add the crushed tomatoes and mild green chillies to the pan and stir well. Place the chicken back into the curry and leave to gently simmer for 20 to 25 minutes - until the chicken is cooked through. Make sure the element is on low to medium heat so the curry doesn't burn.
Taste and season with a pinch of sugar and a few grinds of salt and pepper as needed.
Serve with a side of rice, blanched green beans and grilled eggplant.
Buying Tips
Garlic infused oil is found in the oil section of your local supermarket. It should be clear with no floating bits of garlic. You can also make garlic infused oil at home by frying garlic cloves in cooking oil, until they are golden and fragrant (then remove the garlic before you continue cooking your meal). This is a low FODMAP way to capture the garlic flavour as the fructans can't leach into the oil.
Check the crushed ginger does not contain garlic. Crushed ginger is grated ginger that has been preserved in a jar. You can swap it for fresh ginger if you prefer.
Make sure you buy a leek that has long green tips (this is the low FODMAP part), as you can't use the white/light green leek bulb (this part is high FODMAP).
Choose plain canned tomatoes with no added herbs or spices. Check there is no added onion or garlic.
Gluten Free Tips
Herbs and spices are naturally gluten free, however they can become contaminated during manufacturing processes. If you are highly sensitive to gluten, check the dried herbs and spices do not contain a warning for trace gluten. If you are just on the low FODMAP diet you do not need to worry about this.
Dairy Free Tips