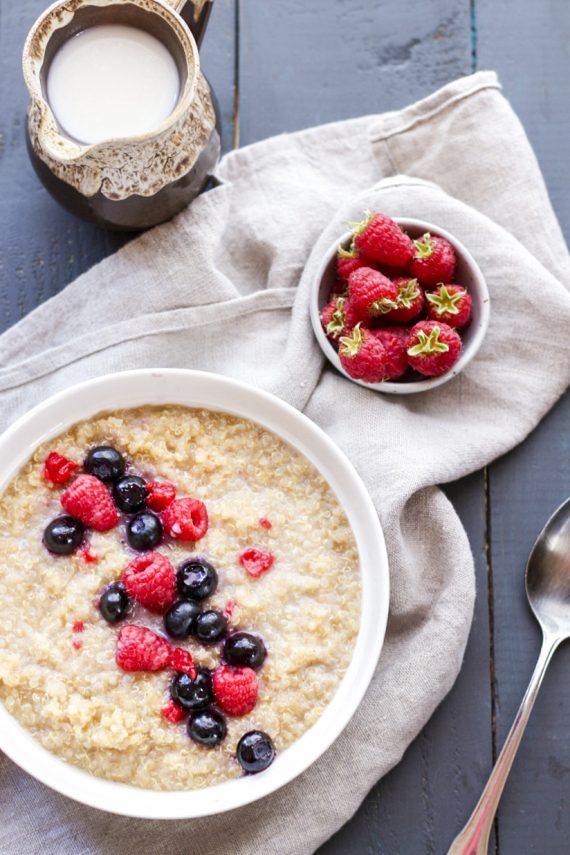 Ingredients
Imperial Units

|

Metric Units
Servings:
Quinoa Porridge with Berries
1
neutral oil (rice bran, canola, sunflower)
10
raspberries (fresh or frozen)
20
blueberries (fresh or frozen)
* See the FODMAP Tips, Dairy Tips and Gluten Free Tips for the ingredient notes above the method.
Equipment
Quinoa Porridge with Berries and Cinnamon
If you are like me and can't tolerate a small portion of oats then quinoa porridge is a great low FODMAP alternative (once you get use to the different texture). If you want to be super prepared and make your mornings a bit easier you can cook the quinoa in bulk and store it in the fridge for up to five days. According to Monash University, one low FODMAP serving of quinoa is 50g which is about 1 cup of cooked quinoa (Source: Monash University App).
Gluten Free Option
Low FODMAP
Dairy Free
Egg Free
Nut Free
Soy Free
MAKE GLUTEN FREE
SHOW NUTRITION
Nutrition per serve
NON-DAIRY FREE

|

DAIRY FREE

|

GLUTEN FREE
---
Love this recipe? Get your weekly meal plans.
FREE TRIAL
Method

|

FODMAP tips

|

Gluten Free tips

|

Dairy Free tips
---
Method
Measure out the quinoa. Using a fine mesh sieve rinse it under cold running water for two minutes. Transfer it to a medium sized saucepan and add a drizzle of neutral oil. Toast the quinoa over medium heat for 1 to 2 minutes until the water has evaporated and the quinoa is lightly toasted. Add the water. Bring the quinoa to a rolling boil and then turn down the element to the lowest heat setting. Cover with a pot lid and allow to cook for 12 to 15 minutes. The quinoa should be quite fluffy. Drain off any excess water if needed and return to pan.
Then add the low FODMAP milk, cinnamon, and maple syrup. If all the low FODMAP milk disappears you can add a little bit more. Then allow the porridge to simmer for about 5 minutes or until heated through. If you are using frozen berries and want them heated then add them to the mixture.
Serve the hot quinoa porridge into bowls and divide the raspberries and blueberries equally between them.
Buying Tips
Make sure you use pure maple syrup (low FODMAP) not maple flavoured syrup (potentially high FODMAP).
Quinoa is pronounced KEE-noh-ah and can be found in the bulk bins or with the rice in most supermarkets.
Gluten Free Tips
Herbs and spices are naturally gluten free, however they can become contaminated during manufacturing processes. If you are highly sensitive to gluten, check the dried herbs and spices do not contain a warning for trace gluten. If you are just on the low FODMAP diet you do not need to worry about this.
Dairy Free Tips