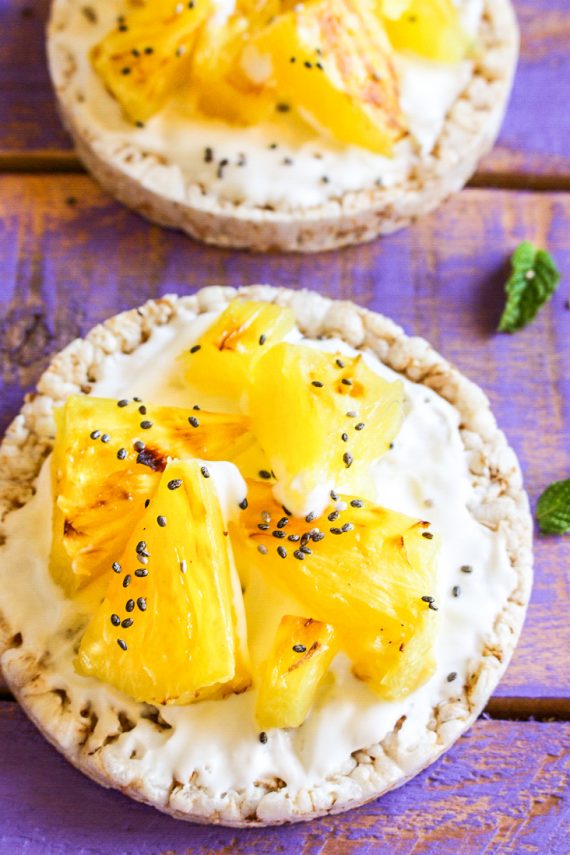 Ingredients
Imperial Units

|

Metric Units
Servings:
(2 rice cakes)
Grilled Pineapple with Yoghurt & Rice Cakes
80
fresh pineapple (1/2 inch thick)
2
lactose free yoghurt (or coconut yoghurt)*
0.25
chia seeds (small sprinkle)
* See the FODMAP Tips, Dairy Tips and Gluten Free Tips for the ingredient notes above the method.
Equipment
Grilled Pineapple with Yoghurt & Rice Cakes
Looking for a delicious low FODMAP snack? Grilled pineapple with low FODMAP yoghurt and rice cakes is the perfect option. I love this snack as it helps curb my sweet tooth while helping me enjoy a serve of fruit. Coconut yoghurt has recently been tested as low FODMAP and is an awesome way to create a piña colada on a rice cake.
Note on rice cakes: According to Monash University rice cakes are low FODMAP in 2 cake (28g serves), however they do become high FODMAP for fructans in large 4 cake serves.
Gluten Free Option
Low FODMAP
Dairy Free
Egg Free
Nut Free
MAKE GLUTEN FREE
SHOW NUTRITION
Nutrition per serve
NON-DAIRY FREE

|

DAIRY FREE

|

GLUTEN FREE
---
Love this recipe? Get your weekly meal plans.
FREE TRIAL
Method

|

FODMAP tips

|

Gluten Free tips

|

Dairy Free tips
---
Method
Cut a 1/2-inch-thick slice of pineapple. Spray lightly with oil and grill in the oven on high for about 5 minutes per side. If you are feeling impatient you can skip this step and just use raw pineapple. Cut into chunks.
Spread the coconut yoghurt or lactose free yoghurt onto the rice cakes, add the pineapple and sprinkle with chia seeds (optional). Enjoy!
Buying Tips
Check the coconut yoghurt/lactose free yoghurt for inulin (chicory root) and high FODMAP sweeteners like honey, agave syrup, fructose, fruit juice, or high fructose corn syrup. Also check that your yoghurt does not contain high FODMAP fruit.
Choose plain rice cakes or rice crackers and avoid ones that are flavoured with high FODMAP ingredients like onion powder, garlic powder, milk powder, milk solids, whey powder (chicken flavoured or sour cream & chives often contain sneaky FODMAPs). Also check that there is no inulin (chicory root/dietary fibre) listed in the ingredients list.
Gluten Free Tips
If you are highly sensitive to gluten, check all packaged products, processed meat (like bacon), nuts, seeds and dried fruit do not contain a warning for trace gluten. If you are just on the low FODMAP diet you do not need to worry about this.
Dairy Free Tips