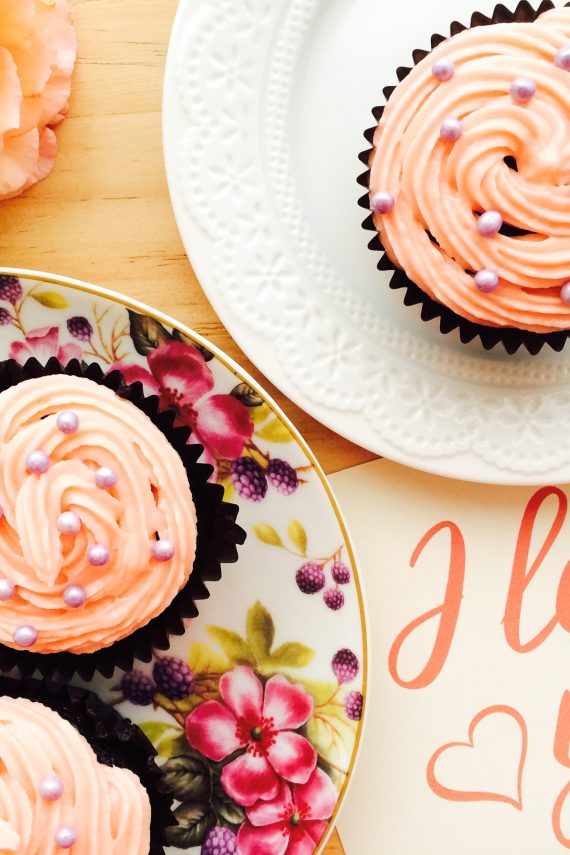 Ingredients
Imperial Units

|

Metric Units
SERVES 12
Chocolate Brownie Cupcakes
125
dairy free spread (olive oil spread or butter)*
140
gluten free all purpose flour*
Vanilla Butter Icing
100
dairy free spread (olive oil spread or butter)*
195
confectioners sugar (powdered sugar)*
1
edible cake decoration pearls*
* See the FODMAP Tips, Dairy Tips and Gluten Free Tips for the ingredient notes above the method.
Equipment
standard muffin tray (12 portion)
cupcake liners
wire cooling rack
Chocolate Brownie Cupcakes with Vanilla Icing
It's almost Valentine's Day! These low FODMAP chocolate brownie cupcakes are the perfect treat to share with your loved one. They are moist and chocolaty and pair beautifully with the simple vanilla butter icing (I make mine with dairy free spread). Just remember that these are a treat food, so make sure you only have one cupcake at a time.
Gluten Free Option
Low FODMAP
Soy Free
MAKE GLUTEN FREE
SHOW NUTRITION
Nutrition per serve
NON-DAIRY FREE

|

DAIRY FREE

|

GLUTEN FREE
---
Love this recipe? Get your weekly meal plans.
FREE TRIAL
Method

|

FODMAP tips

|

Gluten Free tips

|

Dairy Free tips
---
Method
Preheat the oven to 170ºC (340ºF) bake function. Line a standard muffin tray with cupcake liners.
Roughly chop the dark chocolate. Place the dairy free spread (olive oil spread, or butter) and dark chocolate into a microwave proof bowl. Cook in the microwave on high for 15 seconds and then stir. Repeat the process until the chocolate is melted.
In a medium sized mixing bowl, place the eggs, soy protein milk (lactose free milk or milk alternative), and vanilla essence. Whisk until smooth. Then add the melted chocolate and butter mixture and whisk through.
In a large bowl mix together the gluten free plain flour, cocoa powder, brown sugar, salt, baking powder and baking soda.
Mix the wet and dry mixtures together until smooth.  Then spoon into the cupcake liners.
Bake in the oven for 15 minutes and then check with a baking skewer. The tops should be starting to crack slightly and the skewer should come out relatively clean (no large chunks of wet mixture). If the cupcakes are not cooked place them back into the oven for a couple more minutes.
Remove from the oven once cooked. Leave in the muffin tray for five minutes before transferring to a wire cooling rack. Allow to cool before icing.
Once the cup cakes are cool, make the vanilla butter icing. Soften the dairy free spread (olive oil spread or butter) slightly but do not melt it. In a large bowl mix the dairy free spread, icing sugar, vanilla essence, and one or two drops of red food colouring. Mix together until smooth. If your icing is too dry and won't mix into a smooth creamy icing, then add ½ a teaspoon of warm water and continue mixing (I didn't need to do this). Then pipe the icing onto the cupcakes. Sprinkle with edible decorations.
Enjoy! Remember to only have one cupcake per serve.
Buying Tips
Choose a dark chocolate that doesn't contain inulin or high FODMAP sweeteners like honey, high fructose corn syrup, agave syrup or fructose. Also avoid dark chocolate that contains high FODMAP fruit or nuts.
Buy a gluten free plain flour or gluten free all purpose flour. The one I used contains these ingredients: maize starch, rice flour, tapioca starch, rice bran, & guar gum. Avoid flour blends that contain soy flour, chickpea/besan/gram/garbanzo bean flour, lentil flour, coconut flour, amaranth flour, or lupin flour.
Make sure the edible cake decoration pearls are made from low FODMAP ingredients. The main ingredients in mine were sugar, rice flour, vegetable fat, colours (163, 171), anti-caking agent (555), and stabilizer (1400).
Gluten Free Tips
Most icing sugars (powdered sugar) are gluten free, however some do contain wheat starch. This means you should check that your icing/powdered sugar is gluten free.
If you are highly sensitive to gluten, check all packaged products, processed meat (like bacon), nuts, seeds and dried fruit do not contain a warning for trace gluten. If you are just on the low FODMAP diet you do not need to worry about this.
Dairy Free Tips
Use a dairy free spread or olive oil spread instead of butter. Butter is considered low FODMAP.