Many IBS patients have been told that their symptoms are all in their head. Irritable Bowel Syndrome (IBS) is a complex condition that can involve a variety of factors including psychological components that can trigger symptoms. However, saying IBS has a psychological component does not mean it is all in your head. Instead we need to understand the Stress-IBS Cycle.
For many, the low FODMAP diet helps significantly reduce unpleasant gastrointestinal symptoms, for others things aren't so easy. If you have Irritable Bowel Syndrome (IBS) and have ruled out other dietary triggers, and are still having issues, where do you go from here?
One option is to look at other factors along with behaviour therapy of some kind, such as Cognitive Behaviour Therapy (CBT), or Acceptance and Commitment Therapy (ACT). Before I go in to what these are all about, I need to explain how psychology has anything to do with the gut! I've made a diagram to help:
SaveSave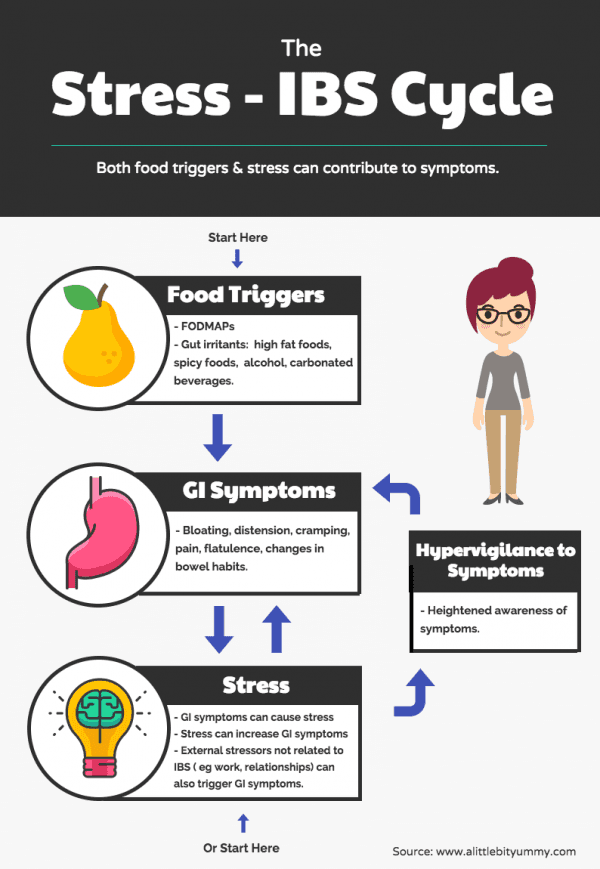 The Impact of Stress    
At the top of this diagram we have an underlying dietary trigger which as many have experienced, results in GI symptoms. Under the right circumstances this can be stressful. Think about having to sit through a long meeting, a date, a lecture, or a bus trip while having symptoms!
The diagram also shows stress, which may be due to work, relationship or family life events etc., that can interfere with our digestion resulting in a lack of control over symptoms, which produces more… you guessed it: stress… and symptoms. It becomes a vicious cycle.
Our nervous system has two modes: When we are calm, our heart rate slows, we salivate, our breathing slows, our pupils are constricted, our digestion is stimulated, and bowels work normally.
When we aren't so calm, our heart rate increases, our mouth goes dry, our breathing increases, our pupils dilate, and our digestion slows while our large intestine can attempt to empty, sending us rushing for the loo. So when our nervous system is engaged its running in fight or flight mode, this is fantastic for what this mode is for: chasing prey, fighting off attackers, and running away from danger… but not so great for digestion or IBS.
Stress can effect our digestive system by slowing down how quickly food moves out of our stomach and upper small intestine while stimulating how quickly food is pushed through our lower bowels (1). Essentially when we are anxious, our digestion slows, and we need to have a bowel motion.
The Stress & IBS Cycle
Because you may have a history between being stressed while having GI symptoms your body also makes this connection. When we have made the connection that something is unpleasant, we are often on alert to notice it and avoid it (again: great for running away from wild animals, not so great for other things). This hypervigilance applies to how people with IBS perceive GI discomfort.
Someone who doesn't have IBS or isn't hypervigilant to GI symptoms wouldn't notice a rumbling stomach or a bit of distention, but for someone who is hypervigilant this can be a stressful event.
A study by Murray, et al. (2004) found that people who have IBS show increased sensitivity in the intestinal lining to minor electric shocks when under intense physical and psychological stress. Interestingly the study didn't find the same sensitivity in those who did not have IBS when they were put under stress (2). This may suggest that people who have IBS may feel more discomfort from the same level of bowel distention etc. than other people when under stress.
Not All Coping Strategies Are Good Ones
Being in this cycle is not by any means easy, and it's normal to find ways to cope. The strategies we use to cope with any difficult situation often have a large effect on our long term mental health. Experiential avoidance is a term that often comes up when discussing how we cope with difficult situations; essentially it means that we try to avoid unpleasant thoughts, or feelings. The research tells us, the more we try to avoid unpleasant thoughts or feelings, the more likely we are to have poor mental health (3, 4, 5, 6).
While it is normal for everyone to do this to some extent, experiential avoidance is not so great for a number of reasons. There are three factors I consider the main issues with doing this.
1. When we feel anxious about something and we avoid it. We go from being stressed to being relaxed which feels good which is reinforcing (rewarding). When behaviour is reinforced it is more likely to occur in the future.
What this means is that by avoiding something when we are anxious, we are making it more likely for us to feel anxious under the same circumstances and to avoid things that make us anxious again. Our world gets smaller and smaller.
For example, if feeling anxious about IBS in the past meant you avoided taking a long drive and reduced stress by staying at home and relaxing, you are more likely to feel anxious before travelling, and avoid travelling again.
SaveSave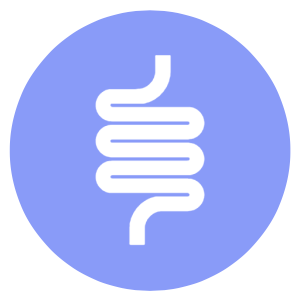 Are you ready to take control of your gut symptoms?
No thanks, my gut is perfect.
2. When we avoid something we may avoid more than just what we find unpleasant and may miss out on the things that allow us to live a more valued life.
For example, think about avoiding going to a social gathering because you are anxious you might get symptoms. It stops you feeling anxious but results in missing out on seeing friends.
3. The strategies we use to avoid thoughts or feelings can sometimes be more harmful than having the thoughts and feelings we are trying to avoid. 
People can self-harm, take illicit substances or alcohol in dangerous quantities, gamble, steal, binge eat, drink, avoid going out and do any other multitude of things which can worsen our quality of life in order to avoid unpleasant thoughts or feelings.
These often seem to be very effective short term solutions as they may stop the thoughts or feelings, sometimes immediately. However, they reduce people's quality of life in the long term by damaging health, relationships, and finances etc. These harmful strategies are also a band-aid measure that just covers up the problem- when you stop, the thoughts and feelings will come back as strong if not stronger, thus making people want to engage in the harmful behaviour again.
For example, having the thought "I'm never going to get better" can be a confronting thought to think, someone may try to numb themselves to this feeling or distract from this thought by binge eating. By doing this, they are causing themselves more harm than sitting with the confronting thought, regardless of the feelings it may cause.
SaveSave