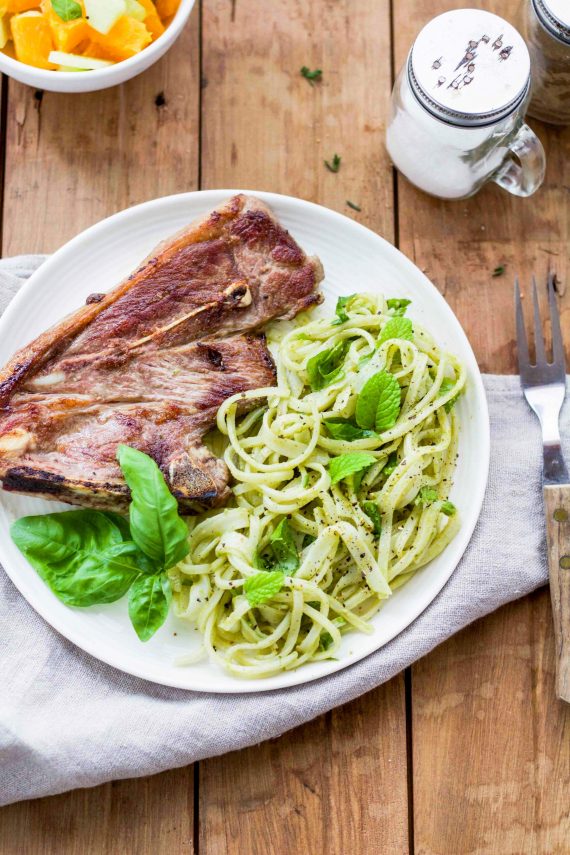 Ingredients
Imperial Units

|

Metric Units
Servings:
Mint Herb Pesto
17
rocket (lightly packed)
12.5
fresh mint (lightly packed)
Pasta Salad
Lamb Chops
1
neutral oil (rice bran, canola, sunflower)
Orange Cucumber Salsa
2
orange (large, peeled & cubed)
1
small cucumbers (peeled & sliced)
* See the FODMAP Tips, Dairy Tips and Gluten Free Tips for the ingredient notes above the method.
Equipment
large frypan
large saucepan
blender/stick blender
Minty Noodle Salad with Lamb Chops & Salsa
Lamb chops are perfect for any season and pair beautifully with  low FODMAP mint herb pesto, fresh arugula and rice noodles to make a tasty salad. The orange and cucumber salsa balances the rich flavours of the dish.
<
Gluten Free Option
Low FODMAP
Dairy Free
Egg Free
Nut Free
MAKE GLUTEN FREE
SHOW NUTRITION
Nutrition per serve
NON-DAIRY FREE

|

DAIRY FREE

|

GLUTEN FREE
---
Love this recipe? Get your weekly meal plans.
FREE TRIAL
Method

|

FODMAP tips

|

Gluten Free tips

|

Dairy Free tips
---
Method
To make the mint herb pesto roughly chop the mint, rocket and basil. Place in a blender or stick blender container and add the garlic infused olive oil, mayonnaise, lemon juice, tofu and paprika. Blend until smooth. Season with salt and pepper.
Cook rice noodles according to packet directions. Then drain, rinse with cold water and drain again. Drizzle with olive oil, add the mint herb pesto, then toss with rocket and mint.
While the rice noodles cook, prepare and cook the lamb chops. Rub the lamb chops with olive oil and salt and pepper. In a large fry pan over medium high heat fry the lamb chops for about 4 minutes per side, until the inside meat is pink but not too bloody. Rest for 5 minutes before serving.
Peel the oranges and cucumber. Dice the oranges and thinly slice and quarter the cucumber pieces. Mix together.
Serve the lamb chops with the minty pasta salad and orange cucumber salsa on the side.
Buying Tips
Garlic infused oil is found in the oil section of your local supermarket. It should be clear with no floating bits of garlic. You can also make garlic infused oil at home by frying garlic cloves in cooking oil, until they are golden and fragrant (then remove the garlic before you continue cooking your meal). This is a low FODMAP way to capture the garlic flavour as the fructans can't leach into the oil.
Make sure you buy firm tofu (these are often preserved in liquid, just drain the liquid off before using). The high levels oligosaccharides/FODMAPs are drained off with the liquid and during the manufacturing process, which makes the tofu low FODMAP. Avoid using Silken tofu as this product is high FODMAP.
Make your lemon juice and lemon zest from fresh lemon.
Choose a mayonnaise that does not include onion or garlic powder. We like using Best Foods Mayonnaise (Lite or regular). If you are a meal plan member you can also grab the recipe for our egg free mayonnaise here.
Gluten Free Tips
Herbs and spices are naturally gluten free, however they can become contaminated during manufacturing processes. If you are highly sensitive to gluten, check the dried herbs and spices do not contain a warning for trace gluten. If you are just on the low FODMAP diet you do not need to worry about this.
If you are highly sensitive to gluten, check all packaged products, processed meat (like bacon), nuts, seeds and dried fruit do not contain a warning for trace gluten. If you are just on the low FODMAP diet you do not need to worry about this.
Dairy Free Tips