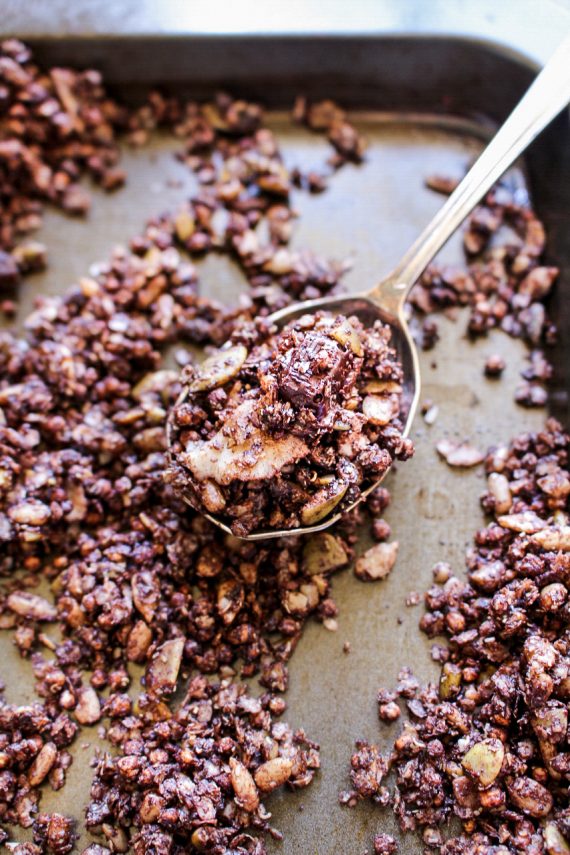 Ingredients
Imperial Units

|

Metric Units
Servings:
(1/2 cup per serve)
Dark Chocolate Granola Recipe
2
quinoa flakes (or rolled oats)
1
quinoa puffs (or puffed rice)*
2
sunflower & pumpkin seeds (chopped)*
0.5
coconut chips or dried shredded coconut*
100
dark chocolate (optional, chopped into chips)*
0.125
sea salt (about a pinch)
* See the FODMAP Tips, Dairy Tips and Gluten Free Tips for the ingredient notes above the method.
Equipment
roasting tray
baking paper
Dark Chocolate Granola Recipe (Low FODMAP, Gluten Free)
Ever since becoming a coeliac I have missed granola for breakfast... I'm one of the unfortunate ones who just can't tolerate the avenin protein in oats! So I've been experimenting, and have created a low FODMAP & gluten free dark chocolate granola recipe using quinoa flakes (because really who doesn't love chocolate for breakfast!). Keep in mind if you are just low FODMAP you can try using standard rolled oats in this recipe instead of quinoa flakes - in theory they should taste great as well.
Gluten Free Option
Low FODMAP
Dairy Free
Egg Free
Nut Free
Soy Free
MAKE GLUTEN FREE
SHOW NUTRITION
Nutrition per serve
NON-DAIRY FREE

|

DAIRY FREE

|

GLUTEN FREE
---
Love this recipe? Get your weekly meal plans.
FREE TRIAL
Method

|

FODMAP tips

|

Gluten Free tips

|

Dairy Free tips
---
Method
Preheat the oven to 120ºC (250ºF) bake function.
Mix the dry ingredients in a large bowl (quinoa flakes/oats, chopped sunflower and pumpkin seeds, coconut chips, brown sugar, dutch cocoa powder, quinoa puffs or rice bubbles.
Mix the olive oil, vanilla and maple syrup together. Pour over the dry ingredients and mix well.
Evenly spread the granola mixture over two baking trays lined with baking paper. Bake in the oven for 20 minutes, then gently shake or stir the granola and bake for another 15 minutes. Then add the dark chocolate chips and a sprinkle of sea salt (to taste) and bake for another 5 minutes.
Let the granola cool for 1 to 2 hours. Then store in air tight jars or containers.
Enjoy a 1/2 cup serve as part of your breakfast or a snack! I love mixing mine with some coconut yoghurt and a serve of fruit.
Buying Tips
Make sure you use pure maple syrup (low FODMAP) not maple flavoured syrup (potentially high FODMAP).
Quinoa puffs are often found in the gluten free section of your local supermarket.
Choose a dark chocolate that doesn't contain inulin or high FODMAP sweeteners like honey, high fructose corn syrup, agave syrup or fructose. Also avoid dark chocolate that contains high FODMAP fruit or nuts.
Gluten Free Tips
If you are highly sensitive to gluten, check all packaged products, processed meat (like bacon), nuts, seeds and dried fruit do not contain a warning for trace gluten. If you are just on the low FODMAP diet you do not need to worry about this.
Dairy Free Tips