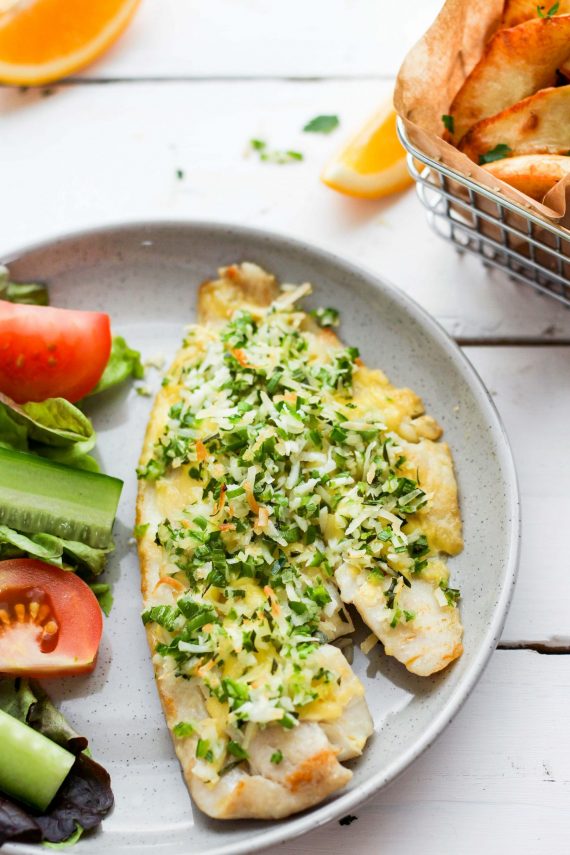 Ingredients
Imperial Units

|

Metric Units
Servings:
Chilli Coconut Crust
20
dried shredded coconut*
10
green onions/scallions (green tips only, finely sliced)*
1
mild green chillies (finely sliced)
4
makrut (kaffir) lime leaf (Or lime zest) (fresh, finely sliced)*
460
mild white fleshed fish (Cod, Haddock, Coley, Pollack, Red Snapper)
57
colby or cheddar cheese or soy based vegan cheese (optional) (grated)*
Homemade Chips
1
neutral oil (rice bran, canola, sunflower)
Salad
1
small cucumbers (peeled)
4
lettuce (butter, iceberg, red coral) (washed & shredded)
0.5
red bell peppers (deseeded & sliced into strips)
4
medium tomato (cut into wedges)
* See the FODMAP Tips, Dairy Tips and Gluten Free Tips for the ingredient notes above the method.
Equipment
Chilli Coconut Crusted Fish with Salad
The chilli coconut crust gives this dish an interesting twist on classic pan-fried fish. The kaffir lime leaves give the crust a fresh citrus scent while the chilli brings in a hint of heat, which is balanced perfectly by the toasted coconut.
FODMAP Note On Dried Coconut: Dried shredded coconut is low FODMAP at 1/4 cup serve person. This means the level of dried coconut within this recipe is well within low FODMAP guidelines.
Gluten Free Option
Low FODMAP
Dairy Free
Egg Free
Nut Free
Soy Free
MAKE GLUTEN FREE
SHOW NUTRITION
Nutrition per serve
NON-DAIRY FREE

|

DAIRY FREE

|

GLUTEN FREE
---
Love this recipe? Get your weekly meal plans.
FREE TRIAL
Method

|

FODMAP tips

|

Gluten Free tips

|

Dairy Free tips
---
Method
To make the chilli coconut crust, place the shredded coconut in a small bowl and cover with water. Leave to soak for 10 minutes before draining. De-seed the mild green chillies and finely slice. Finely slice the green part of the green onions/scallions and the kaffir lime leaves. Add half the sesame oil into a large fry pan and over medium/high heat and fry the green onions/scallions , chilli, and kaffir lime leaves until golden and fragrant (should look caramelised). Add the drained coconut and fry for another minute. Then set aside and keep for later.
In the same large fry pan add the remaining oil and add half the potatoes. Fry until golden and cooked. Then repeat with the second half of the potatoes. Season the fries with salt and black pepper.
Prepare the salad ingredients and squeeze the lemon juice over top.
Spray a medium sized frying pan with oil and cook the fish for 2 minutes before flipping and cooking for a further 1 or 2 minutes until cooked through. Place the fish on a baking tray, top with grated cheese and cover with the chilli coconut crust. Grill/broil in the oven on high for 1 to 2 minutes until the crust turns golden.
Serve with potato chips and salad.
Buying Tips
Markut (kaffir) lime leaves are normally found with the other fresh herbs in the fridge section of your local supermarket or Asian supermarket. If you can't find them use the zest of 1 lime for every 2 leaves used in the recipe.
Buy a bunch of green onions/scallions with long green tips. You can use the green tips of the green onions/scallions (which are low FODMAP) and not the white stem when cooking.
Check the vegan soy based cheese does not include onion, garlic or coconut flour in the ingredients. Cheddar, Colby, mozzarella, and parmesan cheeses are all low FODMAP.
Gluten Free Tips
If you are highly sensitive to gluten, check all packaged products, processed meat (like bacon), nuts, seeds and dried fruit do not contain a warning for trace gluten. If you are just on the low FODMAP diet you do not need to worry about this.
Dairy Free Tips