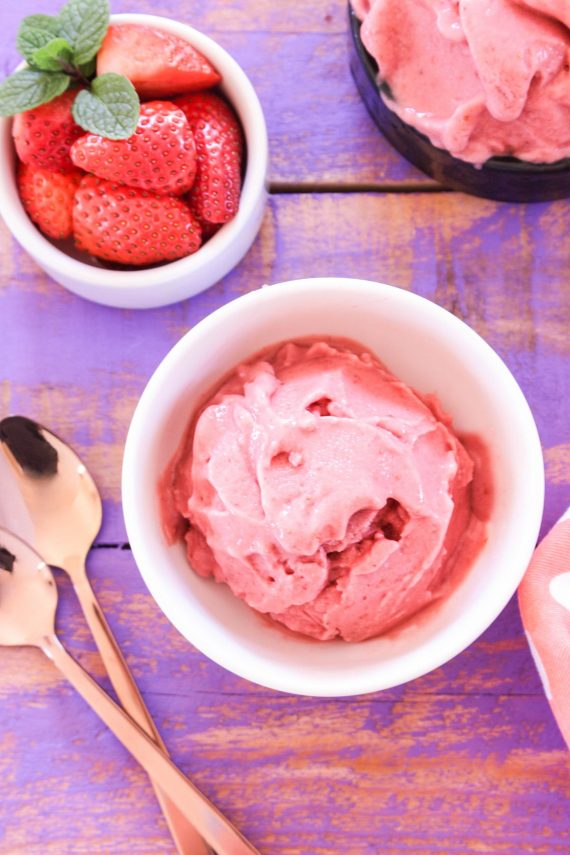 Ingredients
Imperial Units

|

Metric Units
Servings:
Strawberry Banana Ice Cream
160
frozen banana (firm)*
Chocolate Fudge Sauce
2
dairy free spread (olive oil spread or butter)*
* See the FODMAP Tips, Dairy Tips and Gluten Free Tips for the ingredient notes above the method.
Equipment
food processor
small saucepan
Strawberry Banana Ice Cream with Chocolate Fudge Sauce (Low FODMAP)
After much popular demand I am releasing this epic low FODMAP ice cream recipe! It's easy... it's delicious... and this simple strawberry banana ice cream goes perfectly with chocolate fudge sauce. This is definitely a low FODMAP dessert your family will love! This recipe was first featured in the December edition of the New Zealand Allergy Today magazine. Keep in mind that this recipe is quick to whip up but you will need to leave some time for it to chill in the freezer.
Recipe Note: Avoid using over ripe bananas as they are high FODMAP and the banana flavour will be very strong. I prefer to use bananas that are just ripe (no brown spots) as the recipe tastes better and they are lower in FODMAPs. Make sure you freeze your banana and strawberries in advance as this helps give your ice cream a better texture.
FODMAP Note: Common bananas when they are firm (unripe - green or just yellow) are low FODMAP in 100g serves, however they become high FODMAP for fructans when ripe (yellow with brown spots) Use firm banana for this recipe. Make sure you divide the recipe into 4 serves.
Gluten Free Option
Low FODMAP
Dairy Free
Egg Free
Nut Free
Soy Free
MAKE GLUTEN FREE
SHOW NUTRITION
Nutrition per serve
NON-DAIRY FREE

|

DAIRY FREE

|

GLUTEN FREE
---
Love this recipe? Get your weekly meal plans.
FREE TRIAL
Method

|

FODMAP tips

|

Gluten Free tips

|

Dairy Free tips
---
Method
Chop the frozen banana and strawberries into small pieces. Place in a food processor with the coconut yoghurt, maple syrup and vanilla essence. Blend and scrape down the sides of the food processor as needed, until smooth (this will take 5 minutes or so).
Taste and add more maple syrup or vanilla essence if desired. Then serve immediately as soft serve (let's face it... I'm impatient and this is how I enjoy eating it) or freeze for a couple of hours until slightly firm.
Make the chocolate fudge sauce. Place the coconut milk, dark chocolate, cocoa powder, dairy free spread or butter, and maple syrup in a small saucepan. Place over medium heat and allow to melt, whisk occasionally. Let the sauce boil gently for 2 to 3 minutes until thick. Leave for a few minutes to cool and then spoon over the ice cream. Store any leftover sauce in a sealed container in the fridge.
Buying Tips
Make sure you use pure maple syrup (low FODMAP) not maple flavoured syrup (potentially high FODMAP).
When choosing bananas make sure you select common bananas and not sugar bananas. Then use the bananas when they are firm (green to just yellow) and then become high FODMAP when they are ripe (have brown spots).
Choose a dark chocolate that doesn't contain inulin or high FODMAP sweeteners like honey, high fructose corn syrup, agave syrup or fructose. Also avoid dark chocolate that contains high FODMAP fruit or nuts.
Check the coconut yoghurt  for inulin (chicory root) and high FODMAP sweeteners like honey, agave syrup, fructose, fructose glucose syrup, fruit juice, or high fructose corn syrup. Also check that your yoghurt does not contain high FODMAP fruit.
Gluten Free Tips
If you are highly sensitive to gluten, check all packaged products, processed meat (like bacon), nuts, seeds and dried fruit do not contain a warning for trace gluten. If you are just on the low FODMAP diet you do not need to worry about this.
Dairy Free Tips
Use a dairy free spread or olive oil spread instead of butter. Butter is considered low FODMAP.