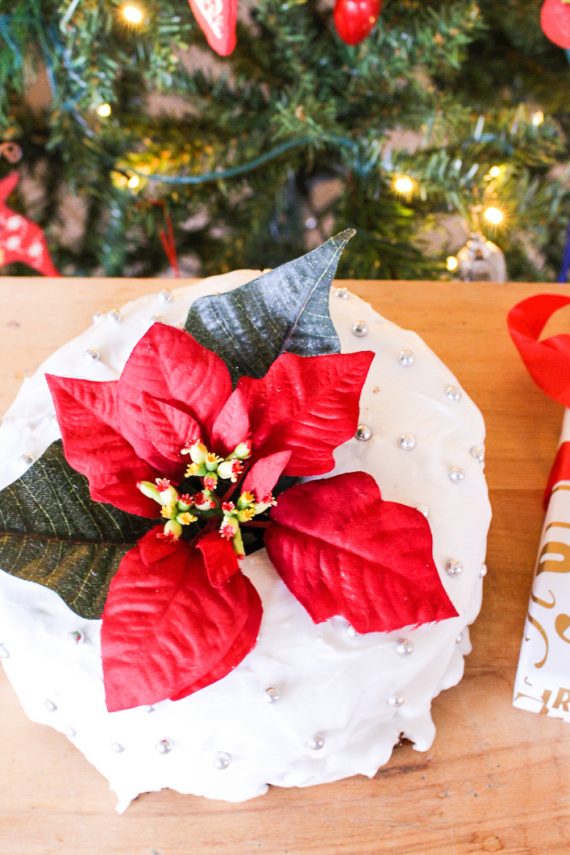 Ingredients
Imperial Units

|

Metric Units
SERVES 16
Spiced Carrot Cake
2
chia seeds (or 2 tsp of guar gum or xanthan gum)
250
neutral oil (rice bran, canola, sunflower)
280
gluten free all purpose flour*
1
freshly squeezed orange juice*
Royal Icing
2
egg white (from small eggs)
195
confectioners sugar (powdered sugar)*
1
edible cake decoration pearls (GF if needed)
* See the FODMAP Tips, Dairy Tips and Gluten Free Tips for the ingredient notes above the method.
Equipment
baking paper
cake tin (25cm or 10 inch)
Spiced Christmas Carrot Cake (Low FODMAP)
Traditional Christmas cake is hard to make FODMAP friendly so I've created a delicious spiced carrot cake for my family to enjoy instead. I love adding pumpkin seeds and a low FODMAP serve of dried cranberries to help create a dense and filling cake. If you want to make this cake egg free you will need to use an egg replacer and swap the royal icing for a butter icing.
Decoration note: When you decorate your Christmas carrot cake make sure you use a fake poinsettia flower not a real one (the real ones are poisonous).
Note on dried cranberries: Dried cranberries are low FODMAP in small 1 tablespoon (13g) serves and contain moderate FODMAPs in 2 tablespoon (26g) serves. The amount of cranberries per serve in this recipe is less than 5.5g and is well within low FODMAP limits.
Gluten Free Option
Low FODMAP
Dairy Free
Nut Free
Soy Free
MAKE GLUTEN FREE
SHOW NUTRITION
Nutrition per serve
NON-DAIRY FREE

|

DAIRY FREE

|

GLUTEN FREE
---
Love this recipe? Get your weekly meal plans.
LEARN MORE
Method

|

FODMAP tips

|

Gluten Free tips

|

Dairy Free tips
---
Method
Preheat the oven to 160ºC (320ºF) on bake function. Grease and line a 25cm (10inch) round tin with baking paper.
Grate the carrots. If you have a food processor you can use that to grate them. Place to one side for later.
Place the dried cranberries and pumpkin seeds in the processor (with the double blade) and process until roughly chopped. Then place to one side.
In a cup place 2 teaspoons of chia seeds and 2 teaspoons of boiling water, then mix until soft (this will help the cake hold together). In a large bowl or using a food processor, mix together the oil, sugar, chia seed mixture (if using guar gum or xanthan gum add it now), vanilla essence, and eggs, until well combined and smooth.
Add the gluten free all purpose flour, grated carrot, chopped cranberries & pumpkin seeds,  salt, ground cinnamon, ginger, mixed spice and nutmeg to the large bowl. Mix to combine the wet and dry ingredients.
In a cup dissolve 2 teaspoons of baking soda in 1 tablespoon of freshly squeezed orange juice. Then mix through the cake batter.
Spread the cake batter into the prepared tin. Place in the middle of oven and bake for 55 to 60 minutes, until the top is spongy. Check the cake is fully cooked by inserting a skewer into the center - if it comes out clean it is cooked. Remove from the oven once cooked and allow to cool.
Once the cake is cooled make the icing. Separate the egg whites and whisk with the lemon juice. Shift the icing sugar into a bowl and then whisk for 5 to 10 minutes until it forms peaks. If your icing is too runny add more icing sugar and whisk well. Ice the cake immediately. Decorate with 

edible cake decoration pearls.

 Cut the cake into at least 16 serves.
Buying Tips
Check that the dried cranberries are sweetened with sugar and not apple juice.
Buy a gluten free plain flour or gluten free all purpose flour. The one I used contains these ingredients: maize starch, rice flour, tapioca starch, rice bran, & guar gum. Avoid flour blends that contain soy flour, chickpea/besan/gram/garbanzo bean flour, lentil flour, coconut flour, amaranth flour, or lupin flour.
Make your lemon juice and lemon zest from fresh lemon.
 Make your orange juice and orange zest from fresh oranges.
Gluten Free Tips
Most icing sugars (powdered sugar) are gluten free, however some do contain wheat starch. This means you should check that your icing/powdered sugar is gluten free.
Herbs and spices are naturally gluten free, however they can become contaminated during manufacturing processes. If you are highly sensitive to gluten, check the dried herbs and spices do not contain a warning for trace gluten. If you are just on the low FODMAP diet you do not need to worry about this.
If you are highly sensitive to gluten, check all packaged products, processed meat (like bacon), nuts, seeds and dried fruit do not contain a warning for trace gluten. If you are just on the low FODMAP diet you do not need to worry about this.
Dairy Free Tips